Despite judge's order releasing him during his trial, Cliven Bundy opts to stay in jail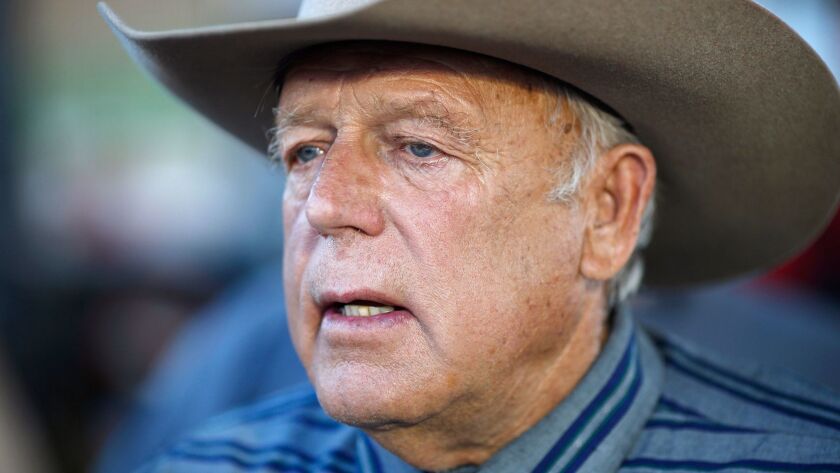 Reporting from Las Vegas —
A federal judge says Cliven Bundy, the Nevada rancher whose standoff with federal officials made him a darling of the anti-government movement, can now remain free on bond as his trial on felony weapons and conspiracy charges continues.
Bundy says no thanks.
After U.S. District Judge Gloria Navarro granted the order to release him Wednesday, The 71-year-old rancher promptly refused it.
He'd rather stay in jail, said John Lamb, a Bundy supporter, until he and his fellow defendants are exonerated and free men.
It was the latest odd twist in the 3-week-old trial of Bundy, two of his sons — Ammon and Ryan Bundy — and Ryan Payne in federal court in Las Vegas. The request to allow the men to post bail came from Bundy attorneys. Last month Navarro agree to let Ryan Bundy, who is representing himself in court, out of jail on pretrial release.
Cliven Bundy's stay in jail could last for months, however, as jurors have been told to expect the trial to extend into early next year. Lamb called the judge's decision "exciting news."
"It was a victory in the right direction," he said.
Ammon Bundy will be released Thursday at about 9 a.m. Payne's release will be within the next few days.
One of Ammon Bundy's attorneys, Morgan Philpot, said his client was "a little shocked" at the judge's ruling.
The trial is a big test for federal officials as they are laying out a case to prove the Bundy family and militia leader Payne tried to stop the government from seizing cattle grazing on public land by threatening a federal officer, carrying and using a firearm and engaging in a conspiracy.
Opening statements began Nov. 14 and Cliven and Ammon Bundy had been showing up in their jailhouse red jumpsuits with the word "Detainee" stenciled in black on the back. Ryan Bundy and Payne wear civilian clothing.
It is a trial that has been closely watched by those who question the role of the federal government owning and operating land in the West and the case is seen as proof that the federal government overstepped its authority by requiring grazing fees of cattle on Bureau of Land Management property.
The case centers on an armed standoff between the Bundys and their supporters and federal agents and contractors attempting to remove the cattle from federal land near the family's ranch in Bunkerville, east of Las Vegas, in 2014.
The trial is scheduled to continue Dec. 11.
Twitter: @davemontero
---
Must-read stories from the L.A. Times
Get the day's top news with our Today's Headlines newsletter, sent every weekday morning.
You may occasionally receive promotional content from the Los Angeles Times.