Why can't the federal government win convictions against Cliven Bundy and his family?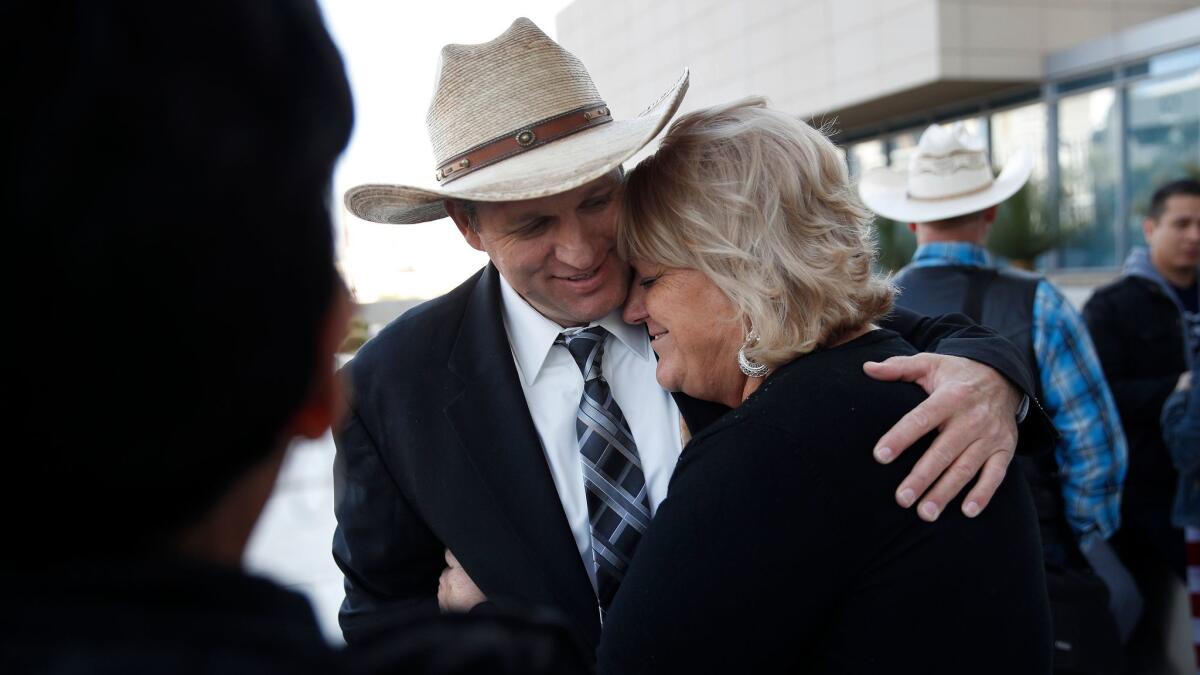 Reporting from Las Vegas —
Three years later, Cliven Bundy's cattle are still grazing on federal land.
In that time, two of Bundy's sons and several supporters have beaten back the federal government in court. Repeatedly.
First, Ammon and Ryan Bundy were found not guilty for their role in a 41-day armed standoff at a wildlife refuge in Oregon in 2016. Then, four of their supporters weathered two trials in Las Vegas this year, resulting in either hung juries or acquittals on charges stemming from the armed standoff at the Bundy ranch three years ago, where they tried to help Cliven Bundy halt federal agents from seizing his cattle.
And on Wednesday, U.S. District Judge Gloria Navarro declared a mistrial in the felony case against the Bundy trio in the standoff with federal law enforcement authorities in 2014.
Each of the standoffs — on the surface — appeared to give prosecutors a strong case for convictions.
There were photos and videos of armed Bundy supporters taking superior tactical positions with guns trained on federal law enforcement authorities near his ranch in Bunkerville, about 80 miles northeast of Las Vegas. There was testimony from law enforcement saying they feared for their lives before retreating and releasing the cattle.
Ryan Bundy was quoted as saying he would "do whatever it takes" to stop the cattle seizure. Militia members traveled hundreds of miles to aid the Bundys in both Oregon and Nevada.
But in three years, the government has largely failed to obtain convictions, apparently because of bad tactics and missteps. Add to that the narrative pushed by the Bundy legal team that possibly swayed some jurors — that the family is pushing back against an unjust and oppressive government.
Kieran Suckling, executive director of the Arizona-based Center for Biological Diversity, said the federal government "has been screwing up" on the Bundy cases in a variety of ways.
He said in Oregon, the prosecution was forced to simultaneously convince a jury that the Bundys and their supporters were dangerous and yet had to explain why they waited 41 days to act — while also letting them get food deliveries and collect their mail.
"You don't let dangerous, armed criminals come and go to get their mail and have food delivered," Suckling said. "The FBI put the prosecution in an impossible situation."
But with Wednesday's mistrial, he said it appears a series of bad decisions was made by acting U.S. Atty. Steve Myhre. Evidence was intentionally withheld about federal sniper positions outside the Bundy Ranch and surveillance cameras installed by federal authorities on nearby hills.
Navarro called the withholding of evidence by prosecutors "willful" and it has opened the door for her to declare a mistrial with prejudice as early as Jan. 8 — meaning the three Bundys and fellow defendant Ryan Payne couldn't be retried on the felony counts that included threatening a federal officer, carrying and using a firearm and engaging in conspiracy.
The mistrial prompted Justice Department spokesman Ian Prior to issue a statement saying Atty. Gen. Jeff Sessions "has personally directed that an expert in the Department's discovery obligations be deployed to examine the case and advise as to next steps."
Myhre said in a statement that his office "welcomes the assistance of the Attorney General as we continue to evaluate the case in light of the Court's ruling."
But Ian Bartrum, law professor at the University of Nevada Las Vegas, said it's unlikely that a seasoned prosecutor like Myhre needs a refresher course on the rules of discovery.
He said the federal government's failure in the legal arena has also given the Bundys capital and victories in the public and political arenas.
Bartrum said the case may have legally been about Cliven Bundy's refusal to pay federal cattle grazing fees since the early 1990s — authorities say he owes $1 million — and the subsequent armed standoff. But to Bundy supporters, the case is bigger than that.
Bundy has offered to pay fees to the state but not the U.S. government. The cattle are just a trigger, Bartrum said. "But really it's about who has the power to manage and control the land," he said.
Bartrum said the government's failure to disclose evidence plays into the hands of Bundy supporters who have accused the Bureau of Land Management and other federal agencies of being arrogant bullies that don't trust local ranchers to be good stewards of the land.
BLM officials did not comment, citing the case as pending litigation.
Bret Whipple, Cliven Bundy's attorney, said his father was a rancher near Alamo, Nev., but died when he was a young teen after being downwind of atomic bomb testing that took place in Nevada. He said the federal government's use of state land with little regard for local populations has been a constant theme in the Bundys' battles.
"We've had to live with this for generations," Whipple said. "Then you come back and here we are again with the federal government doing the same with the cattle. They insist on making Nevada a nuclear repository. The issue is about state's rights."
Bartrum said that while the federal government can still try the Bundys again in court — presuming Navarro doesn't declare the mistrial with prejudice — each defeat brings with it a stronger claim politically for the Bundys' point of view.
Meanwhile, the cattle graze on.
Twitter: @davemontero
Sign up for Essential California for the L.A. Times biggest news, features and recommendations in your inbox six days a week.
You may occasionally receive promotional content from the Los Angeles Times.