Jury condemns Dylann Roof to death for Charleston, S.C., church shooting that killed 9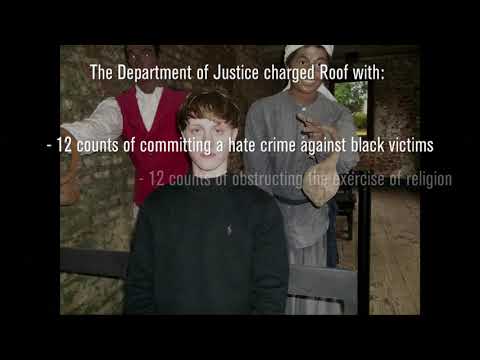 The 22-year-old man charged with killing nine black worshipers at the historic Emanuel AME Church in Charleston, S.C. faces two death penalty trials, a first in U.S. history.
Reporting from Charleston, S.C. —
A federal jury on Tuesday condemned unrepentant white supremacist Dylann Roof to death for the June 2015 massacre of nine black parishioners at a South Carolina Bible study class.
Roof stood stone-faced, showing no emotion, as U.S. District Judge Richard Gergel announced the jury's unanimous verdict, which came after about three hours of deliberation.
Relatives and friends of the victims were quiet. Some left court smiling and embracing.
"Today we had justice for my sister," Melvin Graham, the brother of slain churchgoer Cynthia Hurd, said outside the courthouse. "This is a very hollow victory because my sister is still gone."
Graham said the death penalty was fitting for Roof, who last month was convicted of the killings, because his act was so brutal and he showed no remorse.
"He just took them away from us because he wanted to," Graham said. "He decided the day, the hour, the moment that my sister was going to die. And now someone is going to do the same for him.... He's in God's hands now."
Before the jury of nine whites and three blacks began deliberating, Roof, who decided to represent himself during the sentencing phase of the trial, offered the panel no explanation or apologies for the shooting. He said only that he felt he had to do it.
In his last words to jurors before they decided whether to punish him with death or life in prison without parole, Roof said he was misunderstood. Yet he ultimately declined to give jurors any explanation for the massacre or a single reason to spare his life.
Roof acknowledged that he told FBI investigators after he was arrested that he had to do it. "But obviously that's not really true," he told the jury. "I didn't have to do it. I didn't have to do anything.… What I meant when I said that was that I felt that I had to do it, and I still do feel like I had to do it.
"Anyone, including the prosecution, who thinks that I'm filled with hatred has no idea what real hate is," Roof said awkwardly, his face flushed as he read haltingly from notes. "They don't know anything about me. They don't know what real hatred looks like. They think they do, but they don't really."
Prosecutors, in turn, told jurors that Roof was a cold and calculated racist who dismissed a whole class of people as "brute animals" and continued to believe the shootings were worth it, even after hearing of the "immeasurable loss" of his victims' loved ones.
"He wants you to believe that you have been misled and that indeed he was justified," Assistant U.S. Atty. Julius "Jay" Richardson told the panel. "He wants you to believe he was justified in committing a modern-day lynching. Don't let that be.… Render the full measure of justice for this defendant. Sentence this defendant to death."
Last month, the same jurors found Roof guilty of all 33 charges against him, including multiple counts of committing a hate crime against black victims, obstructing the exercise of religion and using a firearm to commit murder.
On Tuesday, prosecutors provided the jury with a lengthy list of aggravating factors that they said justified the death penalty rather than life in prison.
Not only had Roof killed multiple victims and endangered others, Richardson said, but he also conducted substantial planning, was motivated by racial prejudice and hoped to incite others. Roof, the prosecutor said, showed "not one ounce of remorse."
After the verdict, Roof's family, which remained mostly silent since the shooting at the historical Emanuel African Methodist Episcopal Church, issued a short statement.
"We will always love Dylann," the statement said. "We will struggle as long as we live to understand why he committed this horrible attack, which caused so much pain to so many good people."
Roof's defense lawyers, who served as standby counsel during the sentencing phase of the trial, said in a statement that the decision to impose the death penalty meant the case would not be over for a long time.
"We are sorry that, despite our best efforts, the legal proceedings have shed so little light on the reasons for this tragedy," the defense statement said.
Gergel set Roof's formal sentencing for Wednesday morning. Roof, who has developed a tense relationship with his defense team, asked the judge whether he would appoint new lawyers to help file a request for a new trial.
Gergel told Roof, who faces a separate death penalty trial in state court, that he was "strongly disinclined" to appoint new attorneys but would listen to any motions Roof made Wednesday.
Anyone, including the prosecution, who thinks that I'm filled with hatred has no idea what real hate is.
— Dylann Roof
In closing arguments, the trial's lead prosecutor offered a window into each of the nine victims' lives, showing jurors family photos of them at ballgames, weddings, vacations and graduations.
"You now know the last moments this last group of 12 spent together," Richardson told the jury, reminding them the nine victims were among a dozen who had gathered together that muggy June evening to study the gospel of gospel of the Book of Mark's Parable of the Sower. "You also now know how extraordinarily good these people were.
"They welcomed the defendant with a kind word, a Bible, a handout and a chair," he said. Yet Roof "had come not to learn, not to receive the word.… He'd come with a hateful heart and a Glock."
After showing images of Roof posing with a pistol and a Confederate flag, and engaged in target practice in his backyard, Richardson argued that the defense had failed to show any possibility that Roof was capable of any meaningful change or redemption.
"We may indeed wish it to be true, but there's no evidence to support it," Richardson said.
On Tuesday, Roof did not offer jurors any reason for forgiveness.
"From what I've been told, I have a right to ask for forgiveness on my sentence, but I'm not sure what good that will do anyway," Roof told jurors before they deliberated. "But what I do know is that only one of you has to disagree with the other jurors."
The 22-year-old high school dropout also addressed the jury at the beginning of the death penalty hearing last week — only to insist he was not mentally ill.
"Other than the fact that I trust people that I shouldn't, there is nothing wrong with me psychologically," he told the jury, referring to his attorneys' attempts to present evidence of mental health problems.
At the beginning of the penalty phase of the trial, jurors learned that Roof had continued to show no remorse weeks after the crime.
"I would like to make it crystal clear I do not regret what I did," Roof wrote in a journal found in his jail cell six weeks after his arrest. "I am not sorry. I have not shed a tear for the innocent people I killed."
Roof added that he did feel sorry for the "innocent white children forced to live in this sick country" and "I have shed a tear of self-pity for myself. I feel pity that I had to do what I did in the first place."
Usually during the sentencing phase of a death penalty case, the defense tries to mitigate the prosecution's case by presenting evidence about background issues, such as childhood upbringing and mental health problems, in an effort to encourage jurors to be more lenient.
Yet from the beginning, Roof has resisted any idea of mounting a defense on the premise that he is mentally ill.
"I am morally opposed to psychology," he scrawled in a journal that investigators found in his car after the massacre. "It is a Jewish invention, and does nothing but invent diseases and tell people they have problems when they don't."
In his statement to the jury Tuesday, as he spoke about how he felt the need to commit the killings, Roof said, "I think that it's safe to say that no one in their right mind wants to go into a church and kill people."
Over the last week, Roof declined to cross-examine any of the prosecution's 25 witnesses or present any witnesses of his own. Yet he filed several motions last week objecting that the prosecutor's victim impact testimony was excessive.
Outside the courthouse, as Graham spoke of the loss of his sister, he said he hoped that Roof might at some point turn his life around and make a humble confession to God.
"When he gets there, he can join my sister and the other eight in heaven.… For God said, 'I will forgive you. For no matter what you do, I will forgive you,'" he said.
Asked whether he had forgiven Roof, he paused.
"I'm a work in progress," he said. "I think that, in time, that will come. I can't live in hate.… But right now, no."
Jarvie is a special correspondent.
ALSO
Numerous red flags arose in months leading to Fort Lauderdale airport shooting
From indie-rock shows to LGBT trivia nights: This is not your father's American Legion post
A federal prosecutor takes on the heroin scourge that claimed his son
---
UPDATES:
6:30 p.m.: This article was updated with more comments from a shooting victim's relative.
4:34 p.m.: This article was updated with comments from a shooting victim's relative.
1:55 p.m.: This article was updated with the jury's sentencing.
12:15 p.m.: This article was updated with additional remarks from prosecutors.
10:35 a.m.: This article was updated with statements from Roof, prosecutors, jury beginning deliberations.
This article was originally published at 7:05 a.m.
Sign up for Essential California for the L.A. Times biggest news, features and recommendations in your inbox six days a week.
You may occasionally receive promotional content from the Los Angeles Times.