92 deaths, 2,623 bullets: Tracking every Chicago police shooting over 6 years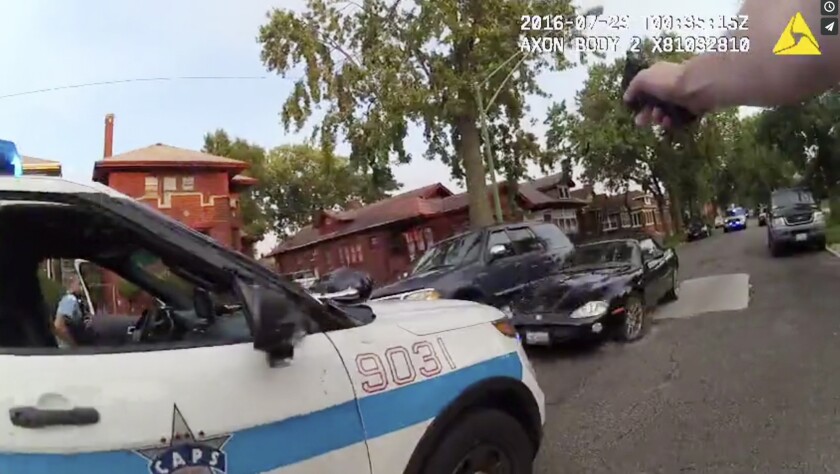 Reporting from chicago —
Every five days, on average, a Chicago police officer fired a gun at someone. In 435 shootings over a recent six-year span, officers killed 92 people and wounded 170 others.
Although a few of those incidents captured widespread attention, they occurred with such regularity — and with scant information provided by police — that most have escaped public scrutiny.
Now, after months of struggles with Chicago police to get information through the Freedom of Information Act, the Chicago Tribune has compiled an unprecedented database of details of every time police fired a weapon from 2010 through 2015.
Analysis of that data revealed startling patterns about the officers who fired and the people they shot at. Among the findings:
• At least 2,623 bullets were fired by police in 435 shootings. In 235 of those incidents, officers struck at least one person; in 200 shootings, officers missed entirely.
• About 4 out of every 5 people shot by police were African American males.
• About half of the officers involved in shootings were African American or Latino.
• The officers who fired weren't rookies and on average had almost a decade of experience.
• Of the 520 officers who fired their weapons, more than 60 of them did so in more than one incident.
• The number of shootings by police — hits and misses — declined over the six years, from more than 100 in 2011 to 44 in 2015.
For years, examining the full scale of the problem in Chicago was impossible because the city refused to release most details about police-involved shootings.
Before the release last year of the video of Laquan McDonald's killing by an officer brought pressure for transparency, the only information made public in the hours after a shooting came in comments from a police union spokesman at the scene and perhaps a short statement from the Police Department. As investigations dragged on for months or years, the details remained hidden.
See more of our top stories on Facebook »
The data on officer shootings were released to the Tribune after a seven-month battle with the city over its failure to fulfill public records requests. The department produced the data in July after the Tribune threatened to sue.
The analysis comes at a time when police in Chicago and throughout the country face heightened scrutiny after several controversial police shootings, often of minorities, have been captured on video and gone viral.
The Tribune's study encompasses high-profile cases such as the McDonald scandal as well as scores of incidents that were not caught on video and received little or no attention.
It begins on New Year's Day 2010 with a teen shot in the stomach while handcuffed to a security fence in the Park Manor neighborhood. It ends six years later, on the day after Christmas 2015, when an officer wounded an armed suspect on the city's South Side.
To be sure, policing the city's most dangerous streets can be harrowing. Nearly 6,000 illegal guns have been seized in the city this year — a staggering amount of firepower that far outpaces those of other big cities.
The dangers were on display in graphic detail this month when the department released dramatic dashboard-camera video of officers being shot at while pursuing a carjacking suspect in their squad cars on the South Side. One officer suffered a graze wound to his face.
"As a police officer, you don't wait for the shot to come in your direction," Dean Angelo Sr., president of the Chicago Fraternal Order of Police, told the Tribune recently about the database findings. "You might not get a chance to return fire."
But for many of those who live in the largely African American communities where police most often open fire, the narrative of self-defense seems like a familiar script.
At a recent rally protesting police shootings, Charles Jenkins, a 61-year-old community activist who has spent his entire life on the city's West Side, said he believes race plays a role in how authorities investigate shootings by police.
"It's easier to believe, because they're black, that an officer was in fear of their life and get[s] off," he said.
Although the Tribune's analysis showed police-involved shootings have declined during the six-year period, from a high of 107 in 2011 to 44 in 2015, Chicago still outpaces other major cities. A recent analysis by Los Angeles police officials shows Chicago has recorded more officer-involved shootings over a five-year period ending in 2015 than Los Angeles, New York, Houston or Philadelphia.
The officers who shot someone often said they did so because they were in fear for their lives, a key requirement before police are supposed to use lethal force. In about 6 of every 10 shootings, officers said the civilian had pointed a gun at them or made some other move leading them to think they were armed, such as reaching toward their waistband.
Controversial shootings by Chicago police have raised questions from residents and experts about the motivations of officers, their experience and training, and how the department has kept track of officers who fire their weapons.
A U.S. Justice Department investigation of the Police Department is likely to call for major improvements in training, particularly in how officers can de-escalate events without using deadly force. For its part, the department has already announced that it will be rolling out mandatory two-day training for officers on tactics that emphasize decelerating conflict to avoid deadly force.
Smith Richards, Caputo, Lighty and Meisner write for the Chicago Tribune.
---
Must-read stories from the L.A. Times
Get all the day's most vital news with our Today's Headlines newsletter, sent every weekday morning.
You may occasionally receive promotional content from the Los Angeles Times.