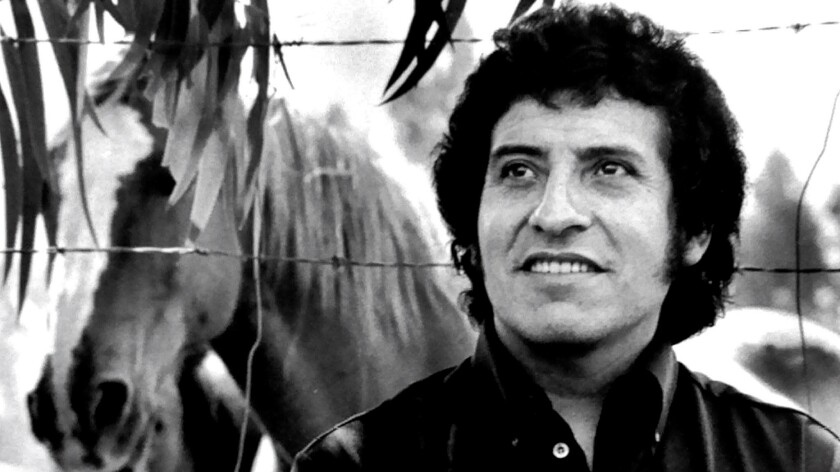 Reporting from Orlando, Fla. —
A former Chilean military official who for decades had been suspected in the violent slaying of Victor Jara, one of the country's cultural icons, was found guilty Monday in the folk singer's death and ordered to pay his widow and daughters $28 million in damages.
Because the case against Pedro Pablo Barrientos Nunez was held in a civil court in Florida, the former military official cannot be jailed and was subject only to financial liability.
When the verdict was read, Jara's widow, Joan, and their two daughters, Manuela and Amanda, cried and embraced. Barrientos, 67, sat stone faced and refused to comment as he left the courthouse, responding only, "No commento."
Outside the courthouse in downtown Orlando, Joan Jara was measured when expressing her reaction.
"It has been a long journey seeking justice for Victor's death," Jara, 88, said. "His songs continue to be sung today and inspire both artists and those who seek social justice. For Victor, art and social justice were one and the same.
"Today, there is some justice for Victor's death, and for the thousands of families in Chile who have sought truth. I hope that the verdict today continues the healing."
Kathy Roberts, legal director for the Center for Justice and Accountability, which helped represent the family, said she hoped the victory would push the U.S. government to honor Chile's request to have Barrientos returned to his homeland to face criminal charges.
"It's a step on the path towards justice for our clients and for Victor, but also for the many other families who lost someone at Chile Stadium many years ago," Roberts said. "We believe we presented some evidence here that shed light on what happened there. We hope that process will continue in Chile and we hope the government of the United States will extradite Mr. Barrientos to face justice in the country where he committed these crimes."
The U.S. and Chile haven't ratified a new extradition treaty since 1900, said Naomi Roht-Arriaza, a professor at the UC Hastings College of the Law in San Francisco and an expert in international human rights law.
She said a new treaty was drafted in 2013 and it passed through the Chilean legislature the following year, but it has been sitting in the U.S. Senate Foreign Relations Committee.
Barrientos, who moved to the U.S. in 1989, now lives in Daytona Beach.
Barrientos' lawyer, Luis Calderon, said they were disappointed with verdict and would explore appealing the decision.
During the trial, Barrientos was caught contradicting himself on several occasions, weakening his credibility. He also claimed during the trial to have never heard of Victor Jara, who was a popular culture icon at the time, influencing singers like Bob Dylan, Joan Baez and Bruce Springsteen.
Jara was among the hundreds marched to a soccer stadium and held in the venue's darkened tunnels. His body was later identified by Joan Jara at a government morgue. He had been shot 41 times.
Barrientos came to the U.S. in 1989 after the fall of the regime led by Gen. Augusto Pinochet, who took power in September 1973 with the help of the CIA, toppling the democratically elected government of Salvador Allende, who killed himself in the presidential palace rather than be taken prisoner as Pinochet's forces began bombing it.
Barrientos was the second-highest ranking officer in the 1st Section, 2nd Combat Company of the Tejas Verdes Battalion, which had been assigned to guard the Estadio Nacional on Sept. 11, 1973, when Pinochet's coup d'tat began. It is believed Jara was killed Sept. 15.
Pinochet then began a 17-year rule of terror, in which 40,000 people were killed, tortured or simply disappeared. He died at the age of 91 in Chile in 2006, never having been convicted of crimes.
ALSO
Supreme Court overturns Texas abortion restrictions
There's a deep divide in how blacks and whites see race. New numbers prove it.
Old and poor: An especially bad combination in this Arizona county
---
UPDATES:
5:01 p.m: This article was updated with additional details of the trial and background information.
This article was originally published at 1:47 p.m.
---