Old and poor: An especially bad combination in this Arizona county
Reporting from Salome, Ariz. —
When 79-year-old Delilah Zipse slipped and fell in her trailer home, she didn't call anyone.
Splayed on her bathroom floor, she couldn't reach the phone. But even after more than an hour passed and she managed to prop herself up against the toilet, she decided not to bother any of her neighbors.
They had their own problems. Jim had also taken some falls. Reba was going blind. Dick recently developed asthma.
"We're left out in no-man's land," said Zipse, who eventually dragged her badly bruised body back to her favorite chair and turned on the television. "There's nobody here and nobody coming."
We're left out in no-man's land. There's nobody here and nobody coming.
Delilah Zipse, resident of La Paz County, Ariz.
When it comes to being old and poor in Arizona, there are few places with less to offer than La Paz County.
"We cannot offer them what they would get elsewhere because we just don't have the money," said the county administrator, Dan Field.
Senior citizens have long flocked here for the warm weather and now make up more than a third of the county's roughly 20,000 year-round residents. Only four U.S. counties have a higher percentage of people 65 and older.
Just under 7% of La Paz's seniors — 484 people, according to the U.S. census — live below the federal poverty line, each earning less than $11,770 a year.
In other Arizona counties, they would enjoy services including subsidized housing, food deliveries, rides to medical appointments and basic nursing care not covered by Medicare.
But in La Paz, they are largely left to fend for themselves. They live in nearly abandoned communities accessible only by dirt roads, places with names like Bouse, Utting and Hope that on some maps are labeled as ghost towns.
The reasons for the neglect start with the history of the county, formed in 1983 when the rural north of Yuma County seceded from the urban south and named itself La Paz, with the hope of better serving its citizens. But without a major city or much of a tax base, the county struggled from the beginning to provide basic services.
County officials say the greatest burden comes from the tens of thousands of people who spend only winters in La Paz — at times more than quintupling the population — and don't count in the official population statistics but cost the county more than they contribute.
Officials were unable to back up that assertion with data, saying that they do not distinguish between part-time and full-time residents when providing services.
Most visitors live in RV parks on federal land and pay no property taxes, the major source of revenue for Arizona counties. Sales taxes alone cannot pay for their burden, Field said.
Because most of the part-timers are elderly, the county can get stuck with expensive bills for their healthcare. In 2014, a Canadian arrived with tuberculosis and left the county with a $120,000 bill for treatment. In all, the county spends about $830,000 a year — or 7% of its budget — caring for its elderly residents and visitors.
La Paz's financial situation has been especially bad since the Great Recession started in 2007 and the state began cutting subsidies to poor counties.
"The whole county is hurting," said Carol Brown, a Bouse resident who wrote a history of the community. "Each community has to make do for themselves."
In each of those places, a handful of retirees who are too poor to leave form a hardy fraternity of desert lifers who withstand 120-degree afternoons by shuttering themselves inside their trailers until the sun sets.
Their main support comes from the Parker Senior Center, which began as a bingo hall but gradually saw its mission evolve to include food delivery, arranging rides home from the hospital and housekeeping.
"The state calls us rural. I call us frontier," said Dara Tilley, who runs the organization on modest city funding, minimal county contributions and charity.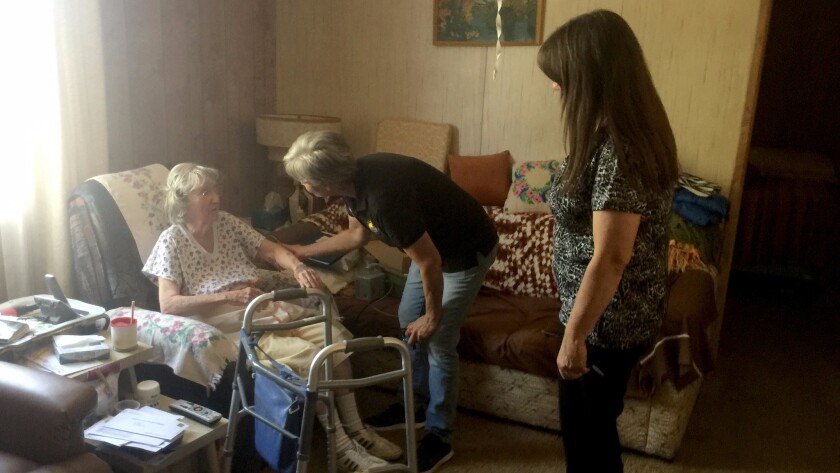 It's enough to provide at least some care.
Polly Thorpe, 81, is one of the beneficiaries. She keeps her air conditioning at 83 degrees and uses a machine to roll her own cigarettes. There is usually one smoldering in an overflowing ashtray, sending wisps of smoke through her trailer.
In a typical week, the only person she sees is Janine Acton, her caregiver sent from the senior center to check the dates on her prescription drugs, make sure she has enough frozen dinners on hand and take care of anything else Thorpe needs.
Thorpe used to be one of Acton's most cheerful clients. Now Thorpe says she doesn't want company or neighbors. She explained in one word why she has chosen this lonely outpost as her home: "Cheap."
Has she spoken to any of her four children this year?
"Nah."
Acton tried to get her talking. It wasn't working.
"If God wants to save me, he'll save me," Thorpe said. "If not, he knows where to put me."
See more of our top stories on Facebook »
The world can feel dizzying to some of Acton's clients.
On her most recent visit to 83-year-old Clifton Compton, he was confused about a bill from the local medical clinic. It was a co-pay not covered by Medicare.
His hand trembled with Parkinson's disease as he held it out for Acton to examine. With a practiced eye, she read it upside-down.
Acton called the hospital and demanded to speak with the billing department, then grilled an employee about the charges.
"Go in there and offer to pay cash," Acton finally told Compton. "They'll almost always lower the bill for that."
Compton nodded and smiled. Acton checked his freezer to ensure he had food until the next visit, which could be seven days later, then let his screen door slam behind her on the way out as she headed to see her next client.
Sandra Poindexter of The Times' data team contributed to this report.
ALSO
President Trump? Among U.S. allies, Japan may be one of the most anxious about that idea
Billionaire Tom Steyer is spending millions on behalf of Democrats. What will he get out of it?
The Vietnam warrior who wrote 'Born on the Fourth of July' recounts another fight
---
Must-read stories from the L.A. Times
Get all the day's most vital news with our Today's Headlines newsletter, sent every weekday morning.
You may occasionally receive promotional content from the Los Angeles Times.