Cincinnati prosecutor who charged officer: 'When I indict a murderer, I don't pull punches'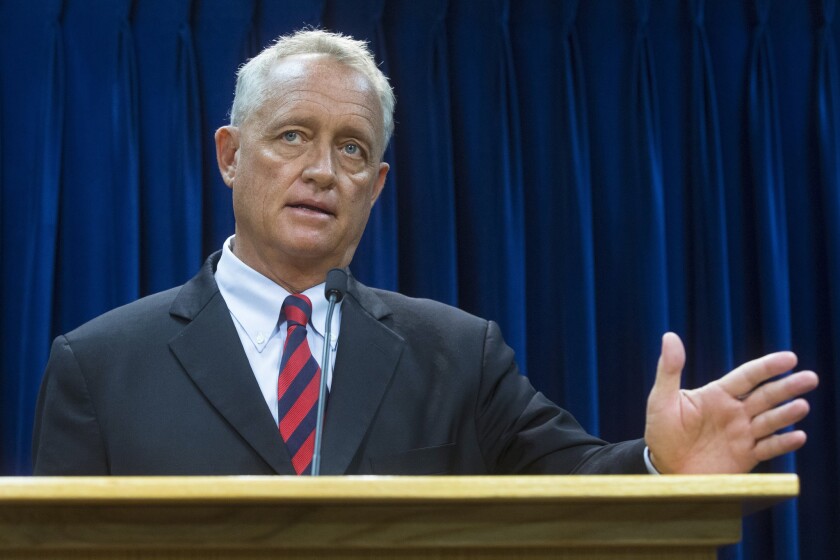 To put it simply, Joseph T. Deters, a law-and-order Republican from Hamilton County, Ohio, is not a prosecutor who's known for sending cops to jail.
When he announced Wednesday that he had obtained a grand jury indictment for murder against a police officer in the shooting of an unarmed black motorist, Deters, 58, became an instant celebrity.
His expressions of disgust and dismay at the traffic stop that left a motorist with a fatal gunshot wound to the head spread rapidly across social media.
But the longtime prosecutor says his recommendation to the grand jury was based on a clear-eyed assessment of the facts.
NEWSLETTER: Get the day's top headlines from Times Editor Davan Maharaj >>
"I've reviewed probably 100 police shootings. This was bad from the start, and you know, he's going to have to answer for it — that's the bottom line," he said in an interview Thursday, referring to the officer involved. "I think it was a murder… I think we'll win this case."
At a time of increasing tension across the country over the deaths of unarmed African Americans at the hands of police officers, the indictment on one of the strongest possible charges was unusual.
Officials had feared unrest after the July 19 traffic stop, when Officer Raymond Tensing of the University of Cincinnati Police Department shot Samuel DuBose, whom he had stopped for driving without a front license plate. The school closed its campuses shortly before Deters' news conference on the grand jury's decision.
Then Deters got in front of the cameras and started talking.
"This is the most asinine act I've ever seen a police officer make," the blue-eyed, silver-haired prosecutor told reporters, before showing Tensing's body-camera video of the shooting. "Totally unwarranted. It's an absolute tragedy in the year 2015 that anyone would behave in this manner."
With a boldness that has defined his legal career, Deters then called for the university's Police Department to disband. Tensing, he said, "should never have been a police officer."
Across the country, many activists who have taken on the issue of police violence against African Americans seemed to be caught off guard.
"I have sincerely never seen a white prosecutor in my entire life as outraged as [prosecutor] Deters is right now about this unjustified police murder," Shaun King, a prominent social-media activist who monitors police shootings, wrote Wednesday on Twitter.
A top police union official said he was also surprised.
"Some of the remarks he made were way out of line," said Jay McDonald, president of the Ohio Fraternal Order of Police, which has 25,000 members and will provide Tensing's legal defense.
Union-represented officers in Deters' county were especially unprepared for his announcement, McDonald said. Before now, he said, "they've been very supportive of him and his office and the way that he does things."
When told that union officials had disagreed with his remarks, Deters didn't flinch.
"Too bad," he said Thursday. "When I indict a murderer, I don't pull punches."
Deters called it "outrageous" that a traffic stop for a missing front license plate should lead to an "execution."
"And if they don't like it, they shouldn't be police officers, and if they don't want to endorse me again, I couldn't give a s—," Deters said of union officials.
"This was a flat-out murder, you know?" he said. "If you don't see what this is, you shouldn't be in law enforcement. I think it's horrible. That could've been your kid, my brother. I just think it's horrendous."
Deters, a divorced father of four, first joined the Hamilton County prosecutor's office as an assistant prosecutor in 1982, after he graduated from the law school at the University of Cincinnati.
His star rose quickly in county politics. He became clerk of courts in 1988 and county prosecutor in 1992, then state treasurer in 1999 before returning as Hamilton County prosecutor in 2004.
Deters has since built a reputation as an unusually effective death-penalty prosecuting attorney.
A 2012 Cincinnati Enquirer analysis found that the state's death row was disproportionately filled with inmates from Hamilton County.
But this was not because Deters pursued the death penalty more often: He actually pursued the death penalty far less than prosecutors in other large counties, but was seven times more successful when he did.
"He is known as being a very tough prosecutor, and he often speaks very candidly and is very upfront about his feelings when talking about cases," said Mike Brickner of the American Civil Liberties Union of Ohio.
While Deters is a passionate supporter of the death penalty, he is not known for using it as a bargaining chip to get defendants to plead guilty. "He's been very hard-nosed, but then, at the same time, sometimes he surprises you," Brickner said.
Deters has also questioned whether marijuana should be illegal, and chaired a task force this year to examine the drug's legalization.
"We were just shocked by that — absolutely shocked by that — especially given his background and what he's done before," said Marcie Seidel, executive director of Drug Free Action Alliance, a Columbus-based anti-drug group.
Deters says he is concerned that marijuana charges tend to "skew" more toward the black community. "I would rather a guy smoke a joint than drink a bottle of vodka.... I don't have any problem legalizing it at all," he said.
He has long known it was only a matter of time before Cincinnati would have to deal with a highly charged police shooting case like those in other cities, he says.
"I knew it was coming; I just didn't know when," Deters said. "We were blessed the cop had a body camera."
ALSO:
Perspective: Cincinnati body-cam images made us players in a video game
How Black Lives Matter forced campaigns to toss their strategies on black voters
Contaminated cooling towers studied in South Bronx Legionnaires' disease outbreak

---
Must-read stories from the L.A. Times
Get the day's top news with our Today's Headlines newsletter, sent every weekday morning.
You may occasionally receive promotional content from the Los Angeles Times.