Who says you can't ride a wave in a landlocked state? In Colorado, surf's up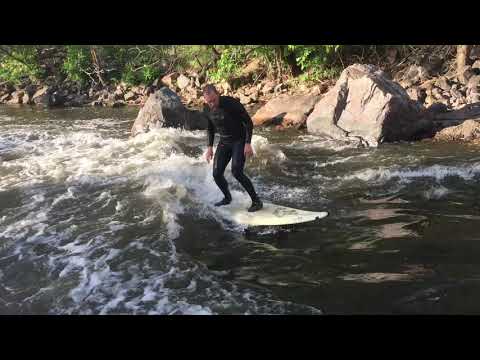 Dan Setzke surfs the Beaver Wave in the South Platte River running through Denver.
Reporting from Denver —
As thousands of cars idled in rush-hour traffic on bridges above, Eric Thomas and his buddies scrambled down a dirt path to the banks of the South Platte River below.
They picked their way across a low wall to a spot where water was pumping fiercely through a corridor of rocks.
Wearing a helmet and wetsuit, Thomas aimed his stubby surfboard at the center of what's known as the Beaver Wave and leaped in. He was immediately hurled downriver.
He swam back into the roiling water, slowly getting to his knees, then his feet.
A roar erupted from his friends.
"That's it!" David Riordon yelled. "Colorado surfing right there!"
Mention Colorado and the mind turns to mountains, skiing, maybe even John Denver or legal dope. But not surfing.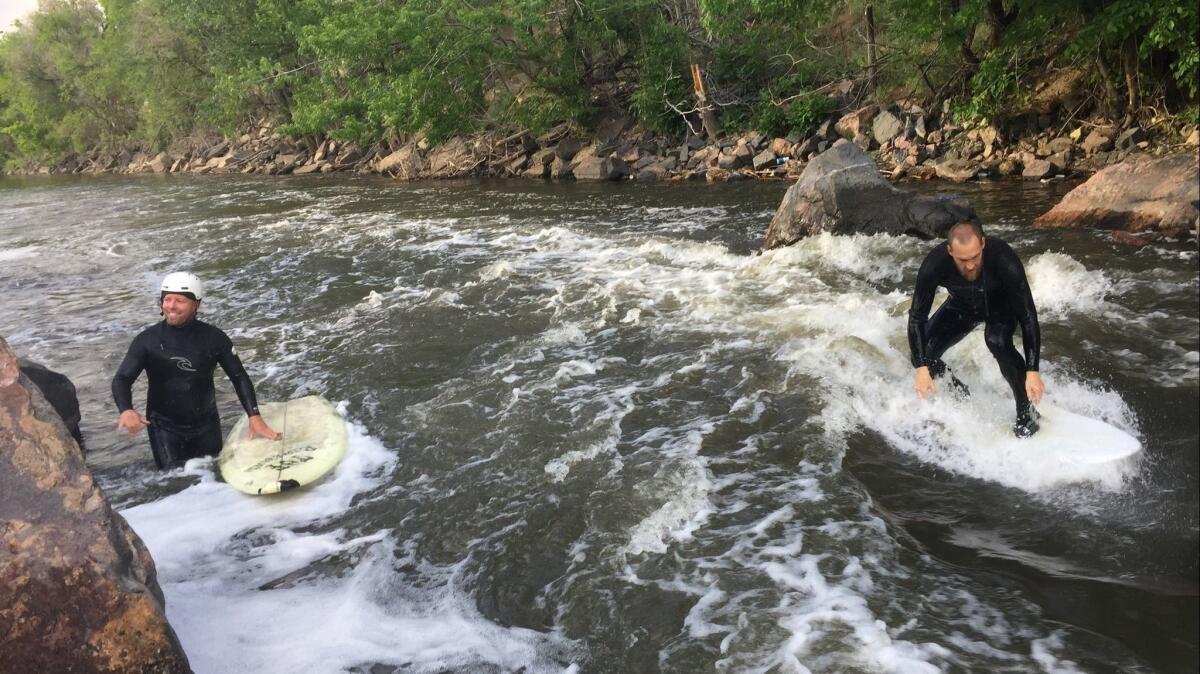 Yet in this hyperathletic state a thousand miles from the Pacific, a growing number of locals and coastal exiles are heading for Colorado's abundant rivers to catch a wave. And while no one will mistake the South Platte or the Animas or the Colorado River for the North Shore of Oahu, they can generate powerful waves that hold a magic all their own.
"I call us landlocked surf addicts," said Dan Setzke, 44, who runs Colorado Surf Supply and makes river boards in his Denver garage. "But to me, if you use your imagination and squint your eyes, you can mimic the feeling of the ocean."
Surfers from across the nation are shredding inland waves, natural and manufactured, in Idaho, Oregon, Montana, Wyoming, Iowa and beyond.
The sport is thought to have started in the mid-1970s when some intrepid surfers took on a big, churning wave on the Eisbach River in Munich, Germany. The sensation was so similar to yet so different from ocean surfing that the sport immediately took hold.
In Colorado, surfers have long searched the state for continuous or at least seasonal waves. Now, thanks to submerged, adjustable platforms that shape a river's flowing water into waves, they can surf in Pueblo, Florence and Salida and take on occasional 10-footers on the Colorado River.
In 2016, River Run Park opened outside Denver on the South Platte. Veterans and novices alike flocked to it, stoked by the prospect and weirdness of surfing in the city. The park's largest wave is considered by many to be the highest-performing in Colorado.
"I realized there was pent-up demand for something like this," said Ben Nielsen, project manager for McLaughlin Whitewater Design Group in Denver, which created the two waves in River Run Park and has done similar work around the country.
Nielsen, 36, got hooked on surfing while a student at Cal Poly San Luis Obispo. After moving to Denver, he suffered saltwater withdrawal. Then he surfed the Lunch Counter, a fast-moving wave on Wyoming's Snake River.
It was literally a watershed moment for him. He looked at a map of the coasts, then a map of America's inland waterways, and saw enormous potential.
"I thought if we could build river surfing waves, we could build a community of surfers around it," Nielsen said. He was right.
On a recent Sunday, River Run was jammed with high-spirited surfers. Music pumped from speakers perched on rocks. Families sat along the shore. Cheers went up as surfers threw themselves into wave after boiling wave, wiping out in spectacular fashion.
There was no need to paddle out to waves here; surfers like Clay Smith just waited in line for a turn.
Smith, 34, moved here from Texas, where he surfed the Gulf of Mexico.
"River surfing totally filled the ocean void," he said. "You're harnessing the energy of the river and connecting with nature in a totally different way. It stokes your creative spirit."
Blair Eastwood, 37, was up next. She said a friend was riding a wave once when everyone began gesticulating wildly at him.
"He thought they were cheering him on, but in fact there was a whole tree coming down the river toward him," she said. "Luckily, he was able to surf around it."
Many at the park belonged to the newly formed Colorado River Surfing Assn., which held its first meeting in May.
"We are taking an already existing underground surf scene and making it accessible to others," said Riordon, 54, president of the association, whose motto is "Surf is where you find it."
Riordon grew up surfing in Florida and Guam before landing in Denver as an investigator for the Internal Revenue Service.
"When River Run opened I realized something special was happening around that wave," he said. "People were really getting into it."
The park's waves rely on water released from the nearby Chatfield Reservoir. Exactly when that happens is an enduring, frustrating mystery. The Endless Waves website run by Jacob Vos issues routine water-flow reports for River Run and other prime surfing spots.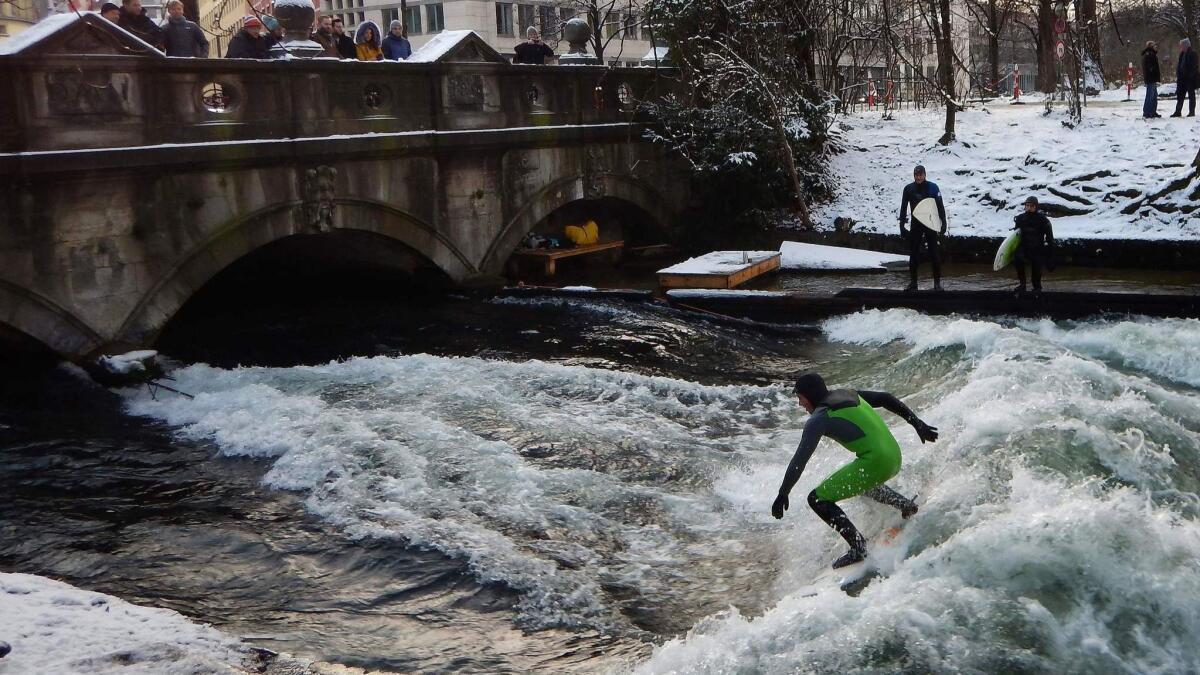 Vos, 34, said river surfing should be recognized as its own sport.
"River waves can't give you the speed or force of a breaking ocean wave. The river wave is either breaking continuously or standing up and never breaking," he said. "To an observer, it looks like you're standing still, but there is still a sensation of speed. Even the best ocean surfers will have a problem entering a river wave. I probably fell 50 to 100 times before being able to enter a wave."
River surfers head directly into the wave and rely heavily on their back leg for balance. Their boards are shorter and wider for better buoyancy in shallower, less dense freshwater.
Hazards abound. Ankle leashes tethering a foot to a board can wrap around rocks and drown a surfer. Floating branches and debris pose unexpected threats. Whirlpools can drag people under, and wipe-outs may fling surfers far downriver. The shark threat, however, is minimal.
Eric Thomas, 45, a critical-care nurse in western Colorado, is something of a river surfing pioneer. He's been surfing anything with waves for decades and stalks his watery quarry on the internet.
"I can look down and see the whitecaps, sometimes the glistening," he said. "I find irrigation canals on Google Earth and surf them. I surf in deserts. I've surfed in Iowa cornfields. I like the raw adventure of it. Nobody else does it."
Thomas grew up riding waves in the Bahamas, California, Hawaii and Florida before becoming a professional body surfer. When a new job brought him inland, he turned his attention to the rivers.
"In the ocean your longest ride is about 10 to 20 seconds," he said. "When you're on a river wave for 10 to 12 minutes, your brain doesn't think about anything; it is meditation."
Thomas surfs year-round, especially when there's snow and ice. He smiles easily and speaks almost poetically of his passion.
"The ocean will pound you," he said, "but the river is relentless."
Back at the South Platte, Thomas and Setzke quickly found their groove, taking turns zipping in and out of the Beaver Wave.
But a first-timer facing the oncoming rush of water found simply lying on the board close to impossible. Standing up even more so. The wave spurned every clumsy advance, repeatedly sweeping the hapless novice downstream.
Riordon scouted for debris. The river flows through the center of Denver, past refineries and homeless encampments, picking up trash and detritus along the way.
"Bottle!" he yelled. "Rubber ball!'
Dusk fell and a warm wind blew. Lightning flashed in the billowing clouds to the east. Thomas was heading to Montana the next day to surf the Yellowstone River.
He rode a last wave before wiping out in a flurry of whitewater. He rose from the river with a beatific grin.
Gnarly?
"Straight Zen," he said.
Kelly is a special correspondent.
Sign up for Essential California for the L.A. Times biggest news, features and recommendations in your inbox six days a week.
You may occasionally receive promotional content from the Los Angeles Times.