Supreme Court makes it harder to prosecute officials for taking bribes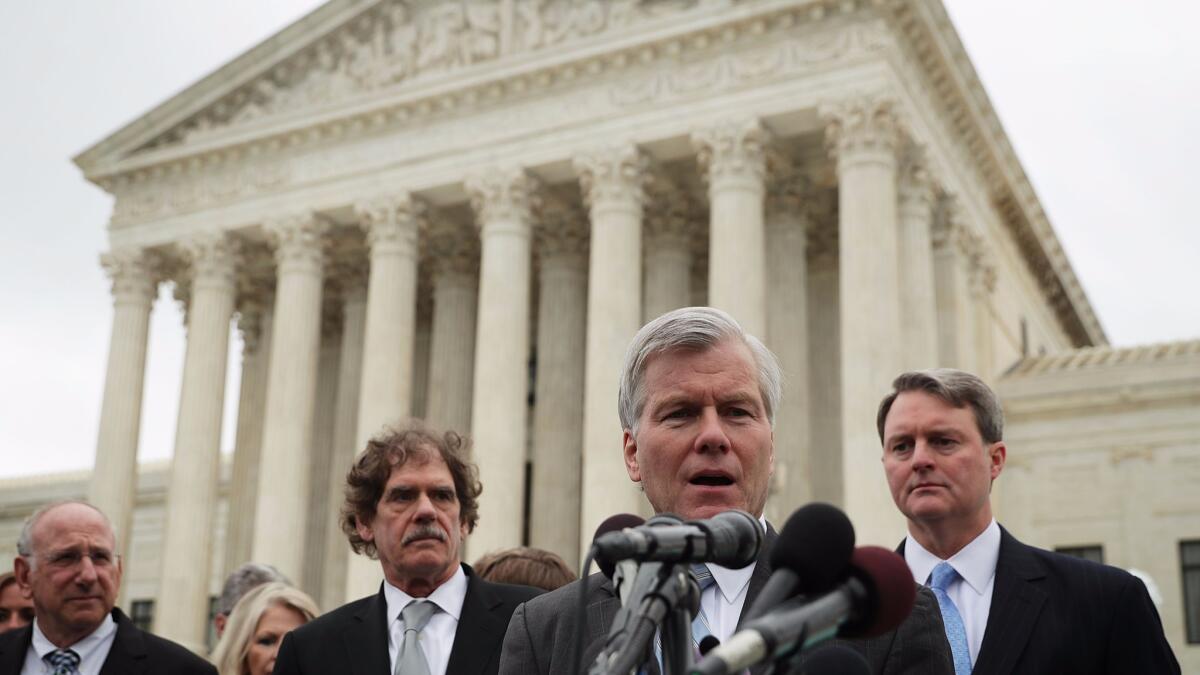 Reporting from Washington —
The Supreme Court on Monday made it much harder to prosecute public officials for bribery, ruling that governors, legislators, mayors or their advisors who take secret cash from wealthy people for setting up special meetings are not guilty of a crime.
The justices by a 8-0 vote overturned the bribery conviction of former Virginia Gov. Robert McDonnell because prosecutors did not prove that he took a direct "official action" in exchange for the $175,000 in gifts and loans he received from a businessman who was promoting a dietary supplement made from tobacco.
McDonnell's was a "tawdry tale" of "Ferraris, Rolexes and ball gowns," conceded Chief Justice John G. Roberts Jr. The former governor, a rising star in Republican circles and a favorite of Christian conservatives, was deeply in debt when he and his wife accepted luxury gifts and $120,000 in "loans" from Jonnie Williams, the chief executive of Star Scientific who was touting his tobacco-based product.
In return, McDonnell set up meetings and a luncheon at the governor's mansion to help promote the supplement, and he told several state aides to meet with Williams to discuss its benefits and the possibility of state-sponsored research.
In the end, the state and its medical schools said they were not interested and took no action.
Roberts stressed that the governor did not order or "exert pressure" on state aides to approve research on the suspect supplement.
"Setting up a meeting, calling another public official or hosting an event does not, standing alone, qualify as an 'official act,'" Roberts said in McDonnell vs. United States.
During oral arguments, several justices voiced concerns about overzealous prosecutors who might criminalize routine activities by bringing corruption charges against local officials simply for setting up meetings with people who supported them and their campaigns.
Before the ruling, Justice Department attorneys had warned the high court that such a ruling would legalize a "pay to play" approach to government where people with money would get special access.
Fred Wertheimer, a longtime advocate of campaign funding limits, said the ruling will "further undermine the already low confidence of citizens in government and public office holders."
Former University of Chicago law professor Professor Albert Alschuler said the decision seems to say "any official can openly take money for providing access to another official. If I were secretly to pay the president's chief of staff $1 million to set up a 15-minute meeting with the president, almost everyone would say I'd bribed him. Astonishingly, however, there are eight people who'd disagree, and they are all on the Supreme Court."
McDonnell issued a statement Monday to "express my heartfelt gratitude" to the justices. "From the outset, I strongly asserted my innocence before God and under the law," he said, thanking the lawyers who worked on his appeal. They "have given me a vivid and indelible example of Jesus' admonition to live by the Golden Rule."
UC Irvine Law Professor Richard Hasen called the decision "courageous and sensible," even though it is "letting off the hook someone whose actions were odious." He agreed with the court that an overly broad interpretation of "official act" allows "overzealous prosecutors" to "make a name for themselves" by going after officials over minor transgressions.
The federal bribery law makes it a crime for a public official to "corruptly demand, seek, receive, accept or agree to receive or accept anything of value personally...in return for being influenced in the performance of any official act."
Prosecutors charged McDonnell under that law, and a jury convicted him on 11 counts of corruption. A judge sentenced McConnell to two years in prison. He has remained free pending his appeal.
The 4th Circuit Court in Richmond agreed he was guilty of a violation. Lawyers for McDonnell appealed to the Supreme Court, saying the jury did not receive a proper definition of an "official act."
That proved to be a winning argument.
"Because the jury was not correctly instructed on the meaning of 'official act,' it may have convicted Gov. McDonnell for conduct that is not unlawful," Roberts wrote. "For that reason we cannot conclude that errors in the jury instruction were harmless beyond a reasonable doubt. We accordingly vacate Gov. McDonnell's convictions."
The court's opinion leaves prosecutors with the option to retry the ex-governor under different jury instructions.
Supreme Court live updates: Abortion-rights activists and protesters flood the court plaza after decision »
Shortly after McDonnell, a former state attorney general, was elected governor in 2009, he and his wife Maureen found themselves in deep financial trouble. They were running up debts on their credit cards and were losing several thousand dollars every month on two vacation homes he had purchased as an investment.
The governor soon learned through his wife that a free-spending businessman from Richmond, Va., had agreed to help them with "this financial situation," as she put it.
Williams believed his supplement would be profitable if he could sell it as a pharmaceutical product, and he hoped the state and its medical schools would fund research that could bolster its appeal to the Food and Drug Administration.
Williams let the governor fly to California in his private plane in 2010 so he could explain his plans. And to win favor with the governor and his wife, he lavished them with gifts and cash. He took Maureen shopping in New York and spent $20,000 on designer clothing. He paid the $15,000 cost of their daughter's wedding dinner. McDonnell and his sons went on golf outings paid for by Williams, and the business executive gave the governor undocumented "loans" that came to $120,000 to pay his debts.
His corruption trial featured a photo of McDonnell proudly driving a Ferrari that Williams had lent him for a weekend. On the day that photo was taken, the governor told the state's health director to meet with Williams to discuss possible research on the dietary supplement. The state director was dubious and sent a deputy in his place.
On Twitter: DavidGSavage
ALSO
As activists prepare to protest the RNC, the FBI comes knocking
Trump's failed Baja condo resort left buyers feeling betrayed, angry
Former high-ranking Sheriff's official to be sentenced for role in obstructing FBI probe
---
UPDATES:
3:49 p.m.: This article was updated with more reaction and analysis.
8:10 a.m.: This article was updated with additional excerpts from Chief Justice Roberts' opinion.
7:59 a.m.: This article was updated with background on the case.
This article was originally published at 7:37 a.m.
Sign up for Essential California for the L.A. Times biggest news, features and recommendations in your inbox six days a week.
You may occasionally receive promotional content from the Los Angeles Times.