The feds just passed criminal justice reform. Here's why state-level efforts matter more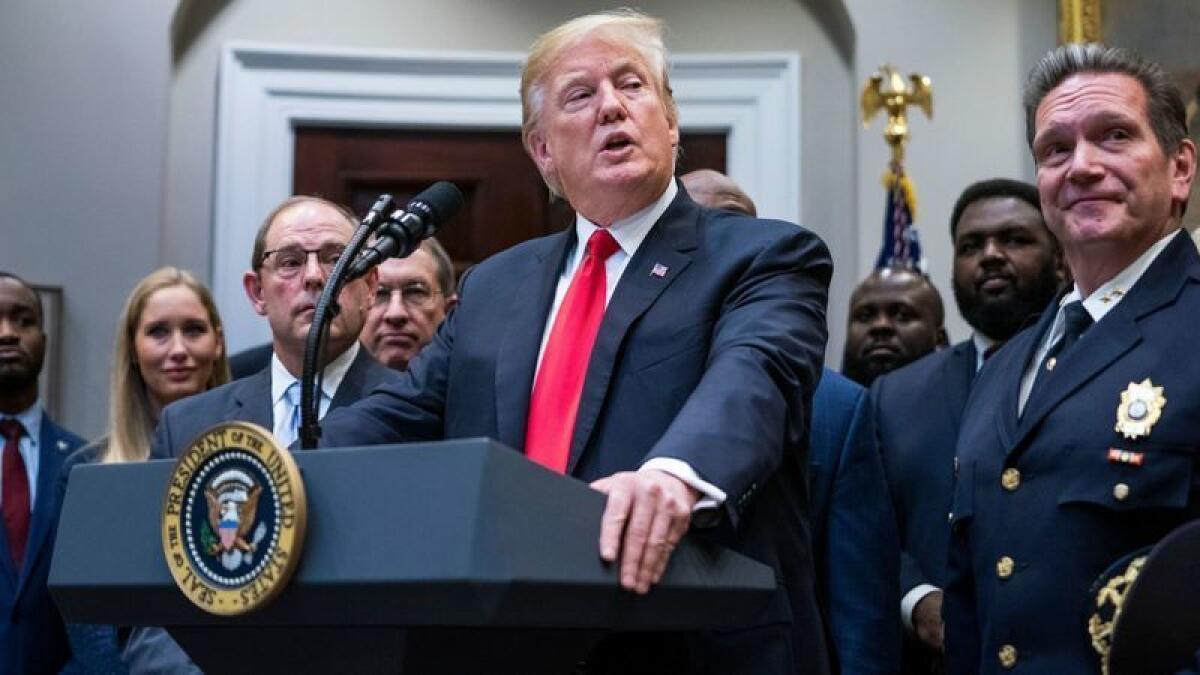 It is the most significant change to the federal criminal justice system in decades.
The First Step Act, signed into law this month by President Trump, will begin to undo some of the harshest "tough on crime" policies of the 1990s, giving nonviolent offenders a chance at earlier release and shortening future prison sentences.
But the law will barely make a dent in the country's overall prison and jail population, because most crimes are prosecuted locally — not by the federal government — and the vast majority of people behind bars are in state or local facilities.
Only about 8% — or roughly 181,000 people — are in federal custody. The new law is expected to lead to the release of 53,000 of them over the next decade.
The more than 1.9 million state and local inmates, however, are likely to benefit from the same forces that led to the bipartisan passage of the federal law: crunched budgets, shifting public opinion and a growing consensus that the old policies have been ineffective.
"We're at a unique moment where politicians, voters and big donors tend to be in agreement," said John Pfaff, a law professor at Fordham University who researches criminal sentencing.
Many states already match or go beyond what's in the federal law, and legislators in others can now point to federal reform as they push for local criminal justice changes, said Ashley Nellis, a researcher at the Sentencing Project, a Washington, D.C.-based advocacy group that supports reducing incarceration.
"Most of the progress needs to be made at the state level," she said. "But this certainly gives states political cover to take bold action."
Here are three areas where where state- and local-level elected officials have also recently pushed for changes in criminal justice:
Reducing prison populations
The U.S. incarcerates people at a higher rate than any other country. In 2016, the most recent year for which data were available from the U.S. Bureau of Justice Statistics, 2,136,000 people were in prison or jail — or 860 for every 100,000 adults.
That rate, the lowest in two decades, has been falling since its peak in 2008, when there were 2,310,300 inmates, or 1,000 for every 100,000 adults.
The reasons for the decline include a sharp decrease in violent crime since the 1990s as well as local efforts to reduce prison populations.
The drop has been concentrated in 10 states — California, Connecticut, Illinois, Indiana, Mississippi, New Hampshire, New Jersey, Ohio, South Carolina and Vermont — according to the Vera Institute for Justice, a nonprofit criminal justice research group.
The most notable changes were in California, where the government responded to a 2011 Supreme Court order to fix its overcrowded state prisons by shifting inmates to county supervision. Often, that meant parole rather than jail.
In addition, voters have approved two ballot measures since 2014 that reduced incarceration. Proposition 47 changed drug and most theft convictions from felonies into misdemeanors, and Proposition 57 gave nonviolent criminals better chances for early release.
Marijuana legalization
Under federal law, marijuana is an illegal drug. But since 2012, when Colorado and Washington became the first states to legalize pot for recreational use, California and seven other states as well as the District of Columbia have followed suit.
In other places, cities have sought to override state law by decriminalizing marijuana. In February, the city council in Jackson, Miss., voted unanimously to limit the maximum punishment for possession of 30 grams or less to a $100 fine instead of arrest.
This month, New York City Mayor Bill de Blasio, who had already instructed police to no longer arrest people for smoking marijuana in public, said publicly for the first time that he supports legalizing recreational marijuana.
Together, legalization and decriminalization have led to significant declines in arrests for marijuana usage or possession, according to the pro-legalization Drug Policy Alliance.
The group highlighted Oregon, where annual marijuana arrests dropped 96% from 2013 to 2016, and Washington, D.C., where they fell 76%.
District attorneys
A wave of local prosecutors have ridden into office in recent years on campaign promises to reform criminal justice.
In Boston last month, Democrat Rachael Rollins won the race for Suffolk County district attorney on a platform that included a vow to not prosecute people for low-level, nonviolent crimes such as shoplifting, trespassing and drug possession.
"Incarceration should be reserved for violent offenders that are disrupting the safety of our communities," says her campaign website, which lists 15 crimes her office will not prosecute.
"By looking at the root causes of many of the non-violent, property crimes and crimes of desperation, we can see that addiction, mental-illness, and poverty are the real culprits," it says. "Services, not sentences are the solutions."
In Bexar County, Texas, which includes San Antonio, Democrat Joe Gonzales won the race for district attorney on a platform that included reforming the bail system to grant bail even to people who can't pay as long as their charges are for nonviolent offenses and they are deemed unlikely to flee.
"People who are presumed innocent should never have to sit in jail awaiting trial simply because they are too poor to post bond," his campaign website says.
Kimberly Foxx, who won the Cook County state's attorney position in Illinois in 2016, has dramatically reduced prosecutions for retail theft and other low-level offenses.
Philadelphia Dist. Atty. Larry Krasner, who was elected in 2017, issued a memo to assistant district attorneys this March promoting new procedures to "end mass incarceration and bring balance back to sentencing."
They include not issuing charges for prostitution against people with fewer than three previous convictions and charging retail thefts of under $500 as civil offenses rather than misdemeanors.
Twitter: @jaweedkaleem
Sign up for Essential California for the L.A. Times biggest news, features and recommendations in your inbox six days a week.
You may occasionally receive promotional content from the Los Angeles Times.