Nevada inmate who for years asked to be executed kills himself on death row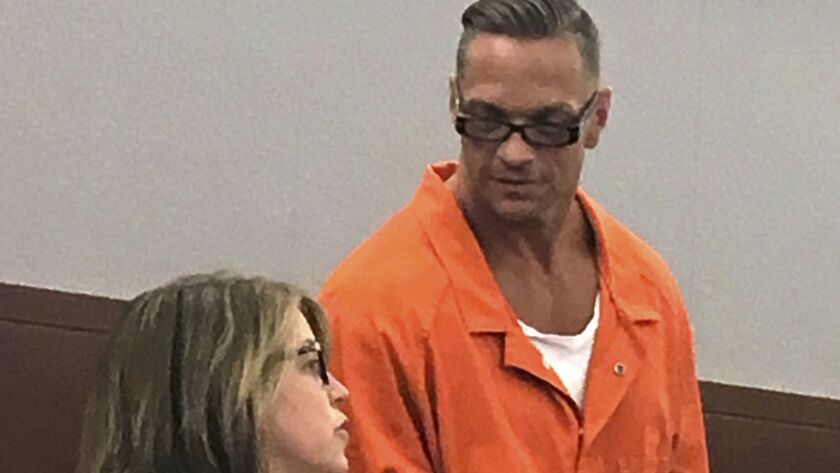 Reporting from Las Vegas —
Scott Dozier, the convicted murderer who had all but begged Nevada authorities to execute him for years, was found dead in his death row cell over the weekend, authorities said.
The 48-year-old was discovered hanging by a bed sheet tied to an air vent, Nevada Department of Corrections spokeswoman Brooke Santina said Monday. Santina said he was pronounced dead at 4:35 p.m. Saturday.
Dozier was not on suicide watch at the time of his death at the state prison in Ely. Authorities attempted life-saving measures to no avail, Santina said.
Authorities from White Pine County and Nevada's inspector general are investigating.
Dozier avoided execution for years, despite his desire to be put to death. He came closest in July when corrections officials in Ely were set to use a controversial mix of drugs to kill him. But hours before the scheduled execution, a Nevada judge granted an injunction sought by the maker of a sedative that had been at the center of botched executions in other states.
While drugmakers argued in district court, state court and even the Nevada Supreme Court that the drugs they made shouldn't be used to execute Dozier, the inmate continued to try and pave a path to his execution.
"Life in prison isn't a life," Dozier told the Las Vegas Review-Journal before the scheduled July execution. "This isn't living, man. It's just surviving."
Dozier was convicted in 2007 of murdering and dismembering Jeremiah Miller, 22, at a Las Vegas motel. He also was convicted in Arizona in the 2001 murder of 26-year-old Jasen Green. Dozier had waived his appeals in 2016.
His quest to die drew national attention and was yet another high-profile case that called into question the use of pharmaceutical drugs to conduct executions. Nevada was attempting to use a three-drug cocktail that included midazolam, cisatracurium and fentanyl.
Lawyers for Dozier argued that cisatracurium — a paralytic drug — would mask the pain and suffering he would probably experience during the execution. Drug manufacturer Alvogen, which makes midazolam, claimed in court that the Nevada Department of Corrections obtained the drug through a third party without disclosing it was to be used for executions.
"While Alvogen takes no position on the death penalty itself, Alvogen's products were developed to save and improve patients' lives, and their use in executions is fundamentally contrary to this purpose," Alvogen lawyers wrote in court briefs.
Drug companies like Alvogen have been making it increasingly difficult for states to obtain drugs to carry out lethal-injection executions.
McKesson Medical-Surgical sued Arkansas in 2017 after it discovered the state was using one of its drugs in an attempt to execute 10 men in eight days — an ambitious attempt as the state bumped up against an expiring drug supply. The company said the state had misled it by saying the drugs were being used for medical purposes. The Arkansas Supreme Court sided with the state and Arkansas executed four of the men using McKesson's drug.
Lethal injection as a means of execution goes back to the mid-1970s, when the standard protocol included administering sodium thiopental, pancuronium bromide and potassium chloride. In 2009 that began to change.
As drug supplies became more difficult to secure, states were forced to adjust and try different types and brands to carry out executions. According to the Death Penalty Information Center, eight states have carried out executions using a single drug — an anesthetic — and six others plan to do so if necessary.
When Dozier had been scheduled to be executed in July, Nevada had settled on a drug protocol that included the use of the paralytic drug.
But Dozier's lawyers were always hamstrung by their client's wish to die, and he claimed to not be particularly bothered by which drugs were used. The inmate had periodically been on suicide watch over the last year and never recanted his wishes to die.
David Anthony, a federal public defender who represented Dozier, said in an email Monday that he was sad to hear of the suicide.
"We offer our sincere condolences to Scott's family and hope that he has found peace," Anthony wrote.
Tom Ericsson, who also represented Dozier, said the family was notified of his suicide directly by the warden.
Nevada hasn't executed anyone since 2006, and Dozier's would have been the first in the state's new death chamber, which was completed in 2016 at a cost of about $860,000.
Adam Laxalt, the former attorney general, had aggressively sought to execute Dozier, but the Republican was replaced by Aaron Ford, a Democrat, as the state's top prosecutor. Ford was sworn in Monday.
david.montero@latimes.com | Twitter: @davemontero
---
Must-read stories from the L.A. Times
Get the day's top news with our Today's Headlines newsletter, sent every weekday morning.
You may occasionally receive promotional content from the Los Angeles Times.