Denver measure to decriminalize magic mushrooms appears headed for defeat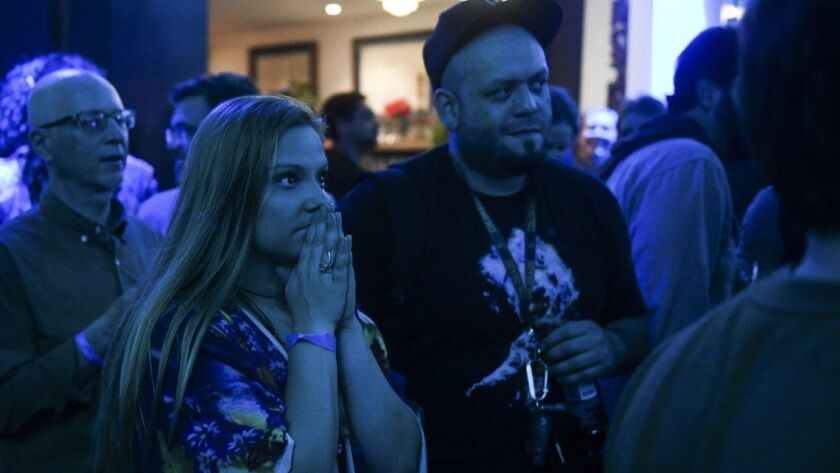 Reporting from Denver —
A measure to decriminalize hallucinogenic magic mushrooms appeared headed for defeat Tuesday, with voters apparently deciding it was too bold even for Denver, a famously libertarian city.
Late results showed nearly 55% of voters had rejected the proposed ordinance.
That was a blow to supporters who had spent months touting the therapeutic properties of the naturally occurring mushrooms which contain the drug psilocybin, saying they were effective in treating anxiety, depression and drug addiction.
This Colorado city declined to allow pot sales. Now it's having second thoughts »
Some of those claims are backed up by researchers who are also quick to note that psilocybin is a powerful drug that should be taken only under strict supervision.
Critics said psilocybin mushrooms were primarily used recreationally, not for medicinal purposes. The measure, they said, was simply the first step toward legalizing and eventually commercializing a powerful drug.
"Marijuana has been more harmful than beneficial to our state. I applaud the voters of Denver for refusing to add another illicit drug to the problems we are already facing," said Jeff Hunt, director of the Centennial Institute at Colorado Christian University, a conservative think tank. "Voters took an important step back from embracing yet another illicit drug."
The ordinance, the first of its kind put to a vote in the nation, would have essentially prohibited local authorities from enforcing criminal penalties for possession of psilocybin mushrooms for personal use.
California failed to get a similar measure on the ballot last year, while activists in Oregon hope to put the issue to a statewide vote in 2020.
Denver has been a pioneer in drug legalization. It decriminalized marijuana in 2005, seven years before the state of Colorado became the first state to legalize it. Last November, the city tried to create the nation's first safe injection site. That failed after being declared illegal by state and federal authorities.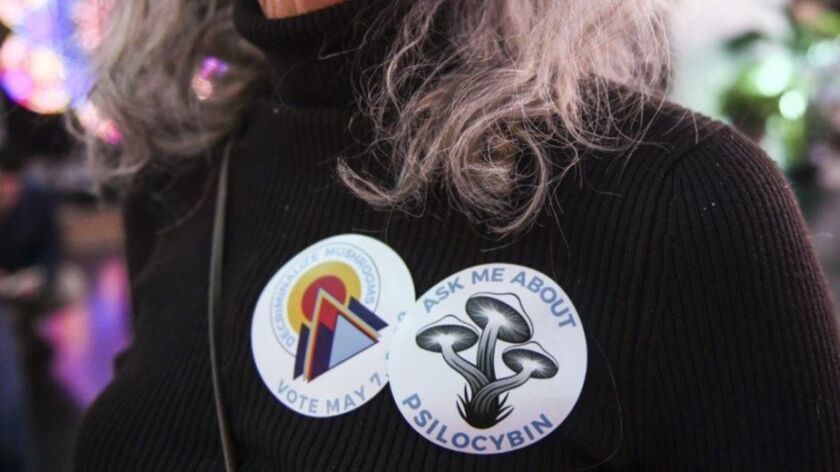 Decriminalize Denver, the group spearheading the effort, threw an election watch party Tuesday night complete with a 6-foot-high "luminous flower of life vortex" and "fresh ethically minded mushroom-inspired cash kitchen."
But when the first results came in showing the initiative trailing, a collective groan rose from the crowded room.
Still, those interviewed expressed optimism that the public will eventually embrace magic mushrooms, as it did with marijuana.
"I feel hopeful. We are all heading in the same direction," said Eli Katz, who described himself as a "psychonaut." "If we don't get it right this time, then next time we will have a better understanding of the zeitgeist."
Kevin Matthews, the activist behind the measure, said if the ordinance fails, they would try again.
"It's win or learn tonight," he said. "Even if we lose we have educated people. It just means we have more work to do. Either way, the conversation will go on."
Kelly is a special correspondent.
---
Must-read stories from the L.A. Times
Get all the day's most vital news with our Today's Headlines newsletter, sent every weekday morning.
You may occasionally receive promotional content from the Los Angeles Times.