Supporters in Arizona rally behind woman deported in Trump immigration crackdown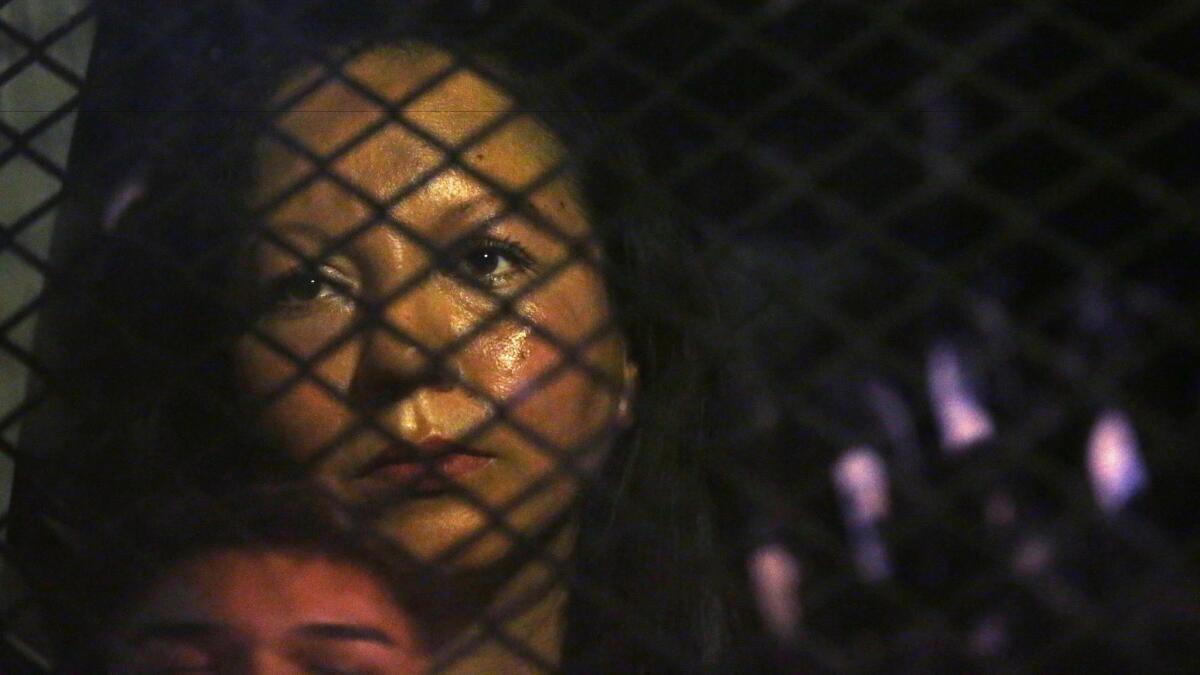 Reporting from PHOENIX —
Arizona immigration activists prodded Phoenix politicians and law enforcement to declare the city a sanctuary for immigrants in the country illegally after a mother of two U.S. citizens was deported Thursday morning.
Guadalupe Garcia de Rayos, 36, was deported to Nogales, Mexico, early Thursday, said her attorney, Ray Ybarra Maldonado.
As a nonviolent felon, she was considered a low priority for deportation under the Obama administration, but an executive order by President Trump widened the priorities of Immigration and Customs Enforcement agents to include all immigrants in the country illegally with a criminal record.
Garcia de Rayos spent 22 years in the country illegally, arriving in the U.S. when she was 14. She was convicted in 2009 of felony identity theft after she was arrested in a workplace raid under then-Maricopa County Sheriff Joe Arpaio.
"There are a hundred people in harm's way with similar backgrounds to Guadalupe," Ybarra Maldonado said.
Activists demanded at a news conference in front of the ICE field office in Phoenix that new Maricopa County Sheriff Paul Penzone, a Democrat who defeated Arpaio in November's election, remove ICE agents from the main Phoenix jail on the city's 4th Avenue.
"We want nothing of Arpaio's culture still there," said Carlos Garcia, director of the immigrant advocacy group Puente Arizona. "Get ICE out of the 4th Avenue Jail. Stop running people booked through immigration background checks."
Penzone, who took office in January, told The Times on Thursday that he is not moving ICE from the jails.
"ICE is going to stay in the jails right now because there are people who have committed serious crimes, violent crime," Penzone said. "I have a responsibility to ensure that we're facilitating other agencies to act in a manner that they're empowered to."
In a statement, ICE said Garcia de Rayos was transported to Mexico shortly before 10 a.m.
"Ms. Garcia, who has a prior felony conviction in Arizona for criminal impersonation, was the subject of a court-issued removal order that became final in July 2013," the statement said. "Ms. Garcia's immigration case underwent review at multiple levels of the immigration court system, including the Board of Immigration Appeals, and the judges held she did not have a legal basis to remain in the U.S. ICE will continue to focus on identifying and removing individuals with felony convictions who have final orders of removal issued by the nation's immigration courts."
Garcia de Rayos was arrested during a routine check-in with ICE agents. Accompanied by protesters who worried that she would be detained because of the new executive order, Ybarra Maldonado accompanied her into the ICE field office.
"It's no fun walking someone to the slaughter," he said.
Protesters gathered outside the ICE office in hopes of preventing her transfer Wednesday night, with one demonstrator even chaining himself to a transport van.
Twitter: @nigelduara
ALSO
L.A., Orange Counties are home to 1 million immigrants here illegally, analysis shows
Trump attacks senator as debate over judiciary ensnares Supreme Court nominee
Why a judge let a suit continue against psychologists who designed torture techniques
---
UPDATES:
12:45 p.m.: This article was updated with comments from Maricopa County Sheriff Paul Penzone and a statement from Immigration and Customs Enforcement.
This article was originally published at 11:45 a.m.
Sign up for Essential California for news, features and recommendations from the L.A. Times and beyond in your inbox six days a week.
You may occasionally receive promotional content from the Los Angeles Times.