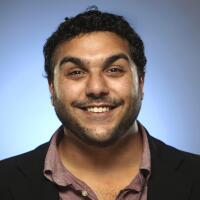 Nigel Duara
Nigel Duara covered the border for the Los Angeles Times, based in Tucson, until 2017. A Miami native, Duara was previously a reporter for the Associated Press in Portland, Ore. He is also a veteran of the American Middle West, with stints in Iowa City and Des Moines, Iowa. He graduated from the Missouri School of Journalism.
Latest From This Author
Upon his wife's death, George Katrouzos dropped his three children at a Chicago orphanage with a promise: He would make a life in Grand Island, Neb. — a town that was going someplace, a town that had streetlights — and he would come back for them.

When Sue Krentz was growing up in southern Arizona, about 30 miles from the Mexican border, migrants would wander into the front yard of her parents' modest ranch house and ask to sweep the steps or mow the lawn.

Time ran out for Lyle Jeffs, the fugitive polygamist arrested in South Dakota after a yearlong search.

Gary Sheler couldn't wait to get to his second segment, when the "Auto Doctor" comes on and takes creaky-engine questions.

Federal immigration agents have arrested more than 40,000 people since President Trump signed executive orders expanding the scope of deportation priorities in January — a 38% increase over the same period last year.

Three thousand, five hundred calls came into the Phoenix Police Department regarding a man believed to be the Serial Street Shooter, the gunman behind the fatal drive-by shootings of nine people, a string of killings without an apparent motive that struck at the heart of this city.

To hear Adrian Fontes tell it, the hopes of thousands of would-be voters are trapped in dust-covered boxes at the Maricopa County Recorder's Office.

Portland police said Monday that numerous arrests have been made during May Day protests in their city, including three people arrested near Pioneer Square.

The coroner's van pulled into the driveway sometime after midnight, and for a moment — her dead daughter in her arms — LaTisha Shippy hated God.

A member of a drug-robbery ring suspected in the 2010 shooting death of a Border Patrol agent in Arizona has been arrested deep in Mexico, leaving just one member of the original "rip crew" still at large in a case that highlighted the failings of a gun-tracking operation that let firearms fall into the hands of criminals in Mexico.