Immigrant families in detention: A look inside one holding center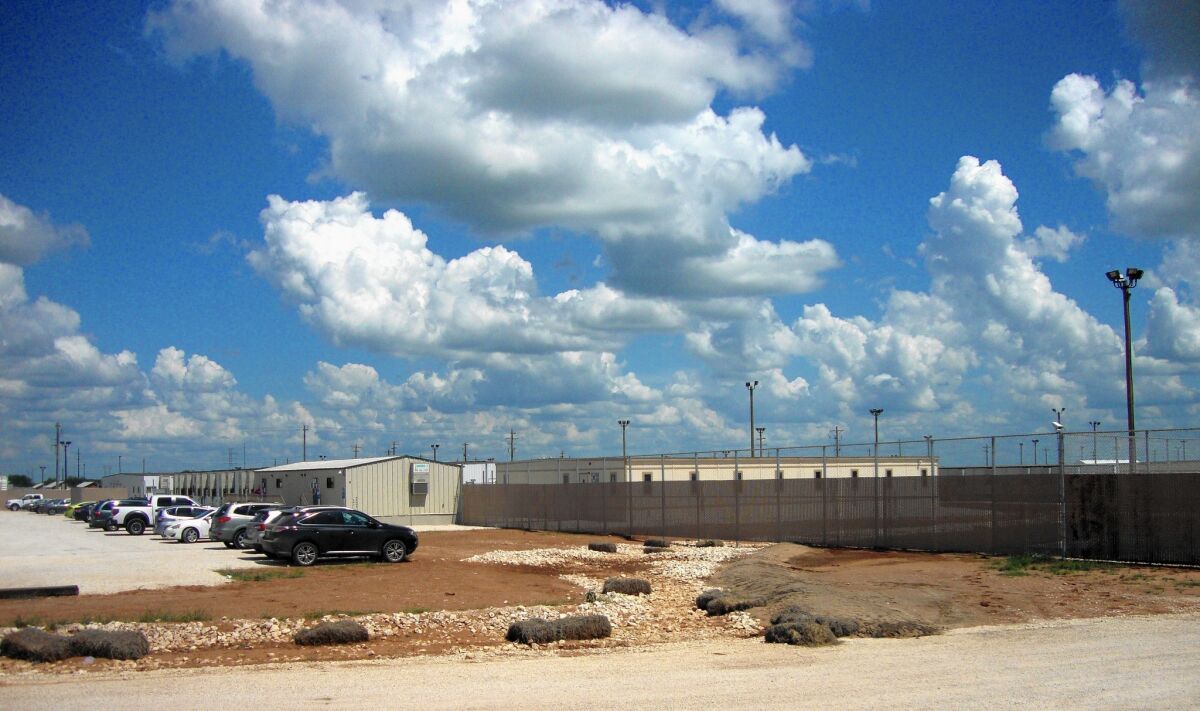 reporting from Dilley, Texas —
At the 50-acre compound here holding hundreds of immigrant women and children, the lights stay on 24-7. At night they're dimmed, but not entirely out. Security, officials say.
The lights are among the persistent reminders that the South Texas Family Residential Center is designed to keep up to 2,400 in custody. Grainy black-and-white mug photos of mothers and children are posted in front of their doors. Even toddlers get ID cards.
The facility an hour south of San Antonio combines institutional coldness with homey touches. It is run by a private contractor, the Corrections Corp. of America, which has given each "neighborhood" of 480 mothers and children a theme color and animal: red bird, yellow frog, blue butterfly. The detainees stay in trailers, not cells, and unlike prisoners, they are allowed to wear shoelaces, officials note.
The Obama administration on Wednesday announced changes to its detention policies, saying it would allow more families to be released on bond. The move came after protests, lawsuits and a judge's order that the administration stop using family detention as a way of deterring immigrants from crossing the border illegally.
------------
FOR THE RECORD
This story reported, accurately, that the lights at the South Texas Family Residential Center were dimmed at night but kept on 24 hours a day for security. Since then, and in response to complaints, the facility has begun turning off the lights at bedtime. Security checks are done by flashlight.
------------
More than 130 members of Congress have called on the administration to close the centers. Some toured the centers in Dilley and Karnes City, Texas, this week and said that despite the amenities — a chapel, beauty salon and soccer field among them — the centers are prisons and no place for children.
A visit this month to the center in Dilley — the largest of three family detention centers nationwide, including Karnes City and Leesport, Pa. — highlighted its dual nature as a place of confinement and of family life. The average age of a child here is 9. In the library, small children flipped through dinosaur and Hello Kitty books, while across the carpeted room teenagers played video games.
Dilley opened in December with space for 480, and expanded by April to house up to 2,400 with a staff of nearly 700, including teachers, pediatricians and psychiatrists — almost as big as the surrounding town of 3,600. As of June 12, it held 1,735 individuals, about 1,000 of them children.
In the pre-K class, children sat surrounded by bright posters and word and number cards in Spanish and English. Students played counting games on computers, while classmates colored, played with firefighter figurines and flipped through Curious George books.
In a nearby middle school classroom, older children gathered around a table for an English lesson. A teacher asked them to spell two English words: "Very bad."
One of the boys made a face, frustrated.
The teacher patiently wrote the words on a white board, then asked her students to translate. Another boy volunteered, correctly: "Muy mal."
In another trailer, 45 women listened with their children to a man from the center's legal orientation program. Some have only a few years of education, speak indigenous languages and cannot read.
"Who has a lawyer?" he asked in Spanish.
Half a dozen raised their hands. In the nation's administrative immigration courts, run by the Justice Department, there are no public defenders. Lawyers are not guaranteed, even for children.
One who secured a lawyer was Alba Veronica Cruz Montano, a 32-year-old from El Salvador, and on this day she faced her final immigration hearing. She had been deported before, in 2010. She and her 3-year-old daughter, Valeria Nicole Escobar Cruz, had been held at the center for 2 1/2 months.
After they entered the U.S., an agent with Immigration and Customs Enforcement, or ICE, found she had a "reasonable fear" of returning home because her boyfriend had abused her and her daughter. But they had to face off against a Justice Department lawyer and persuade the judge.
She had reviewed her story with her attorney, Brian Hoffman, an Ohio-based lawyer who has been coordinating cases here for CARA Family Detention Pro Bono Project, sponsored by several immigration lawyers' groups. She was seeking asylum for her daughter and deferred removal for herself, and permission to stay and work legally.
In a windowless trailer courtroom, she and Hoffman appeared in a teleconference with Judge Lourdes de Jongh in Miami. The high demand has meant judges from other jurisdictions hear cases from Dilley. Valeria waited outside.
"You're going to be telling me your story," De Jongh said.
Cruz nodded. Hoffman said Cruz had twice been a victim of domestic violence.
After she arrived in the U.S. the first time in 2004, Cruz met a boyfriend in Carmel, N.Y., who beat her. "He used to drink a lot, and with so much alcohol in his head, he used to say the devil was telling him to kill me," she said.
He threatened to stab her with a knife, followed her to work and shattered her car windows. Hoffman offered a police report as corroboration.
After she returned to El Salvador, she met a new boyfriend, got pregnant with her daughter and moved in with him. He was nice at first, but once the baby was born, he refused to give her more than $5 a day unless she had sex with him.
"She didn't want to go to the police in El Salvador because having gone to the police in the U.S., she knew it could escalate the abuse," Hoffman explained.
With an interpreter translating his questions into Spanish, Hoffman asked whether Cruz had ever resisted having sex with her boyfriend.
"Yes," she said. "He would yank me and pull my clothes and tell me he would have sex with me by force."
"How would he threaten you?" Hoffman said.
"That he would take Valeria away.… He would tell me that if I left, I would leave alone. … He knew that I would never leave my daughter behind," she said.
At the same time, Cruz said her boyfriend would abuse their daughter: screaming at her, yanking her and slamming her down in a chair.
After she returned to the U.S. in March, Cruz said the boyfriend had tried to contact her through Facebook and her grandmother. If she returned to El Salvador, she said, he would come find her.
The Justice Department attorney asked Cruz whether she told relatives about the abuse.
Not many, she said.
"I would tell his mother what was happening, and she would say, 'In order to have a home, you have to put up with it,'" she said.
The government attorney asked how much she paid a smuggler to come to the U.S. this time, crossing the Rio Grande from Ciudad Acuna, Mexico. Cruz said $5,000. Relatives helped raise the money.
The judge listened sympathetically, and when Cruz emerged from the makeshift courtroom, she scooped up Valeria and exclaimed, "We won!"
They were released later that day to stay with an aunt and uncle in Houston.
But for many families, the wait at the South Texas Family Residential Center continued.
Clivian "Melissa" Contreras Casco also had a history of domestic violence. She too had been deported before. Contreras said she was threatened by gangs back in Honduras who forced her to pay "rent" to run her small shop. She often lost her daily profit of $20.
Contreras, 25, arrived with her 7-year-old daughter, Helen, six months ago, before the pro bono legal project was established, and had to represent herself. ICE did not find she had a "reasonable fear" of returning home. She is now appealing with help from a pro bono attorney, and is being held without bond.
Her daughter has trouble sleeping at night because of the lights and falls asleep at school, she said. Her father was a drunk, they said, an addict who once beat her. Helen lifted her shirt to show a scar behind her right armpit.
The girl is tall and lean with a long black ponytail and an ID card decorated with Mickey Mouse stickers. In a few days it would be her 8th birthday. She knew they had no way to celebrate.
Still, she told her mother that she dreamed about awaking to strawberry cake and a princess dress like Elsa, the star of her favorite Disney movie, "Frozen." She also dreamed of becoming a lawyer when she grows up, "to get everybody out of here."
molly.hennessy-fiske@latimes.com
Twitter: @mollyhf
Must-read stories from the L.A. Times
Get the day's top news with our Today's Headlines newsletter, sent every weekday morning.
You may occasionally receive promotional content from the Los Angeles Times.