Midterm election will feature the most diverse group of candidates ever. These are the ones to watch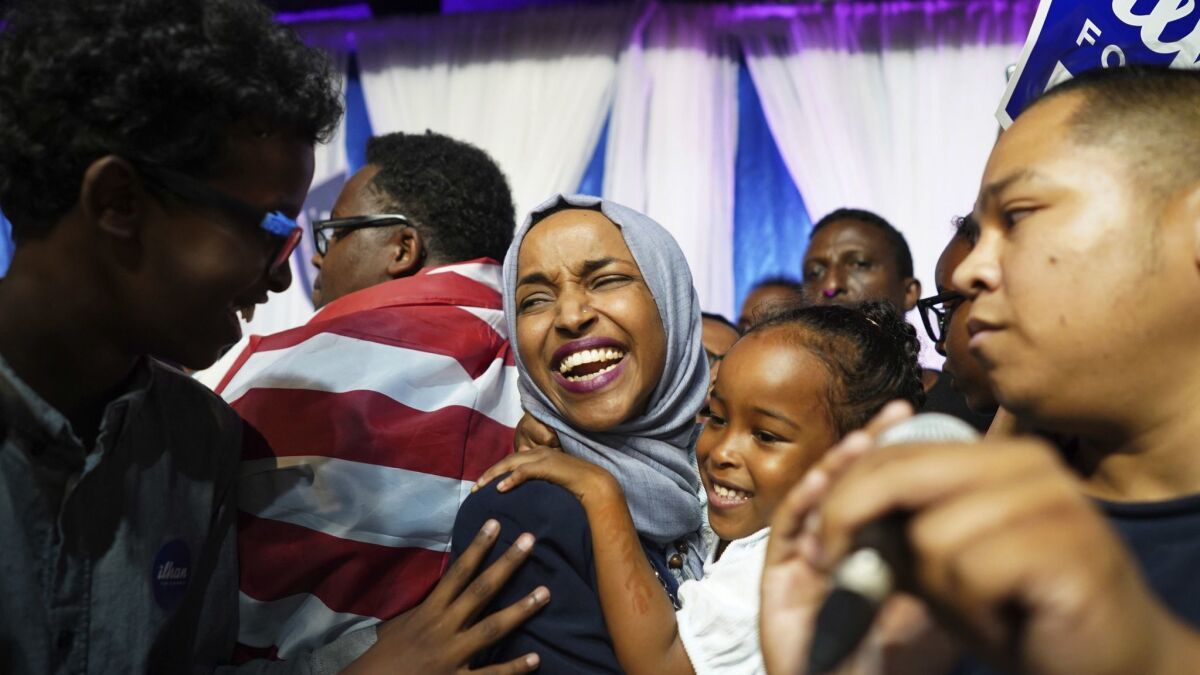 In Georgia, voters could elect the first black woman to become a U.S. governor. In Michigan and Minnesota, two candidates could be the first Muslim women elected to Congress. In Vermont, the first openly transgender governor could win.
One of the most diverse pools of candidates ever seen in the U.S. is up for election on Tuesday, and many of them will mark historic firsts if voted into office. They're running for offices ranging from governor, House and Senate to state legislative, mayoral, city council and school board positions.
"This is the most diverse candidate group I've seen in my political career," said Ross Morales Rocketto, who has worked on Democratic campaigns for 15 years and last year co-founded Run for Something, a progressive political action committee that formed to recruit millennials to run for office.
Of the thousands of diverse candidates that political scientists, activists and political action committees have tracked, the vast majority are running on Democratic tickets. That trend matches longstanding data that Republican voters and candidates are more likely to be white while the Democratic side tends to be more diverse.
Still, Republicans are also poised to make history, with a candidate from Orange County who could become the first Korean American woman in Congress, one in Rhode Island who would be the state's first Asian American governor, and one from Hawaii who could be that state's first openly gay man in Congress.
According to the Democratic Legislative Campaign Committee, there are 6,066 state legislative races on Tuesday with more than 5,300 Democratic candidates in the running. About 1,100 are nonwhite Democrats. More than 275 candidates in those state races are nonwhite Republicans.
There are several reasons for the diverse slates of candidates. One factor is that the country is becoming more diverse, with groups such as Muslims who were not as politically active a decade ago becoming politically organized. For many Democratic first-timers, surveys have shown that opposition to President Trump also spurred them to action. But it's not only because of his policies.
"One unintended effect of Donald Trump is that he has alleviated fears of people who who thought they were unqualified for office," said Sayu Bhojwani. She's the founder of New American Leaders, an organization that trains immigrants and their descendants to run for office, and the author of "People Like Us: The New Wave of Candidates Knocking at Democracy's Door." Bhojwani referred to Trump's lack of formal political experience before taking on the presidency.
The diversity cuts across racial groups, and is more present in local elections, said political strategist Varun Nikore. He's president of AAPI Victory Fund, a progressive group that trains and tracks Asian and Pacific Islander Americans running in midterms.
"You'll find at least 20 Asian Americans and Pacific Islanders running for federal office and easily up to 40 for state legislative positions," he said. "What gets harder to track is city council, mayoral and other local offices that are no doubt changing in their makeup."
Here are some key races to watch.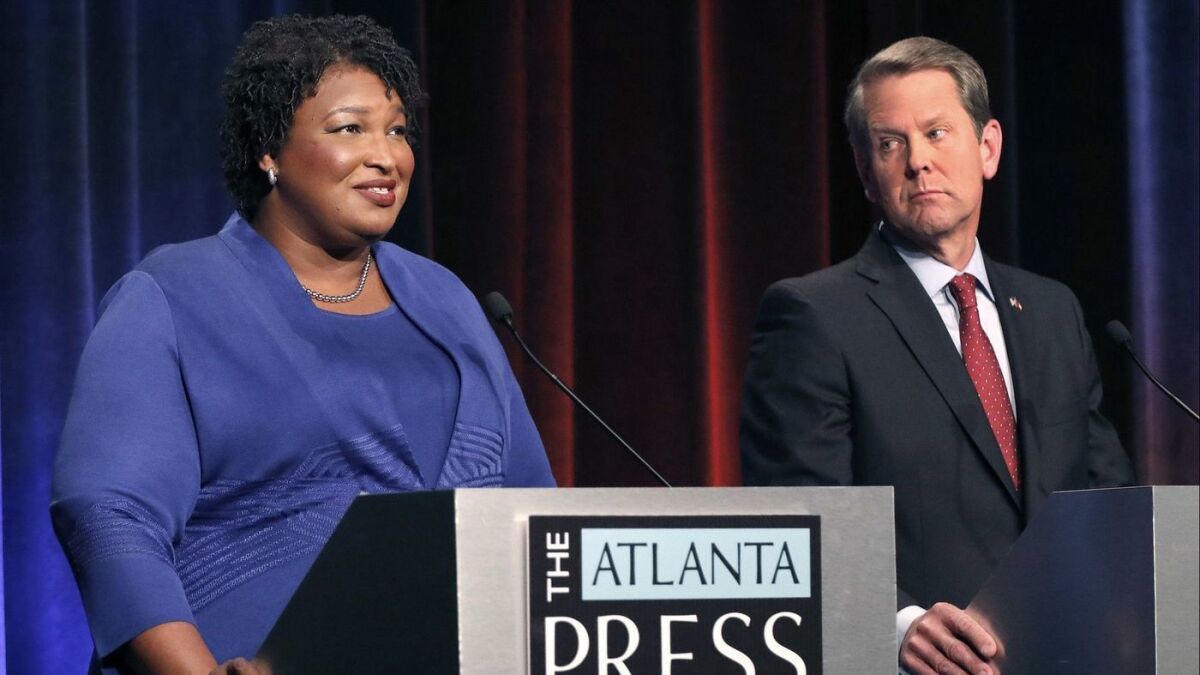 Stacey Abrams
Democratic candidate Stacey Abrams could become Georgia's first black governor and the first black woman governor in the country. Abrams is in a heated battle with Republican Brian Kemp, who is the Georgia secretary of state. Polls indicate the election could be among the closest in the country.
The race also gained national attention after the Abrams campaign accused Kemp, who oversees elections, of voter suppression.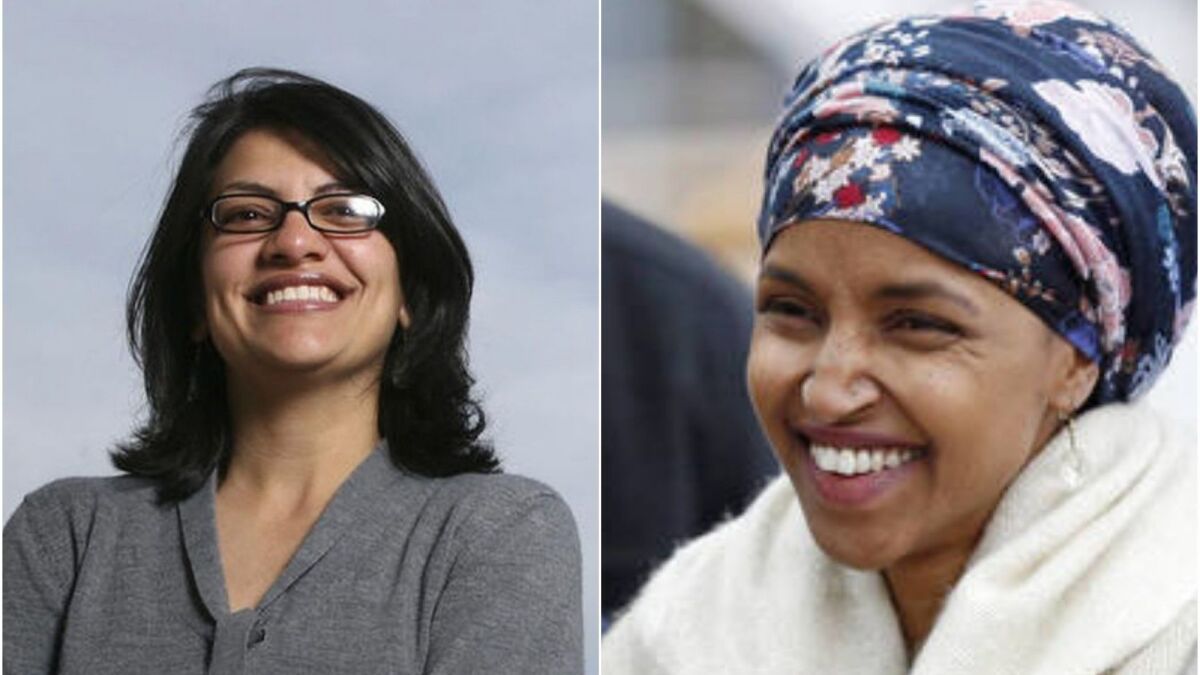 Rashida Tlaib and Ilhan Omar
Tlaib, a Democrat running in Michigan for former U.S. Rep. John Conyers' seat, is widely expected to win. A Palestinian American and former state legislator, Tlaib was running unopposed until recently.
Omar, a Somali refugee and Democratic Minnesota state legislator, is running for the congressional seat of Rep. Keith Ellison against Republican Jennifer Zielinski.
If elected, Tlaib and Omar will become the first Muslim women in Congress.
Christine Hallquist
Hallquist, a Democrat, made history by winning her party's primary in August to become the first openly transgender candidate to be nominated for governor on a major-party ticket.
The former chief executive of Vermont Electric Cooperative is running against Republican incumbent Gov. Phil Scott. Recent polls have shown Scott with a double-digit lead over Hallquist.
If Hallquist wins, she will be the first openly transgender governor in the U.S.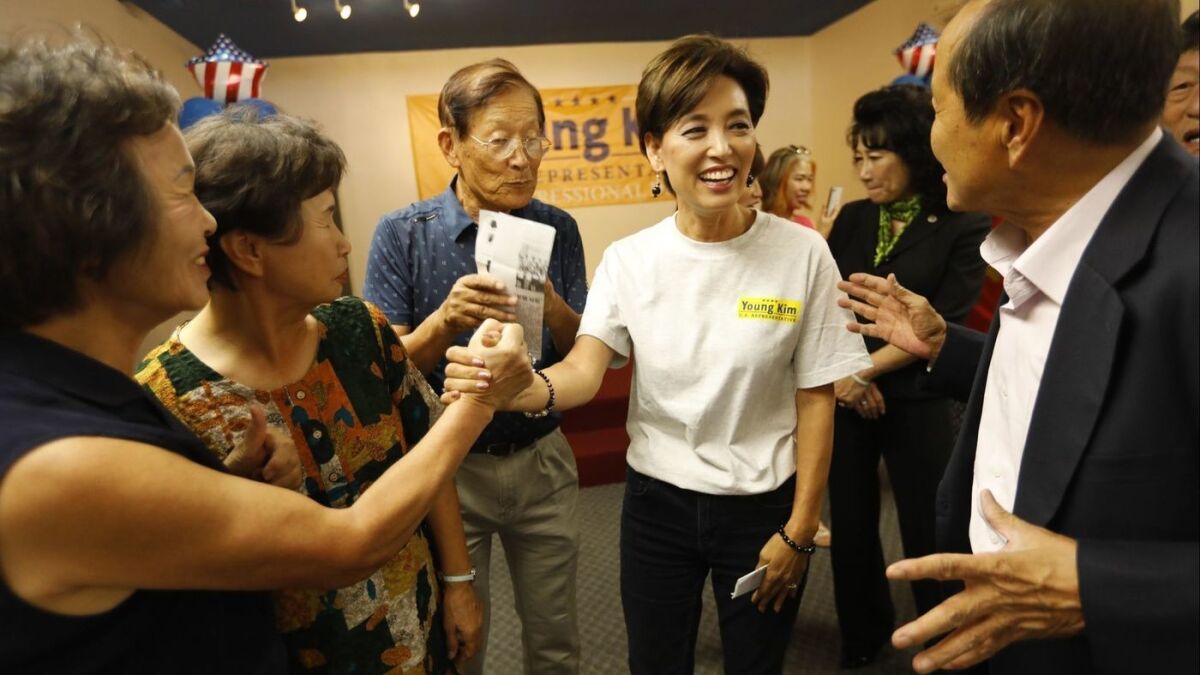 Young Kim
California Assemblywoman Young Kim is running to represent the 39th Congressional District, which includes parts of Los Angeles, Orange and San Bernardino counties.
Kim, an immigrant and Republican, is vying for the seat left open by retiring GOP Rep. Ed Royce.
A win would make Kim the first Korean American woman in Congress.
Allan Fung
Fung, a Republican, is running against Democratic incumbent Gina Raimondo to be governor of Rhode Island.
The Cranston mayor, who is the son of Chinese immigrants, has trailed his competitor in polling, but if he wins will make history as the state's first Asian American governor.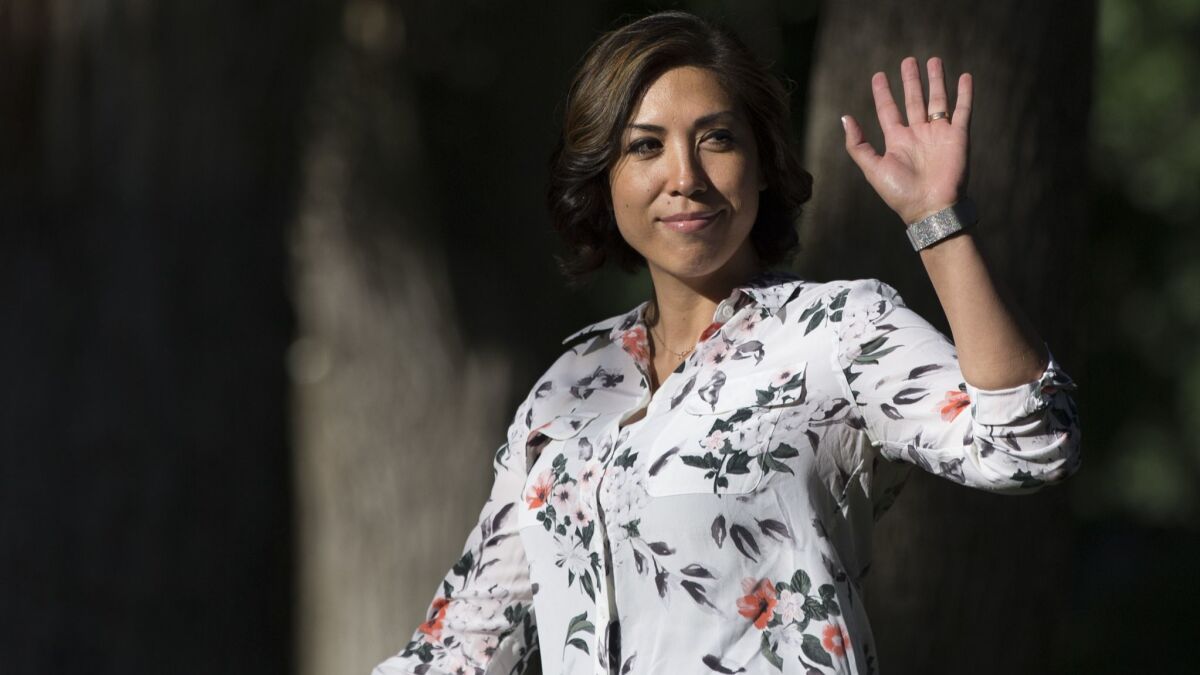 Paulette Jordan
Jordan, a Democrat, faces Republican Brad Little in the race for Idaho governor.
The former state legislator is Native American and a member of Coeur d'Alene Tribe, once serving on the tribal council.
A win on Tuesday would make Jordan the first Native American governor in the country.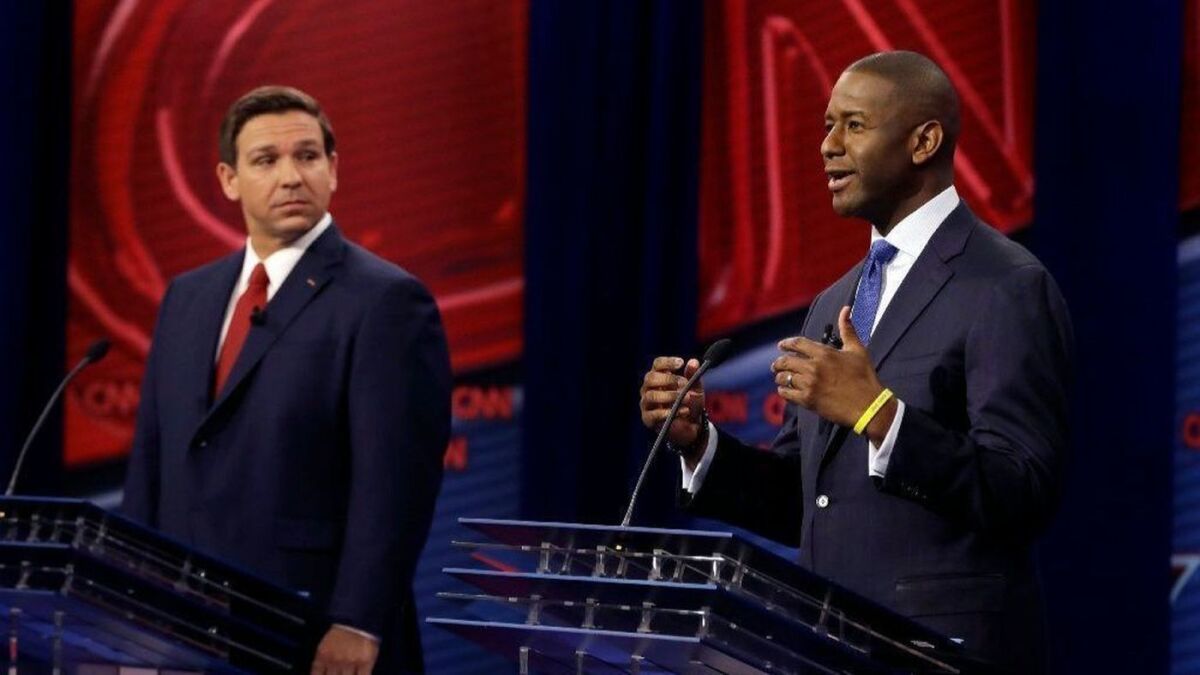 Andrew Gillum
The Florida governor's race, in which Democrat Gillum is running against Republican Ron DeSantis, is one of the most closely watched in the country, with polls that show a divided electorate.
Gillum, the African American mayor of Tallahassee, accuses DeSantis of peddling in racism. DeSantis has hit back, saying his opponent practiced "corruption in action" as mayor. The president has endorsed DeSantis and rallied for him, tweeting that he's "strong on borders, tough on crime & big on cutting taxes."
Gillum will become Florida's first black governor if he edges out his competitor.
Sharice Davids and Deb Haaland
Both Democrats, Davids and Haaland may become the first Native American women elected to Congress.
Davids would represent Kansas, where she is running against four-term Republican incumbent Kevin Yoder in the 3rd Congressional District.
Haaland would represent New Mexico, where she is up against Republican Janice Arnold-Jones in the 1st Congressional District.
jaweed.kaleem@latimes.com
Twitter: @jaweedkaleem
Must-read stories from the L.A. Times
Get the day's top news with our Today's Headlines newsletter, sent every weekday morning.
You may occasionally receive promotional content from the Los Angeles Times.