In Georgia gubernatorial race, Stacey Abrams has a real chance to make history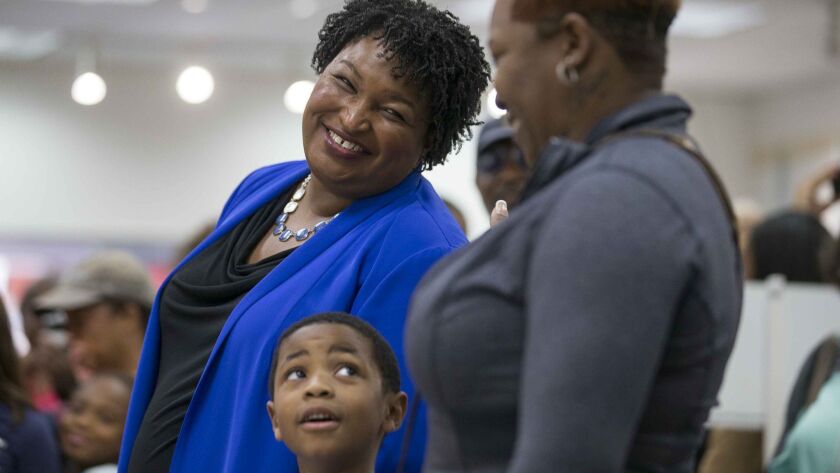 Reporting from Thomaston, Ga. —
For the first time in her life, Cathy Greenman has planted a blue political campaign sign in her yard on a quiet country road in middle Georgia.
It's a lone sign here for Stacey Abrams, the Democratic candidate for Georgia governor who is locked in a razor-close gubernatorial contest against Brian Kemp, a brash conservative Republican who aligns himself with President Trump.
Trump won this rural stretch of Upson County overwhelmingly in 2016. But the retired elementary school teacher is hopeful that some, at least, of her neighbors are now leaning toward voting for an entirely different kind of candidate. At an early-vote rally last week for Abrams at a historic African American church in Thomaston, Ga., Greenman, who is white, was surprised to spot friends, former co-workers, and old high school classmates squeezed into the wooden pews.
"Democrats for so long have been quiet," she said. "But people are tired of the lying and the good ol' boys. We're getting fired up."
If Abrams wins, she would be the first Democrat elected to lead this Deep South state in two decades, reversing a long era of Republican domination. She would also make history as the nation's first black female governor.
With many hailing Abrams as a key to forging a path for Democrats in the South, a stream of celebrities, including former President Obama, Oprah Winfrey and actor and comedian Will Ferrell, have stormed into Georgia in recent days to knock on doors and stump for her.
Republicans, in turn, are trying to bolster the party faithful with visits from President Trump and Vice President Mike Pence. A host of high-powered political and entertainment industry figures have been turning out around the country in battleground states to stump for candidates.
On Thursday, Winfrey knocked on doors for Abrams – her first time canvassing for any politician -- and reached out to voters at town halls in the Atlanta suburbs of Marietta and Decatur.
"Georgia, you have been on my mind," Winfrey said in Marietta, a traditionally conservative but rapidly diversifying suburb north of Atlanta that Hillary Clinton won in 2016. "I was just sitting at home in California, minding my own business, but I could not stop thinking about what's going on down here. You all are on the precipice of a historical election."
Hailing Abrams as a "change-maker" and a "bodacious… Georgia warrior woman," Winfrey urged Georgians not to waste their votes.
"Vote your values," she said in a shout out to women in the audience, noting that it has been less than a century since women won the right to vote. "Only when we unite as sisters – and I don't just mean 'sistas' – I mean sisters – black sisters, brown sisters, white sisters, Asian sisters, LGBTQ sisters. When we all unite, I know for sure a change is going to come."
Pence did not hesitate to mock Abrams' celebrity supporters as he stumped for Kemp in Dalton, Ga.
"I got a message for all of Stacey Abrams' liberal, Hollywood friends," he said to a roaring crowd of supporters. "This ain't Hollywood. This is Georgia."
Abrams, a 44-year-old former state house minority leader, faces a daunting challenge in Georgia, which Trump won two years ago by a 5% margin.
To beat Kemp, Abrams has to fire up minority voters and millennials who do not typically vote in midterms by positioning herself as a substantial break from the status quo. At the same time, she has to convince moderates, particularly white suburban women and college-educated swing voters, that she will be a steady, competent leader.
Polls show a neck-and-neck race. An Atlanta Journal-Constitution/Channel 2 Action News poll released Thursday showed Abrams at 46.9% and Kemp at 46.7%, a statistically insignificant difference within the margin of error. A third candidate, Libertarian Ted Metz, has 1.6% of the vote.
For many voters, the race is an epic showdown of political identity, a stark choice between a black female Ivy league Southern Democrat who grew up in poverty and a white male Republican who describes himself as "politically incorrect" and has run brazen TV ads in which he brandishes a shotgun and brags about owning a "big truck" in case he needs to "round up criminal illegals."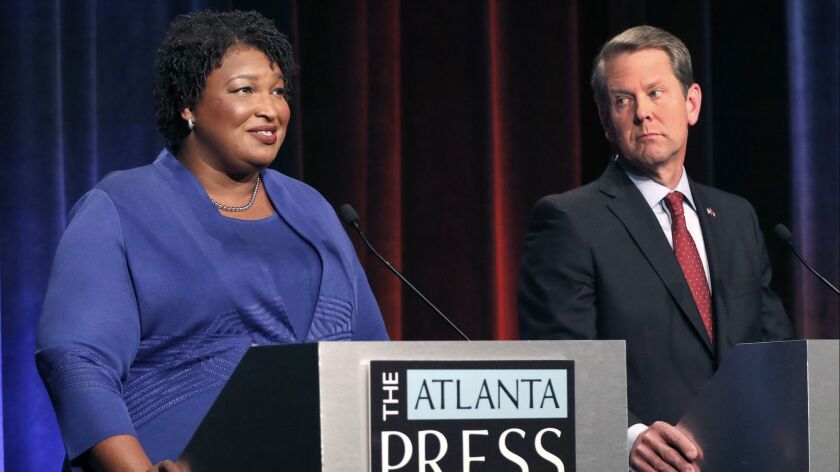 Throughout the campaign, Kemp has painted Abrams as a radical extremist with a "socialist agenda."
"She wants higher taxes, bigger government, a single-payer radical government takeover of healthcare," he said last week in their first televised debate. "And those are her moderate positions."
Although Abrams positions herself as unapologetically liberal, eschewing the idea that Democrats should compromise on their values, she is not exactly a firebrand radical.
"She's a progressive pragmatist," said Andra Gillespie, associate professor of political science at Emory University, who noted that as a state legislator Abrams earned a track record of reaching across the aisle to cut deals with Republicans. "If she were running in Georgia as Alexandria Ocasio-Cortez did in New York, she wouldn't have made it past the primary."
The daughter of two Methodist ministers, Abrams peppers her stump speeches with proverbs from the Bible. She also draws on her side gig as a romance novelist, weaving in personal stories of growing up in poverty and her parents' commitment to church and community.
Often, she begins with the story of when she graduated in 1991 as valedictorian of her high school in suburban Atlanta. Her parents did not have a working car, so they traveled by bus to a reception at the governor's mansion.
"We walked up the driveway … as these cars are coming in bringing in all the valedictorians from across the state," she said last week at a rally. "And we get to the guard gate. He looks at me and he looks at my parents and he says, 'This is a private event. You don't belong here.'"
Abrams's parents pushed back, engaging the man about his life choices, even warning him he might spend eternity in a place that was far warmer than Georgia. Eventually, the guard checked his list, found her name and let them inside.
"I don't remember meeting the governor," she said. "The only thing I remember about that day was the man standing in front of the most powerful place in Georgia, looking at me and telling me I don't belong."
In her quest to take the governor's mansion, Abrams has focused on giving a voice to those who feel left out of the political process, registering and mobilizing tens of thousands of new voters. The state has seen a massive surge in early voting in recent weeks, with more than 1.6 million Georgia residents casting a ballot so far — a 137% higher turnout than at the same time in 2014.
A former tax attorney, Abrams seeks to ground her policies in precise, methodical economic calculation.
She pitches her key campaign platform — expanding Medicaid — as a common sense move she says will not only help cover half a million Georgians who are uninsured, but also cut everyone's health insurance rates, create 56,000 jobs across the state, and save rural hospitals now on the brink of closure.
As one of 17 states that have declined additional federal funds for the problem, Georgia has one of the nation's highest rates of uninsured residents.
"Georgia forfeits $8 million a day because we won't expand Medicaid. $3 billion dollars a year.…" she told a crowd in Newnan. "If I said, 'You give me a dollar and I'll give you $9 back,' who'd say no? Brian Kemp. … He's saying no to $3 billion."
Kemp slams Abrams' healthcare policy as a reckless expansion of government, proposing instead to boost a rural hospital tax credit program and seek federal waivers to the Affordable Care Act to help stabilize insurance premiums. Polling suggests more than 70% of Georgians — and half of Republicans — support expanding Medicaid.
Though Abrams is not shy to mention the historic nature of her bid, she is quick to stress that she wants to win on her individual merits.
"I don't want anybody to elect me because I'm black and I don't want anyone to vote for me because I'm a woman," she said last week to thunderous applause in Thomaston, a small town 60 miles south of Atlanta. "I should win because I'm better."
Georgia has become more purple in recent years as its Latino population has exploded and a diverse range of transplants have moved to the state. Minorities now make up 40% of the state's population, up 10% percent from just two decades ago. The question is whether Georgia is leaning Democratic fast enough for Abrams to win.
The issue of race and voter suppression has loomed over the campaign. Earlier this month, a coalition of civil rights groups filed a federal lawsuit accusing Kemp, who as secretary of state has introduced a raft of strict voting rules, of undermining the voting rights of minority Georgians by blocking more than 50,000 voter registrations — mostly minority residents. About 80% of pending applications were submitted by African Americans, Latinos and Asian Americans.
Kemp has dismissed the lawsuit as a "farce" and a "manufactured" crisis, noting that voter registration and minority participation in Georgia elections have climbed in recent years.
Abrams, in turn, has called on Kemp to resign as secretary of state and has not shied away from assailing her opponent on the campaign trail as an "architect of voter suppression."
Last week, former President Jimmy Carter waded in, writing a personal letter to Kemp urging him to step down as secretary of state to avoid damaging public confidence in the fairness of the election.
Although much of Abrams' support is concentrated in cities, about a third of rural Georgians are Democrats. At stops in conservative pockets of the state, Abrams has focused on bread-and-butter issues, from access to rural healthcare to giving law enforcement officers a living wage.
In Thomaston, she touted her Bold Start Scholarship program, which would make quality child care more affordable. In Newnan, she vowed to create tens of thousands of renewable energy jobs ("climate change is real, y'all"). In Carrollton, she called for a living wage and vowed to make college debt-free across Georgia.
"I know this is a slightly red county, but y'all know y'all are blue inside," Abrams said in Thomaston as more than 200 people, from mothers cradling babies to elderly women with canes, packed the St. Mary African Methodist Episcopal Church's wooden pews, backed up against the white-washed walls, filled the upper balcony.
"History is being made," said Neisha M. Davis, the church's pastor, noting that the church had not had seen a standing-room-only crowd for its 150th anniversary last year. "This here proves many are desperate for change."
jenny.jarvie@latimes.com
@jennyjarvie
---
UPDATES:
7:45 p.m. Nov 1: This article was updated with the latest poll numbers.
2:05 p.m. Nov. 1: This article has been updated with Winfrey and Obama visits, and new figures on early voting.
This article was originally published at 3 a.m. Oct. 30.
---
Must-read stories from the L.A. Times
Get all the day's most vital news with our Today's Headlines newsletter, sent every weekday morning.
You may occasionally receive promotional content from the Los Angeles Times.