Nevada plans to execute inmate next week using controversial paralytic drug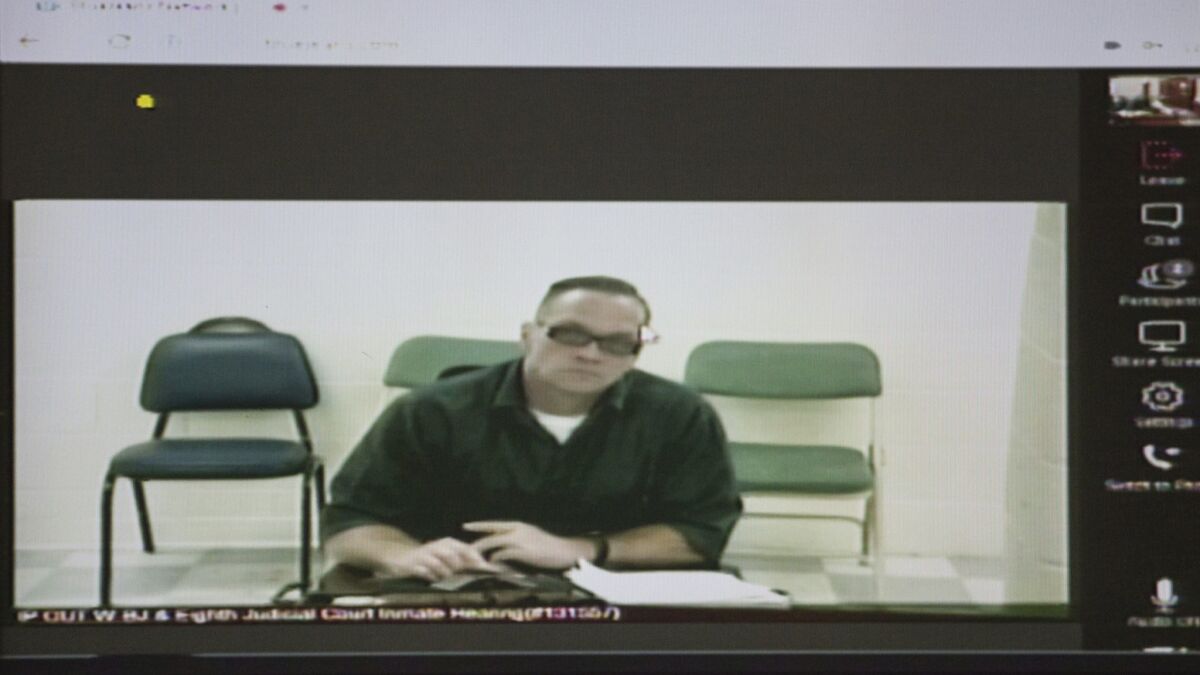 Reporting from Las Vegas —
The Nevada Department of Corrections released its plan Tuesday to execute convicted killer Scott Dozier next week by using a controversial, never-before-tried cocktail of drugs that includes the use of a paralytic.
Dozier, 47, has been on death row in Nevada since he was convicted 11 years ago of killing and dismembering Jeremiah Miller in Las Vegas. He also was convicted of murder in Arizona.
His execution is set for 8 p.m. July 11.
The case has drawn national scrutiny as Nevada attempts to use the paralytic drug cisatracurium in conjunction with midazolam and fentanyl. Opponents say the paralytic could hide the pain and suffering Dozier might experience during the execution.
Through all the arguments, Dozier has mostly been unwilling to fight for his life.
He refused to let his attorneys seek a stay of execution and waived all of his appeals, leaving his defense team limited options to try and prevent his execution.
A lower court judge who ruled there was a risk of harm because of the untested drug cocktail saw her decision overturned by the Nevada Supreme Court in May — clearing the way for the execution to take place. The death warrant was signed by a judge on June 19.
The 16-page protocol released by the state details the order and dosage of the drugs to be administered and Dozier's schedule of activities on the day of the execution. It also lays out who will witness the execution — including the victim's family and Dozier's relatives — at the state prison in Ely.
Dozier's execution would be the first at the state's new execution chamber, which was completed two years ago at a cost of about $860,000. It would be Nevada's first execution in 12 years.
The American Civil Liberties Union of Nevada filed an emergency petition in District Court on Tuesday seeking more information about the execution, including purchase orders for the drugs, the process by which officials arrived at protocol procedures, and the use of an untested execution chamber.
Amy Rose, legal director for the ACLU of Nevada, underscored concerns about the use of the proposed drugs, namely cisatracurium and midazolam.
She questioned why Nevada would use the sedative midazolam when states such as Arizona stopped using it after a high-profile execution went awry in 2014. An inmate took two hours to die and gasped for air hundreds of times. That case involved Joseph R. Wood III, who was injected with the standard dose of midazolam 15 times.
"There is a very real risk that Mr. Dozier will suffocate and will suffer extreme unconstitutional pain and suffering," Rose said.
Lethal injection was once the overwhelming choice for states executing prisoners. It dates to 1977, and a three-drug mix of sodium thiopental, pancuronium bromide and potassium chloride was the norm until 2009.
But the process has become more controversial as drug manufacturers made supplies more difficult for states to obtain. That has forced some states to either try and speed up executions or seek alternative drug cocktails.
Few examples of this dilemma were more apparent than when Arkansas sought to carry out eight executions over a 10-day period last year because the state's supply of drugs was running up against expiration dates. Ultimately, the state carried out four executions over the 10 days.
Fordham University law professor Deborah Denno, who has studied death penalty cases nationally, said if Nevada's gambit to use the three-drug protocol including the paralytic were to go badly, "it would be one more pebble on the pile against lethal injection," and that the mistake wouldn't go unnoticed. She said recent cases in Ohio and Arizona had forced more scrutiny of procedures even as they continue to be carried out.
During his arguments before the Nevada Supreme Court, Assistant Solicitor Gen. Jordan Smith said Dozier's lawyers had dragged out the proceedings in order to pass the expiration date of one of the drugs. He also argued that the what-if scenarios amounted to a "de-facto ban on the death penalty" in Nevada.
The state's release of the execution protocols are dated June 11, but officials said they were only required by law to make them public a week before the execution.
Rose said that under Nevada law, Dozier still has an opportunity to change his mind and rescind his appeal waivers — though there has been no indication that Dozier might do that.
She said that on the day of the execution, there will be a protest at the governor's mansion in Carson City.
david.montero@latimes.com | Twitter: @davemontero
Must-read stories from the L.A. Times
Get the day's top news with our Today's Headlines newsletter, sent every weekday morning.
You may occasionally receive promotional content from the Los Angeles Times.