Air Force analysts in heat of battle, half a world from the front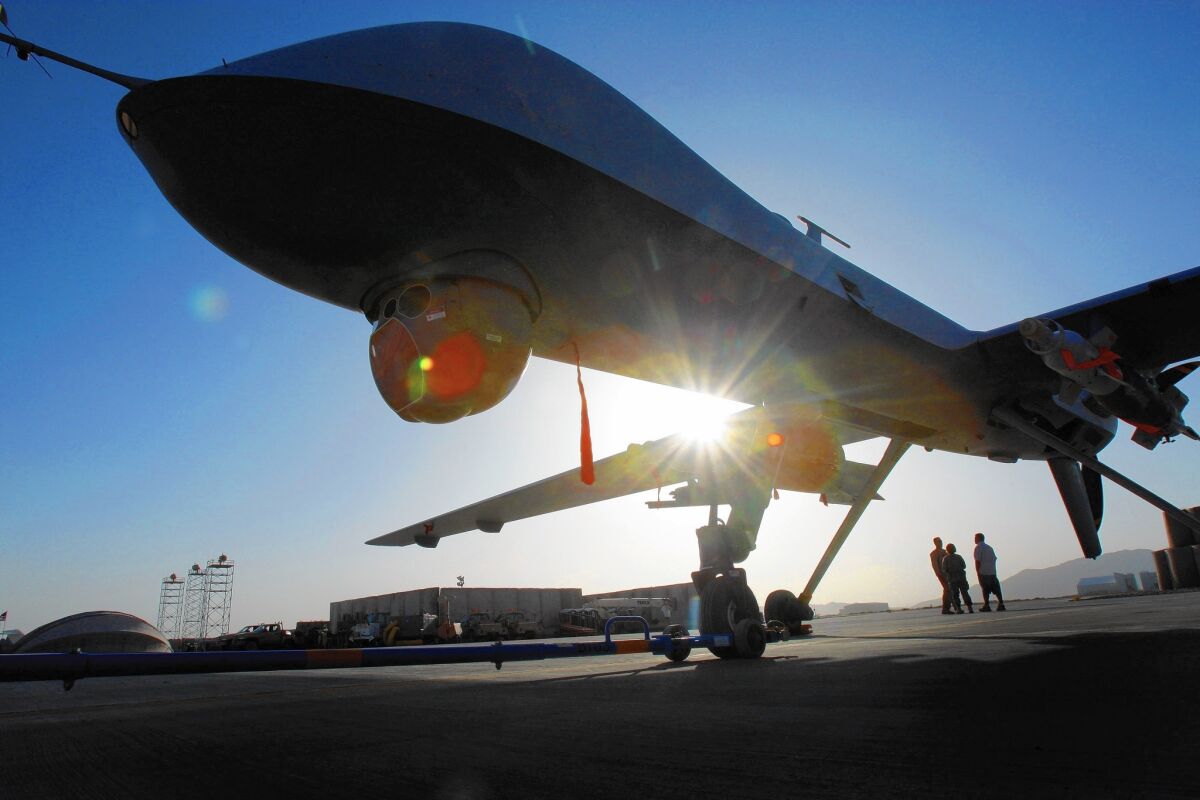 Reporting from JOINT BASE LANGLEY-EUSTIS, Va. —
In a vast windowless room, several dozen intelligence analysts worked under the glow of more than 100 computer screens, quietly studying video streaming from U.S. drones and spy planes hunting for Islamic State militants in Iraq and Syria.
One team searched the incoming video to find a firefight underway between Iraqi security forces and militants somewhere south of the insurgent-held city of Mosul in northern Iraq.
For four hours, the analysts pored over the imagery before identifying 20 positions where the militants were dug in with machine guns and other weaponry. After the analysts called in the coordinates, 15 jets from five countries pounded the targets with more than two dozen bombs.
The Dec. 5 airstrike, one of 462 last month, underscores the Pentagon's increased reliance on personnel far from the battlefield. Improved surveillance and reconnaissance systems over the last decade have boosted aerial intelligence-gathering capabilities and allowed President Obama to vow not to reintroduce ground combat troops.
Instead, Air Force analysts here stand — or rather sit — on the virtual front lines by tracking Islamic State fighters in a war zone some 6,000 miles away. After the work day is done, the analysts head home to their families and kids' soccer games near this sprawling base on the outskirts of Newport News, Va.
"It's strange because we live in different worlds," said a Air Force senior master sergeant named Jennifer, a 38-year-old intelligence analyst who was not permitted to disclose her last name because of security concerns. "There's a home life and there's this war. This is not the type of deployment environment that we've been accustomed to."
The analysts here say they have watched from afar after militants committed massacres. And they have counted the casualties and assessed the damage of each of the more than 1,500 U.S. and allied airstrikes in Iraq and Syria since the U.S.-led campaign began in August.
Some of the analysts say they have trouble sleeping at night. Like other troops, they have access to chaplains, psychologists and doctors.
"This job isn't for everyone," said Col. Timothy Haugh, commander of the Air Force unit, the 480th Intelligence, Surveillance and Reconnaissance Wing, which is headquartered here. "We make life-and-death decisions every day."
But the video of endless desert and 12-hour shifts can be eye-glazing at times, so dull that many analysts chug sodas and energy drinks to stay awake. They imbibe so many sugar-rich drinks that the air wing has the highest rate of dental cavities in the Air Force, doctors here say.
The facility is one of 27 Air Force sites around the globe that act as nerve centers for the growing fleet of U.S. spy planes and drones flown in Asia, Africa, the Middle East and elsewhere.
The analysts don't fly the aircraft, or launch the missiles, but provide the intelligence to commanders and pilots who do.
Since last summer, much of their attention has been focused on the U.S.-led campaign to degrade and destroy the Islamic State militants who have captured about a third of Syria and much of northern and western Iraq.
U.S. and partner nations fly an average of more than 110 missions a day to support the operation, many of them only to gather intelligence. About three-quarters of the aircraft return without dropping munitions.
Unlike in past wars, when U.S. troops on the ground helped provide targeting information and intelligence, commanders in the battle against Islamic State rely chiefly on airborne surveillance, captured communications chatter, signals intelligence and other material that is processed by analysts here.
U.S. officers said the video-watching analysts working half a world away are no match for spotters and other troops feeding intelligence from the front lines.
"We don't have anywhere near the level of intelligence we used to," Lt. Col. Marc Spinuzzi, a senior intelligence officer, wrote in an email from Baghdad. The analysts are under "a lot of pressure ... to clearly distinguish friend from foe, and to pick out the enemy from the civilian population" on the battlefield.
Activist groups such as Human Rights Watch and the Syrian Network for Human Rights have said the U.S. airstrikes have produced dozens of civilian casualties. The Pentagon has repeatedly denied causing such casualties.
Analysts can watch a location for days trying to discern whether it belongs to the Islamic State, also known as ISIS.
"Unless ISIS is actually flying a flag that says 'ISIS' across the top of it, then it's sometimes ... difficult to tell ... whether they're combatants or not," said Gen. Herbert Carlisle, the head of Air Combat Command, which oversees nearly all U.S. warplanes.
Potential targets are anything that benefits the Islamic State: an oil derrick that generates black market revenue or a communications node used by militant commanders to position fighters.
"It's like a police stakeout," said another analyst, a captain who declined to give his name. "You have to connect all the dots. That takes patience."
Twitter: @wjhenn
Must-read stories from the L.A. Times
Get the day's top news with our Today's Headlines newsletter, sent every weekday morning.
You may occasionally receive promotional content from the Los Angeles Times.