With Ebola cases, CDC zeros in on lapses in protocol, protective gear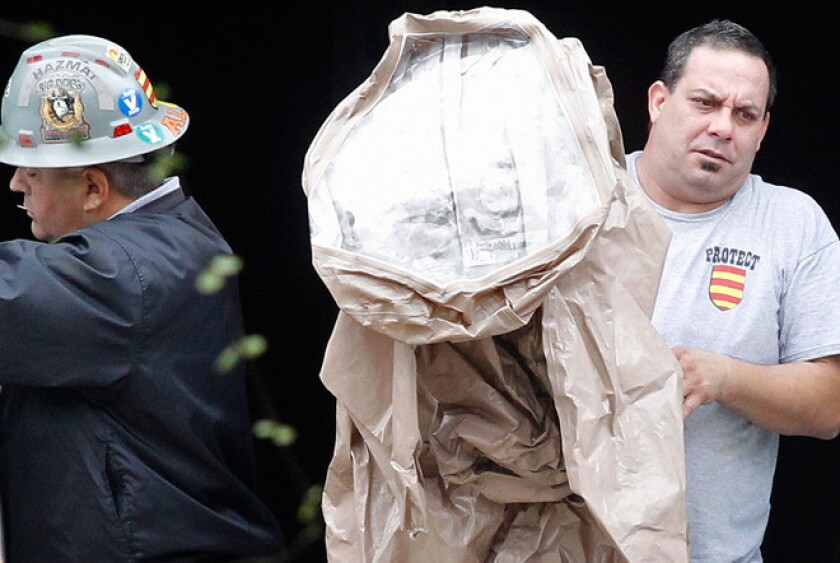 Reporting from Dallas —
Federal health authorities Wednesday appeared to be focusing on apparent lapses in the way a Dallas hospital responded to a Liberian man suffering from symptoms of an Ebola infection, which now has spread to a second healthcare worker at the hospital.
Dr. Thomas Frieden, director of the Centers for Disease Control and Prevention in Atlanta, said during a news conference that the way Texas Health Presbyterian Hospital staffers used protective garb was "an active area of investigation" that would also look at whether CDC protocols were rigorously followed.
Already investigators have found that the protective attire left some skin exposed and increased the risk of infection from patient Thomas Eric Duncan, who was vomiting and suffering from uncontrolled diarrhea when he came to the emergency room Sept. 28. Both nurses who have become infected, Nina Pham and Amber Vinson, had extensive contact with Duncan during that time, the CDC chief said.
"Some of the forms of PPE [personal protective equipment] did allow exposure of some parts of the skin," Frieden said.
From Sept. 28, when Duncan arrived by ambulance at the emergency room, through at least Sept. 30, when CDC confirmed he had an Ebola infection, "a variety of forms of personal protective equipment were used," Frieden said.
"There are several ways to use personal protective equipment safely," he said. "It's critical that that be done consistently and correctly, and that's one of the areas of active investigation."
Frieden's comments Wednesday appear to run counter to assurances his agency made in the first days after Duncan's diagnosis that U.S. hospitals were adequately prepared for Ebola infection control. They also lend credence to allegations made by nurses at Texas Health Presbyterian, where Duncan died Oct. 8, and where Pham and Vinson were infected.
"There are intensive efforts underway to train, retrain and supervise the staff," Frieden said.
"The single most important way to get consistency is a site manager, and we now have ensured that, 24-7, there will be a site manager who will monitor how personal protective equipment is put on, taken off, and what's done when people are in it," he said.
Hospital officials did not address specific allegations about possible missteps, but Dr. Daniel Varga, chief clinical officer for Texas Health Resources, the hospital operator, made clear before Frieden spoke that doing this right is always the goal.
"We're a hospital that may have done things different, with the benefit of what we know today, but make no mistake, no one wants to get this right more than our hospital, the first to diagnose this insidious disease that now has attacked two of our own," Varga said.
Asked to respond to specific allegations after Frieden's remarks, the hospital issued a written statement saying:
"Patient and employee safety is our greatest priority and we take compliance very seriously. We have numerous measures in place to provide a safe working environment, including mandatory annual training and a 24-7 hotline and other mechanisms that allow for anonymous reporting. Our nursing staff is committed to providing quality, compassionate care, as we have always known, and as the world has seen firsthand in recent days. We will continue to review and respond to any concerns raised by our nurses and all employees."
Frieden said CDC investigators found that on Sept. 30, the day of Duncan's Ebola diagnosis, healthcare workers were donning "three or four" layers of protective gloves and gowns, thinking that would increase protection from the virus. But such measures, Frieden warned, may have increased infection risk.
"In fact, by putting on more layers of gloves or other protective clothing, it becomes much harder to put them on; it becomes much harder to take them off. And the risk of contamination during the process of taking these gloves off gets much higher," Frieden said. "That's true for several different areas of the body."
The CDC director also said investigators found that staffers may not have been familiar enough with how to don and discard the protective gowns, gloves and masks.
"The key is the adherence to protocol and the problems that we have identified had to do with using PPE in unfamiliar ways," Frieden said.
The CDC, he said, has emphasized to hospital administrators "that healthcare workers who are using familiar PPE in familiar ways are more likely to do it right. We're looking at this."
The CDC's guidelines for Ebola protection are under review, agency officials have said. Thus far, hospitals have been relying on the existing protocols, established in 2007.
The CDC guidelines leave the selection of gear to hospitals, "based on the nature of the patient interaction and/or the likely mode(s) of transmission." But CDC suggests "full coverage of the arms and body front, from neck to the mid-thigh or below, will ensure that clothing and exposed upper body areas are protected."
Nurses at the facility said the garb they used left their necks exposed, a gap they remedied with multiple layers of tape that later proved difficult to remove.
The guidelines likewise recommend masks and goggles, but warn: "Masks should not be confused with particulate respirators that are used to prevent inhalation of small particles that may contain infectious agents transmitted via the airborne route."
Dallas Presbyterian nurses, who spoke through the National Nurses United union in Oakland on Tuesday, said there were debates about whether masks and face protectors were necessary.
---
Must-read stories from the L.A. Times
Get all the day's most vital news with our Today's Headlines newsletter, sent every weekday morning.
You may occasionally receive promotional content from the Los Angeles Times.