FBI explains how it cracked 'El Chapo's' sophisticated communications system
Reporting from New York —
The FBI couldn't crack the Sinaloa cartel's encrypted messages, so they went after the man who built the communications system for the powerful narcotics trafficking network
FBI agent Stephen Marston told jurors in the trial of Joaquin "El Chapo" Guzman on Tuesday that Cristian Rodriguez had created sophisticated encryption software for the drug kingpin, allowing him to make protected calls with a vast array of his leaders and henchman.
Unable to break the encryption, the FBI began leaning on Rodriguez in 2009 to get him to flip. By 2011, he was cooperating with authorities.
Then the federal agents decided to move the system's three main servers from Canada to Holland, where FBI involvement would potentially be less suspicious to the cartel, and began working with Rodriguez and Dutch authorities to intercept phone calls. From July 2011 through January 2012, they managed to cull 800 cartel calls — with 100 to 200 messages involving Guzman, according to testimony.
Marston said agents were able to confirm the 61-year-old's voice — which he characterized as "high-pitched"and "sing-songy" with a "nasally undertone" — thanks, in part, to Guzman's recorded interview with Rolling Stone magazine in 2016.
Jurors — who've sat through two months of testimony in the sweeping trafficking case that's delved into the smuggling of tons of narcotics and weapons, widespread corruption of Mexican officials and brutal killings in drug wars — spent the better part of Tuesday afternoon listening to the sometimes blaring voice of Guzman, from a series of intercepted phone calls.
The calls offer glimpses into daily cartel life, with Guzman talking with henchmen about buying ammunition, kidnapping, arranging sales of cocaine and meth, and their connections with corrupt officials.
In several phone calls with a top cartel lieutenant, a man named Cholo Ivan — who Guzman later was captured with in 2016 — the notorious drug leader is heard trying, a number of times, to keep Ivan from being too violent, specifically with police.
"You know they are policemen, it's better not to smack them around," Guzman tells Ivan, later saying "those are the ones that help."
In another phone call, Ivan tells Guzman how he roughed up both local and federal officers.
"Don't be so harsh," Guzman responds, using profanity. "Take it easy with the police."
"Well, you taught us to be like a wolf, act like a wolf … and that's how I like to do it," Ivan says.
The men later talk about Ivan buying 60 "magazines" — ammunition — and Guzman tells him: "Don't shoot whoever sells cocaine." He also cautions him "not to execute innocent people." But tying them up, he allows, is fine.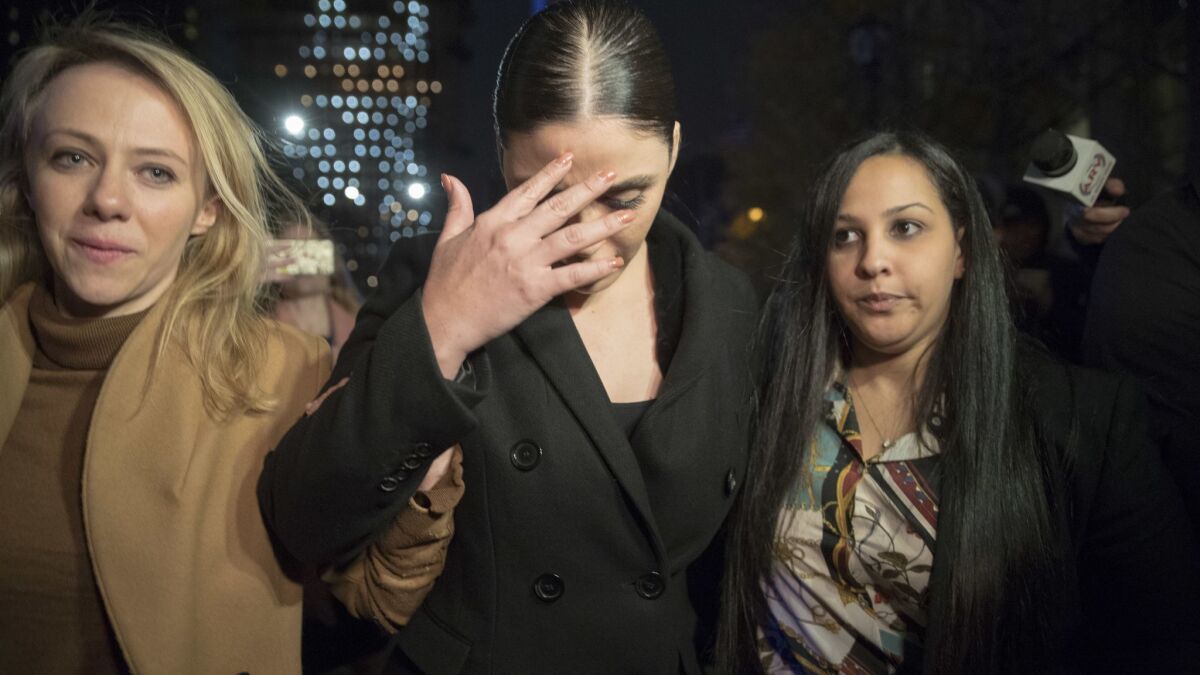 The phone calls offer perhaps the best evidence yet of Guzman's intimate involvement in the cartel's illicit dealings. Defense attorneys for Guzman contend that the cartel's real leader has always been a man named Ismael "El Mayor" Zambada, and that the prosecution of their client is a cynical "frame-up" by the U.S. and Mexican governments.
Prosecutors also showed a clip from a long-known and much-watched YouTube video, that allegedly shows Guzman questioning a man from a rival gang who is tied to a tree. Marston confirmed that Guzman was indeed the interrogator in the video.
Guzman, wearing a dark suit and white shirt, sat quietly in court, as he normally does — but did share smiles and waves with his wife, Emma Guzman. The 29-year-old former beauty queen made her first visit to court since the holiday break.
Tuesday started with a moment of levity, of sorts. For a moment, the lights in courtroom went out, and when they came back on — someone yelled "He's gone!" drawing laughter. Chapo, infamous for his jail escapes, was, however, still very much there.
Plagianos is a special correspondent
---
Must-read stories from the L.A. Times
Get the day's top news with our Today's Headlines newsletter, sent every weekday morning.
You may occasionally receive promotional content from the Los Angeles Times.