Under extreme security, a former member of the Sinaloa Cartel testifies against 'El Chapo'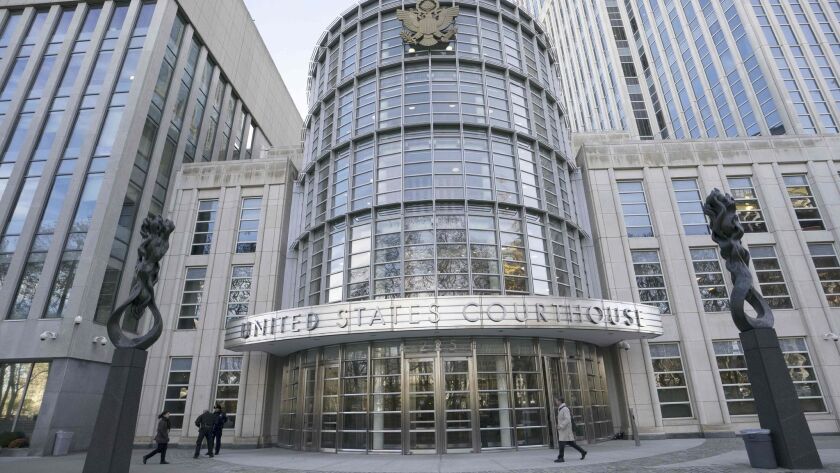 Courtroom artists were forbidden to sketch his face. They were ordered to render his bald pate as "a generic hairstyle," his hulking frame trimmed to a nondescript size.
In a trial marked by extraordinary security measures, those afforded to Miguel Angel Martinez, who took the stand Monday to testify against his former boss, Mexican drug kingpin Joaquin "El Chapo" Guzman, were among the most extreme.
Martinez, known as El Gordo, or "The Fat One," is one of the prosecution's most closely held cooperators in the trial of the Sinaloa Cartel leader.
His testimony lived up to the hype. In a scene scripted for Hollywood, Martinez regaled the court with a dramatic and detailed account of his life under Guzman's command.
One of the most gripping moments came as he described how he and a pilot who had been in the U.S. Navy landed a plane with two dead engines on a clandestine airstrip in northern Mexico, saving several tons of cocaine bound for Los Angeles.
"He told me we were missing 10 minutes of gasoline, then seven, then five," Martinez said. "We landed on the airstrip without engines and without gasoline. We jumped on the brakes and the landing gear broke. The cocaine was saved."
Martinez was a pilot when he went to work for Guzman in 1986, but he soon rose to become one of his most trusted lieutenants. Like the prosecution's first cooperating witness, Jesus "El Rey" Zambada Garcia, he testified to the cartel's ever-evolving import-export business, describing price structures, shipping routes and money laundering schemes. There were lengthy digressions into types of speedboats and brands of cocaine.
Among the many colorful details Martinez produced for the court were the code names drug traffickers used to evade detection over the radio. When Guzman wanted planes readied for a shipment of cocaine, he told deputies he was throwing a party. Jet fuel was "wine" and airplanes were "girls."
Unlike "El Rey," who reported to his brother, Ismael "El Mayo" Zambada, Martinez worked side-by-side with the crime boss, and it became evident in his testimony that the two men had grown close.
"One time we went out to dinner at a French restaurant in Mexico City," Martinez said. "There was a band playing and they had one of those huge violins," a traditional northern Mexican instrument called a tololoche. "He turned and he told me, that's you."
There was also the time Guzman called him "a terrible pilot" because he crash-landed on a clandestine airstrip, and the time Martinez took his boss to Las Vegas after a drug deal in Los Angeles because "Mr. Guzman wanted to gamble."
When Martinez had a son in 1989, Guzman lobbied to be the boy's godfather.
"I was glad, because, well, he was the boss," Martinez testified.
The boss also confided in him about his impoverished boyhood in the mountains of Sinaloa, Martinez said.
"He was a very poor person who didn't have anything to eat, and that was the reason he got involved in the drug trade," Martinez said . "Since he was a little boy, he would plant marijuana in front of his house, and poppies to make heroin."
Martinez was arrested in Mexico in 1998 and survived several attempts on his life in prison there. He walked into court a free man Monday, though has been reported to be in a U.S. witness protection program. The terms of his cooperation with the government were not discussed in court Monday.
The trial of Guzman, who faces charges of drug trafficking, conspiracy to murder and firearms violations, began early this month and is expected to last until February.
The trial has sometimes dragged under the weight of redundant details.
Martinez was the third witness to testify Monday, following a former DEA agent and a money laundering expert who explained that $1 million in dollar bills weighs 2.2 tons. Prosecutors were forced to read a long and tedious agreement into the record, sparing the court "probably three days of testimony," the judge, Brian Cogan, told the court .
Even the judge gave a nod to the duller side of justice when he admonished the jurors not to read or speak about the case at the end of the day.
"I know this sounds like the same song, but it's a Grammy Award-winning song," the judge said.
Sharp is a special correspondent.
---
Must-read stories from the L.A. Times
Get all the day's most vital news with our Today's Headlines newsletter, sent every weekday morning.
You may occasionally receive promotional content from the Los Angeles Times.