Former New York Gov. Eliot Spitzer denies accusation of assault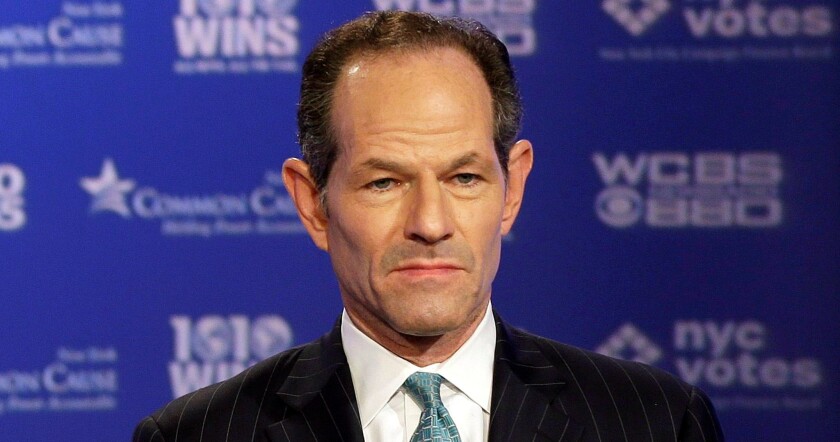 Reporting from NEW YORK —
Police are investigating a woman's report that she was assaulted by former New York Gov. Eliot Spitzer in a room at the Plaza Hotel, an allegation his attorney said was false and created by someone with "emotional difficulties."
Attorney Adam Kaufmann said the allegations concerned a woman Spitzer has known "for a period of time."
He said she phoned him from California where she had been living to say she was returning to her native Russia via New York. The two agreed to meet Saturday afternoon at the Plaza Hotel, where Spitzer rented a room.
"And they had a brief and amicable conversation, and then Mr. Spitzer left," Kaufmann said in a statement. But she called a few hours later and asked that he return to the room, where she had become "highly emotional and was threatening self-harm," Kaufmann said.
Join the conversation on Facebook >>
The woman called 911 Saturday evening from the hotel room, saying she had cut herself and was distraught and having a breakdown, according to two law enforcement officials with knowledge of the case. They were not authorized to speak publicly and spoke to the Associated Press on condition of anonymity. The woman called back and tried to cancel the emergency call but police were already en route, they said.
Kaufmann confirmed she'd placed the calls. "She was distraught and Mr. Spitzer sought to keep her calm," he said.
When police arrived, the 25-year-old woman said she was fine, but they noticed the cut on her arm and a broken glass and took her to a hospital. At the hospital, she told doctors that she had a relationship with the 56-year-old Spitzer, and that he choked her and shoved her after an argument, the officials said. She said the two had been together at a bar at the hotel earlier Saturday evening, the officials said.
In reference to the assault claim, Spitzer's spokeswoman Lisa Linden said: "There is no truth to the allegation."
Later Monday, Spitzer released a statement saying: "The woman who initially made the allegation was not my girlfriend." He did not elaborate on the relationship.
Hospital staff contacted police, who spoke to the woman, and she told them she was leaving shortly for Moscow and did not want to press charges, the officials said. She said she and Spitzer had argued over her leaving for Russia and he assaulted her, and then she broke a glass and cut her arm, the officials said. The woman's arm was bandaged, and she was released. She left on a flight to Russia on Sunday evening, one official and Kaufmann said.
"Unsolicited, she has indicated that any allegations of assault were false," Kaufmann said, adding it was unfortunate that the woman's "emotional difficulties" had been made public. "Mr. Spitzer acted appropriately at all times during this incident. He has been and intends to remain fully cooperative in the event there is any further inquiry by relevant authorities."
The police department confirmed that detectives were "investigating allegations of an assault which occurred at a midtown hotel."
Spitzer, a Democrat, resigned two years into his term in 2008 amid revelations that he had sex with prostitutes.
He was identified as a patron of a high-priced prostitution ring during a federal investigation, but he was never charged. His attempt at a political comeback failed when he lost his bid to become New York City's comptroller in 2013.
ALSO
Why Kamala Harris is unlikely to be a Supreme Court nominee
With emotions high, Colorado Planned Parenthood clinic reopens after gunman's attack
Battle over Scalia's seat feeds perception that Supreme Court is less neutral and more partisan
---
Must-read stories from the L.A. Times
Get all the day's most vital news with our Today's Headlines newsletter, sent every weekday morning.
You may occasionally receive promotional content from the Los Angeles Times.