With emotions high, Colorado Planned Parenthood clinic reopens after gunman's attack
Reporting from COLORADO SPRINGS, colo. —
Nearly three months after a gunman killed three people and injured nine others during an attack on a Planned Parenthood clinic here, the battered facility quietly reopened Monday with little but a steely sense of resolve to mark the occasion.
"We are resilient," said Vicki Cowart, president and chief executive of Planned Parenthood of the Rocky Mountains, standing outside the clinic on a blustery morning. "While we can't forget what happened here, we are making this place a warm, welcoming facility for high-quality healthcare."
The staff, she said, was "raring to go" and expected to see 30 patients on Monday.
Yet the legacy of violence lay all around her. The front entrance, crushed by armored police vehicles during the daylong siege, was shrouded in a tarp. Fences surrounded the clinic. Security guards prowled the perimeter.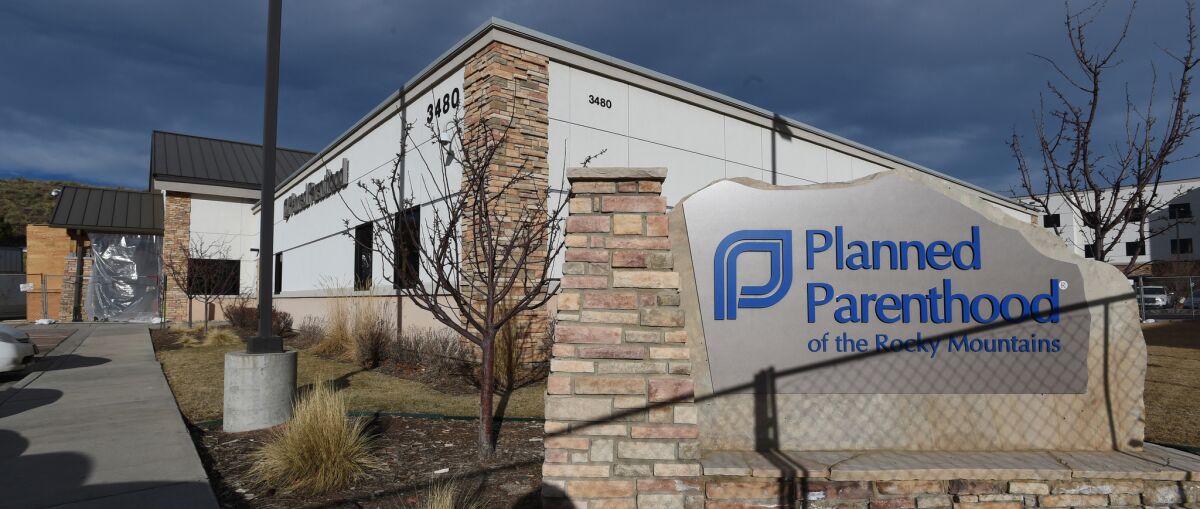 Cowart said security had been beefed up but emphasized she would never preside over an armed camp.
"No one should risk violence when accessing healthcare," she said. "But I don't think anyone should have to go into a fortress to get that healthcare."
Not far away, a knot of antiabortion activists carrying signs gathered on a corner.
It was business as usual for them too.
Cowart dismissed them as "bullies."
"It's reprehensible to me that people will stand and scream at our patients and medical staff," she said.
Violence erupted shortly before noon on Nov. 27, when police said abortion opponent Robert Lewis Dear Jr., 57, stormed the clinic and began firing at patients and staff with a semiautomatic rifle.
Dear killed two people inside and a University of Colorado policeman who responded to the scene, authorities said. Five other police officers and four civilians were injured during the rampage, which ended after Dear surrendered that night.
During his first court appearance, he repeatedly denounced Planned Parenthood and declared himself a "warrior for the babies." Dear has been charged with first-degree murder and 179 felony counts.
But just as the nation was trying to process the crime, another mass shooting occurred a week later. This time a heavily armed couple who sympathized with Islamic State killed 14 people and wounded 22 others at a holiday party at the Inland Regional Center in San Bernardino. The assailants, Syed Rizwan Farook and Tashfeen Malik, were shot dead by police.
The frequency of mass shootings in schools, movie theaters, college campuses and even the streets of Paris have raised questions over when and how to reopen these places after such mayhem. And whether normalcy is ever possible again.
"Reopening could be a trigger or a trauma reminder," said Merritt Schreiber, director of psychological programs at UC Irvine's Center for Disaster Medicine. "People want to avoid a traumatic event but avoidance has side effects. We want to manage the trauma, not yield to it."
After a terrorist attack in Israel, he said, the scene is almost immediately reopened "to get back to the business of living as soon as possible."
"They have found that this works for them as a culture," Schreiber said. "My recommendation is not whether you reopen, it is how you prepare those involved for it."
The Inland Regional Center reopened a month after the shootings, but the three county offices where the victims worked remain closed. San Bernardino County is completely remodeling each office so nothing will trigger a trauma response among survivors.
"We didn't want people walking by the cubicles of their friends who were killed day after day," said county spokesman David Wert. "So we are changing the whole place. We are bringing in entirely new furniture, putting on new paint, new lighting and new office layouts. Nothing will be the same. We talked to our employees, and they agreed."
At Sandy Hook Elementary School in Newtown, Conn., where 20 first-graders and six school employees were gunned down in 2012, the school was demolished and rebuilt.
The decision to reopen the Planned Parenthood clinic was never in question, Cowart said. The delay has been due to ongoing repairs that keep the place from fully operating.
NEWSLETTER: Get the day's top headlines from Times Editor Davan Maharaj >>
Still, there was plenty of soul-searching.
"The road to recovery is different for each of us depending on your experience. We have been empathetic to everyone's journey," she said. "Some were fine 24 hours later while others had relapses. Some folks are still in the processing phase and may never come back."
Her opponents are just as determined. Personhood USA, which has tried to pass ballot measures banning abortion in Colorado and other states, now plans to try it in individual cities, including Colorado Springs.
"It will be similar to the personhood amendment that says all human beings are persons and deserve protection regardless of their stage of development," said Jennifer Mason, spokeswoman for the group. She condemned the reopening of Planned Parenthood.
"This is terrible news that is compounding the tragedy that happened there with more death," she said. "They will once again be killing babies at that clinic."
That sentiment was echoed by Joseph Martone, 54, who stood on a corner surrounded by antiabortion signs. He's been doing it for five years.
"I'm always here Thursdays and Fridays because those are the abortion days," Martone said, leaning on a walker with a red sign reading, "Trust God -- End Abortion." "I think the reopening is horrible. As wrong as the shooting was, now Planned Parenthood will back to killing babies again."
At nearby Fusion Nails, owner Duy Tran, 32, recalled police ordering him to stay inside his salon with six customers the day of the shooting.
"But we returned to normal months ago," he said.
That's a luxury the clinic may never have. For one thing, the threat of violence is no longer theoretical.
"Our motto is 'care no matter what,' and most days we think of that in terms of the politics we have to deal with -- not being shot at," Cowart said. "Clearly, we are in a new environment now."
ALSO
Why evangelicals are splintering and what it means for the GOP
After the Oregon standoff, a new occupation begins -- this time it's the birds
In search for Scalia's successor, Obama may see GOP opposition as incentive to select a liberal
---
Must-read stories from the L.A. Times
Get the day's top news with our Today's Headlines newsletter, sent every weekday morning.
You may occasionally receive promotional content from the Los Angeles Times.