'Action! We need it now!': Mother of Parkland shooting victim turns her grief into a fight for change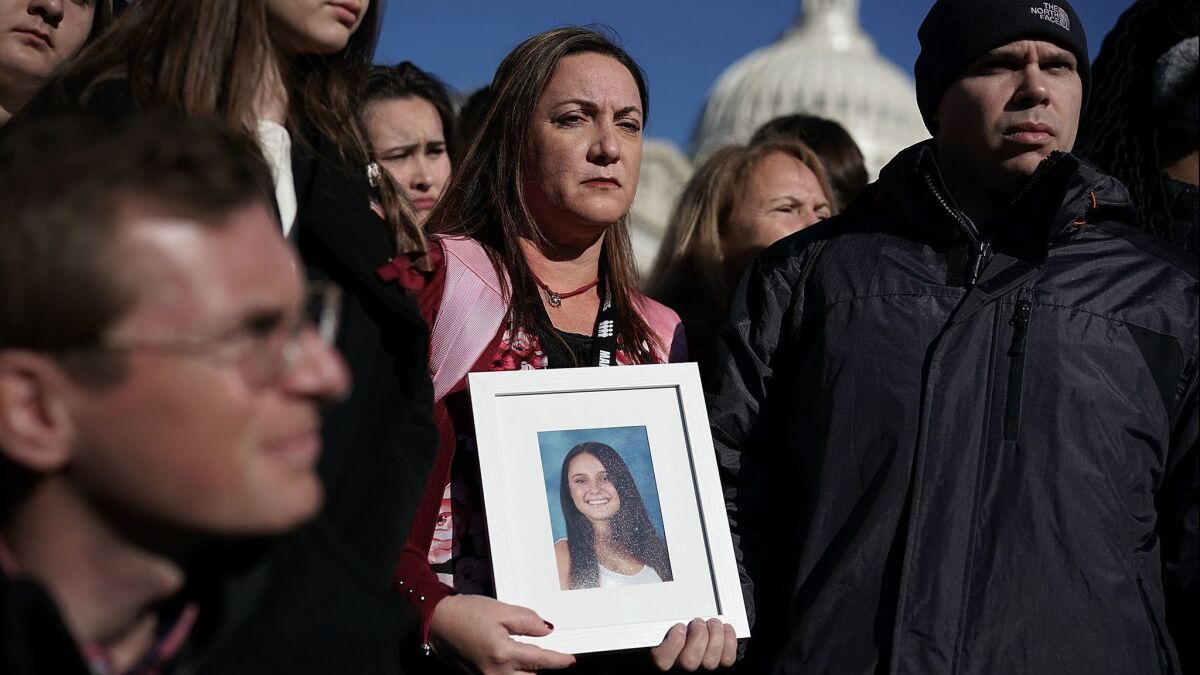 Reporting from PARKLAND, FLA. —
She lived the quiet life of a stay-at-home mom, attending soccer games and PTA fundraisers and never thinking much about politics, guns or the way a school district operated.
But Feb. 14 changed everything for Lori Alhadeff.
That's when the 43-year-old mom lost 14-year-old Alyssa, her oldest of three children and only daughter, during the massacreat Marjory Stoneman Douglas High School in Parkland, Fla.
Since then, she has transformed from a grief-stricken parent pleading for help from President Trump to a forceful advocate for gun control and school safety. On Tuesday, her efforts helped her win a seat on the School Board of Broward County, representing the sixth-largest school district in the country.
"In a tragedy, there are some people who fight and some people who flight. I've been fighting since Day 1," Alhadeff said.
Before Feb. 14, she would never have considered running for school board, "but I never thought in a gazillion years my daughter would be brutally shot down and killed going to school."
Her outspokenness today seems out of character to the pre-Feb. 14 Alhadeff, said close friend Emily Price, "but I would say it was very much a characteristic of Alyssa." If Alyssa had survived, Price said, she would have been a leading voice demanding change.
"I think Lori draws that strength and fire from Alyssa," said Price, whose daughter Abby was Alyssa's best friend.
Even before Feb. 14, Alhadeff was developing the skills needed to be a leader, loved ones say.
"Lori has always loved to be involved," said her husband, Ilan Alhadeff, a physician specializing in internal medicine. "If the school needs something, she'd sign up; a class trip, she'd volunteer. If something needed to be done like a fundraiser, she'd say, 'Let's go make it happen.' She's always been someone who wants to make things happen."
Her mother, Terri Robinovitz, added: "Lori is the motivator. She is a problem-solver and motivates others to achieve their best."
Alhadeff grew up in Hillsborough Township, N.J., about 40 miles north of Trenton. She was a star soccer player in high school, but "I was actually a very quiet person. Driving the wrong way on the bike path was probably the most dangerous thing I ever did."
Her mother was a high school science teacher, and Alhadeff decided to pursue a career in education as well. After graduating from the College of New Jersey, she started working as a high school physical education teacher in 1997 in central New Jersey.
During a winter break, she traveled to Fort Lauderdale to visit her grandfather. At his complex, she met a medical student, Ilan Alhadeff, by the pool of the residential community. He was there visiting his grandmother. They married in 2001. Alhadeff remained a teacher in New Jersey until 2003, when Alyssa was born, and she became a stay-at-home mom.
The family moved to South Florida in 2014, choosing Parkland because of its reputation for good schools. Alhadeff became a devoted soccer mom, shuttling her kids to sports practices and school events.
"My life was my kids," she said.
Alyssa played soccer with a club team and on the junior varsity at Stoneman Douglas. "I joke with my husband that I was almost like Alyssa's assistant," Alhadeff said. "She had such a busy and full life."
That ended when gunman Nikolas Cruz entered the school with an AR-15 rifle. He fired through the window of Alyssa's classroom, shooting her 10 times. Seventeen people died that day, and 17 others were injured.
It was 2 a.m. on Feb. 15 when the FBI told Alhadeff that her daughter probably was among the dead, a fact confirmed by the medical examiner's office later that morning. When she got to see Alyssa's body "she was so cold. I was trying to warm her with my hands. I ended up taking a piece of Alyssa's hair and cutting it, because I didn't want him to take everything from her."
That afternoon, Alhadeff and her husband went to a memorial for the victims at a park near Stoneman Douglas. And an activist was born.
Feeling angrier, she says, than she had ever been in her life, she walked up to one of the TV reporters there and said she had something to say. A woman dismissed her, saying she wasn't on the air at the time. Alhadeff said she "went down the line" until a CNN reporter gave her a microphone. Alhadeff said she "had no agenda, no idea what I was going to say. It just came out."
It was a moment of raw outrage that went viral.
"A gunman, a crazy person just walks right into the school, knocks down the window of my child's door and starts shooting — shooting her and killing her!" Alhadeff shouts in the video. "President Trump, you say, what can you do? You can stop the guns from getting into these children's hands. You can put metal detectors at every entrance to the schools. … President Trump, please do something! Action! We need it now!"
She soon decided she couldn't wait for others to act. Over the next week, while sitting shiva to mourn her daughter, she decided she had to take action herself.
She created a nonprofit, Make Schools Safe, aimed at providing safety features tailored to the specific needs of schools, such as metal detectors, bullet-resistant glass and enhanced fencing and gates.
In late March, she traveled to Tallahassee to support school safety legislation, which ended up passing, and to Washington to support the March for Our Lives rally for gun control.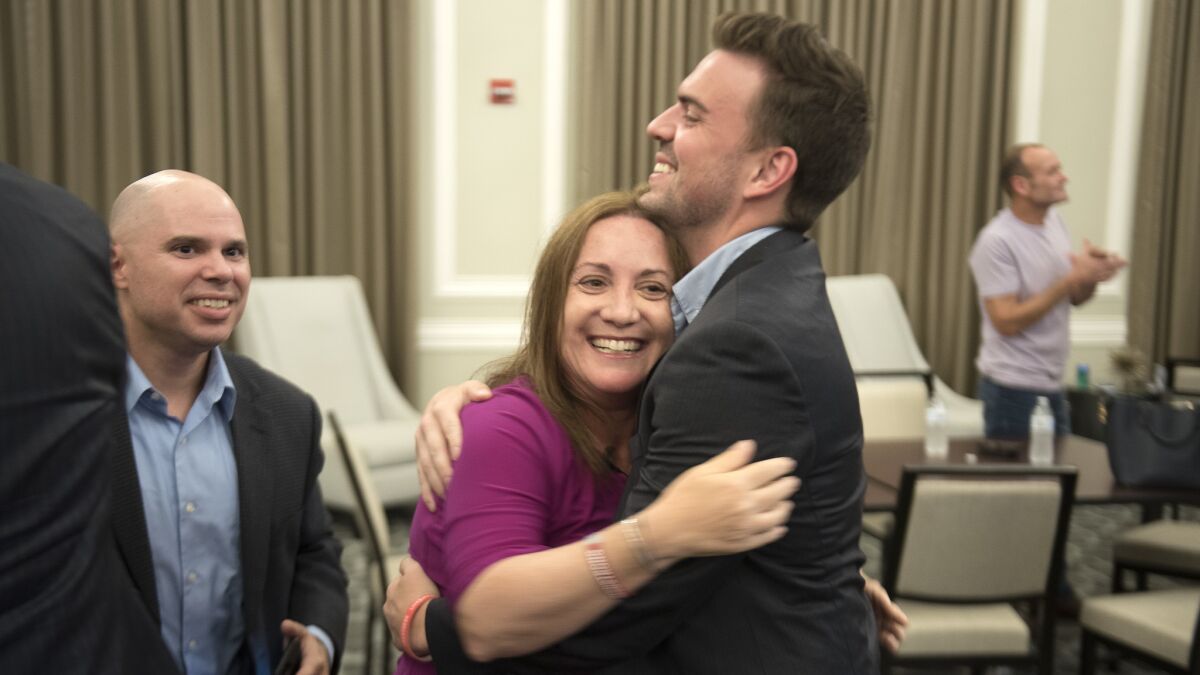 In April, she took the boldest step of all, deciding to run for the school board for a seat that includes the Parkland and Coral Springs areas. She had been disappointed with the district's reaction to the shooting and thought her voice was needed.
On election night, she thanked her supporters, saying politics, like soccer, is a team sport. She vowed to fight for safe schools. Although she had maintained a calm, poised and stoic demeanor since her CNN interview, she managed to share another side of herself that night — joy.
"We did it! Woo!" she shouted to a cheering crowd, while jumping up and down in excitement.
"I thought, wow, I haven't seen her smile like that since before the tragedy," her mother, Robinovitz, said.
Travis writes for the South Florida Sun-Sentinel.
---
Must-read stories from the L.A. Times
Get the day's top news with our Today's Headlines newsletter, sent every weekday morning.
You may occasionally receive promotional content from the Los Angeles Times.