Florida yoga studio killer was arrested for grabbing women and recorded misogynistic, racist rants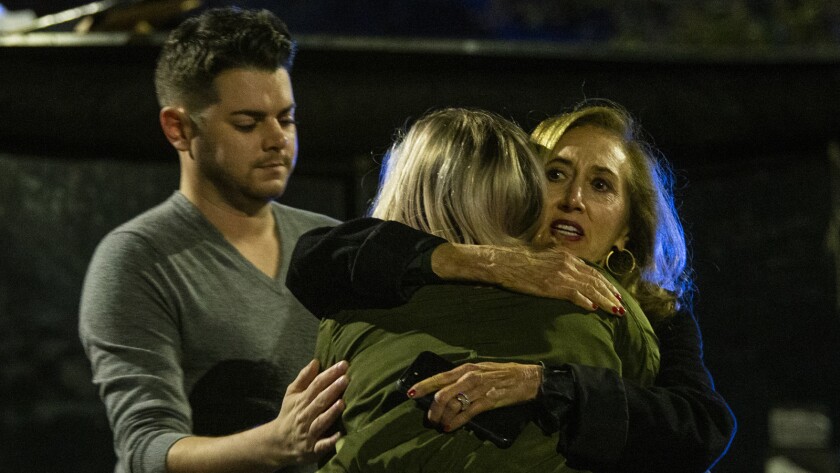 Reporting from Tallahassee, Fla. —
A brooding military veteran who had been arrested twice for grabbing women and had railed at women and black people in a series of videos in 2014 shot two women to death and wounded five other people at a Florida yoga studio before killing himself.
The Friday evening shooting, in which a Florida State University student and a well-known local doctor were slain, took place at a busy upscale shopping plaza in the state capital.
Details emerged Saturday about the shooter, Scott Paul Beierle, 40, including that he had once been banned from Florida State's campus and had been arrested twice for grabbing women even though the charges were ultimately dropped.
Beierle, who had moved to the central Florida town of Deltona after getting a graduate degree from Florida State, also appeared to have posted a series of poorly lit videos on YouTube in 2014 in which he called women "whores" if they dated black men, said many black women were "disgusting" and described himself as a misogynist. He said promiscuous women deserved to be crucified and suggested putting up land mines to keep people from crossing into the U.S. from Mexico.
Tallahassee police say Beierle shot six people and pistol-whipped another after walking into the yoga studio that sits on the second floor of the small shopping plaza. Tallahassee Police Chief Michael DeLeo said some in the studio showed courage by trying to stop him.
Witnesses at the shopping center described how people who had been in the studio, including one who was bleeding, ran to seek shelter in nearby bars and restaurants after the shots rang out.
Police responded within a few minutes, but by then Beierle had fatally shot himself, leaving police to search for a motive and a community to wonder what prompted the violence near the city's fashionable midtown neighborhoods.
Beierle was charged by police with battery in 2016 after he slapped and grabbed a woman's buttocks at an apartment complex pool. Records show that the charges were eventually dismissed after Beierle followed the conditions of a deferred prosecution agreement.
Beierle was also charged with battery in 2012 for grabbing women's buttocks in a campus dining hall. A Florida State police report shows that Beierle told police he may have accidentally bumped into someone, but he denied grabbing anyone.
In 2014, Beierle was charged with trespassing at Florida State. He had been seen following a university volleyball coach near the campus gym and was told he was banned from campus. A month later police found him at a campus restaurant.
Witnesses told police that Beierle pretended he was a customer to gain entrance to the yoga studio Friday, then started shooting without warning.
The victims were identified as Dr. Nancy Van Vessem, 61, and student Maura Binkley, 21. Online records show Binkley was from Atlanta. Police said two other victims were in stable condition, and three had been released from the hospital.
Van Vessem was an internist who also served as a faculty member at Florida State and as chief medical director for Capital Health Plan, the area's leading health maintenance organization.
"To lose one of our students and one of our faculty members in this tragic and violent way is just devastating to the Florida State University family. We feel this loss profoundly," university President John Thrasher said in a statement.
The plaza where the shooting took place is home to popular restaurants, a jewelry store, a framing shop and a hair salon.
Erskin Wesson, 64, said he was eating dinner with his family at a restaurant below the yoga studio when they heard the gunshots.
"We just heard 'pow, pow, pow, pow,' " Wesson said. "It sounded like a limb falling on a tin roof and rolling."
The restaurant's owner came by a short time later, asking if anyone was a doctor, Wesson said. His stepdaughter is an emergency room nurse and helped paramedics for about an hour, he said.
Melissa Hutchinson said she helped treat a "profusely" bleeding man who rushed into a bar after the incident. She said three people from the studio ran in, and they were told there was an active shooter.
"It was a shocking moment something happened like this," Hutchinson said.
The people who came in were injured, including the bleeding man who was pistol-whipped while trying to stop the shooter. They told her the shooter kept coming in and out of the studio. When he loaded his gun, people started pounding the studio's windows to warn people.
The yoga studio is "a place that brings … joy and peace, and I think it's ruined," said Katie Bohnett, an instructor who skipped her normal Friday practice to meet a friend for dinner. "This monster ruined it."
---
UPDATES:
5:55 p.m.: This article was updated to add details from the shooter's background and YouTube videos.
This article was originally published at 3:45 p.m.
---
Must-read stories from the L.A. Times
Get all the day's most vital news with our Today's Headlines newsletter, sent every weekday morning.
You may occasionally receive promotional content from the Los Angeles Times.