Must Reads: In the Deep South, residents of an upscale suburb fight to secede from their neighbors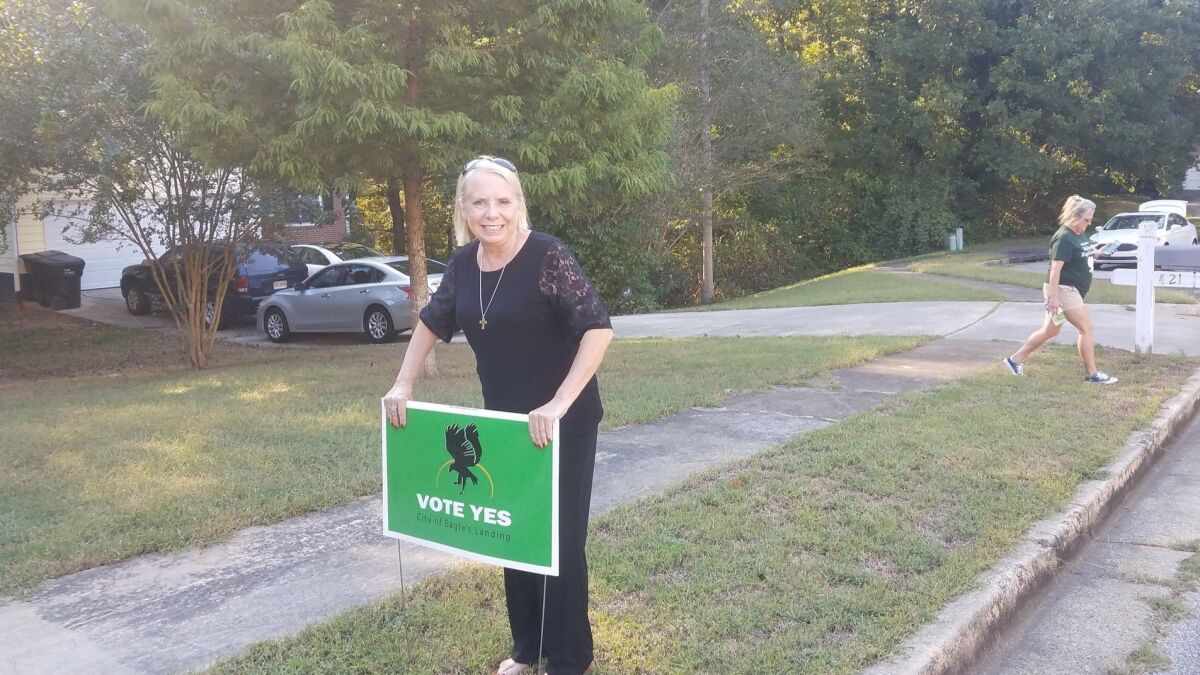 Reporting from Henry County, Ga. —
When Vikki Consiglio exits her subdivision next to the Eagle's Landing Country Club, leaving behind a neighborhood of neatly manicured lawns, circular driveways and golf fairways, she cannot help feeling a wave of disappointment.
"I see the Waffle Houses and the McDonald's, the Walmart and the dollar stores," she said. "I'm thinking, 'Is this all I can have?' There's no fresh farm-to-table, no parks, no entertainment."
In what she says is a bid to attract more upscale amenities to this rapidly developing suburb about 20 miles southeast of downtown Atlanta, Consiglio has come up with a controversial plan: to form a new city, Eagle's Landing, by combining unincorporated pockets of the county with the most affluent parts of the existing city of Stockbridge.
The proposal to form a new city, up for a vote on Tuesday, has roiled Henry County, raising tense debate about racial and economic disparity and voting rights. Once a sleepy rural, predominantly white region, the county has seen an influx of minorities and a solidification of black political power as its population has exploded in recent years. In 1980, whites made up more than 80% of Henry County's population, but now they have dwindled to less than 50%.
While the thousands who live within the proposed city boundaries of Eagle's Landing will vote in Tuesday's referendum, those who would be left behind, in Stockbridge, will not get to vote, as a result of legislation approved by the Republican-dominated state Legislature.
Stockbridge officials complain the city, which is predominantly black and has a population of about 29,000, would have no say in losing its most bustling commercial corridor and about a third of its residents.
"This is about the haves and the have-nots," said Anthony S. Ford, who was elected last year as Stockbridge's first African American mayor. "If this goes ahead, it will disenfranchise more than half of the residents of Stockbridge who don't get a chance to vote. It will devastate the city and cut it in half."
If Eagle's Landing manages to wrestle away the southern portion of Stockbridge — a section that includes its most affluent residential pockets as well as its main commercial corridor that brings in nearly $5 million of the city's $9 million annual revenue — Ford has warned the city would be forced to impose a new property tax on remaining residents.
Opponents say a successful referendum drive could have repercussions far beyond the Atlanta metropolitan area.
"This is much bigger than the city of Stockbridge," said Arthur Christian, 49, a financial project manager who runs the ballot committee, Citizens to Keep Stockbridge Together. "It would end up being a tool to wrestle political and economic power from communities in general and African American communities in particular."
Christian, who is originally from Chicago but settled with his wife, Yvette, in Stockbridge 15 years ago, is among the critics who think the secession movement is born of a desire to hold on to white political power. He also worries that the creation of Eagle's Landing would raise the cost of Stockbridge city services and make it harder for him and his neighbors to sell their homes.
"Southerners don't like things to be ugly out in the open, but the intent is ugly on the inside," he said.
Backers of Eagle's Landing counter that their aim is nothing more than to lure new fine dining and retail to a freshly coined community with a median household income of about $128,000 — more than double that of Stockbridge. Imagine, they tell their neighbors, a Whole Foods or a Trader Joe's, a California Pizza Kitchen or a Capital Grille.
They also push strongly against accusations that they are seeking racial separation, pointing out that whites will hardly control Eagle's Landing. The proposed city, population 17,000, would be 47% black, 39% white, 8% Asian and 6% Hispanic.
"I don't look at this as a black or white issue; I look at it as an issue that would benefit all," said Charles Marshall, an African American resident of the Eagle's Landing subdivision who supports the creation of a new city. With minority residents the majority, the 68-year-old district manager of an automotive company said he was confident of a diverse council board.
A new city branded around the community's exclusive country club and golf course, he says, might attract corporate headquarters and high-end retail, spurring growth across south metropolitan Atlanta — an area traditionally neglected as growth concentrates in the northern suburbs.
At the same time, Marshall said he understands why many other African Americans are wary: Many supporters of cityhood are white, they have higher incomes and the initiative was pushed through the Georgia Legislature by Republicans who do not represent the district.
"It's gotten a little tribal," Marshall said. "I'm trying to get everyone to look beyond that."
For more than a decade, rich, white pockets of metro Atlanta have led a national movement to form new cities out of unincorporated land in an effort, they say, for greater control, more efficient government and lower taxes. But this could be the first time a new city would take an existing city's land without all the residents of the existing city having a vote.
"People will be voting on how to pull out a big knife and cut this city in half," said Michael Leo Owens, associate professor of political science at Emory University. "If you're going to break apart a city, if you're going to put it to a vote, the fair way to do that is to allow everyone affected to participate."
That was one reason the San Fernando Valley did not break away from the city of Los Angeles in 2002. While just over 50% of Valley voters approved secession, an overwhelming majority of voters elsewhere in the city voted no.
Georgia's law is different. Earlier this year, the Legislature passed two bills that would amend the charter of Stockbridge and create a charter for the city of Eagle's Landing, allowing about 9,000 residents in the southern end of Stockbridge to vote to break away from the 100-year-old city and join forces with residents of unincorporated Henry County. Voting is limited only to those within the boundaries of the proposed city.
While proponents of Eagle's Landing dismiss the idea that race has anything to do with their new city, Owens said the collective voice of the white electorate in the more affluent city would be much stronger than it would be in Stockbridge.
"This is the South still," he said. "One could argue what you heard out of people's mouths is exactly what is going on: It has nothing to do with race, and is about class and growth. But given that class and race intersect, particularly in a place like Stockbridge, it's hard to think this is not about race at all."
Attorneys for Stockbridge have filed a flurry of state and federal lawsuits, claiming the new city would prevent Stockbridge from paying back millions of dollars of debt it took on to build a new City Hall, which opened in 2009, as well as violate the Voting Rights Act of 1965 and the equal protection clause of the 14th Amendment. So far, they have not been able to halt the referendum, though some legal claims remain pending.
While advocates for Stockbridge say the new city would probably be responsible for its share of Stockbridge's municipal bond debt and have to impose a property tax, those championing Eagle's Landing have vowed not to impose such a tax, and they say it is too early to determine what their share of the debt would be.
"A lot of things have to be negotiated," Consiglio, 63, the chairwoman of the Eagle's Landing Educational Research Committee.
While Consiglio, who lives in unincorporated Henry County, complains Stockbridge's leaders have failed to provide basic services and let down high-end neighborhoods with poor city planning, she says her push for cityhood is less about Stockbridge than giving the area an economic jolt.
"If we have a city, we can control our destiny and control what comes in and what it looks like," she said. "We felt we didn't have that. We wanted an economic boost for our area."
Not everyone who lives in the proposed city, though, agrees.
Marilyn Flynn, a retired speech therapist who lives in the Windsong Plantation, a subdivision within the boundaries of Eagle's Landing, said she would vote against the new city because she did not trust the motives of those spearheading the project, whom she suspected of being in cahoots with real estate developers.
"It's greed," said Flynn, who is white. "Now that blacks are in the majority, they've lost control of the money, the power. They want to get back political control."
As a retiree on a limited income, Flynn, 84, worried the new city would make it too expensive for her to remain. Some of her neighbors, she said, seem to believe creating a new city would bolster their status, regardless of the plight of their neighbors.
"They like the white linen tablecloths and better stores; they think that will make them better people," she said. "They think that's their goal — to increase the value of their houses without any consideration of the people they're going to hurt."
jenny.jarvie@latimes.com
@jennyjarvie
Must-read stories from the L.A. Times
Get the day's top news with our Today's Headlines newsletter, sent every weekday morning.
You may occasionally receive promotional content from the Los Angeles Times.