With a daughter's tribute, aircraft carrier Gerald R. Ford is commissioned in Virginia
Reporting from NORFOLK, VA. —
The aircraft carrier Gerald R. Ford came to life Saturday in a commissioning ceremony at Naval Station Norfolk, a time-honored tradition that ushered in a new generation of naval sea power.
Ship sponsor Susan Ford Bales made the call that sent dozens of sailors in crisp white uniforms running onto the first-in-class ship that bears her father's name. President Trump and Navy leaders looked on.
The grand ceremony designated the Ford as a United States ship and places it in active service. It won't be ready to deploy until 2021, but Saturday will still go down in naval history. The Navy last commissioned a first-in-class aircraft carrier in 1975, a ceremony in Norfolk presided over by President Ford himself.
"American steel and American hands have constructed a 100,000-ton message to the world," said Trump, who arrived at the ceremony via helicopter, touching down on the ship's 5-acre flight deck.
The commissioning marked the end of a challenging odyssey for the Navy and Newport News Shipbuilding, which dealt with a host of technical problems and delays in building the complex, $12.9-billion ship.
Its original completion target date was 2015, and challenges of integrating new technology pushed the price well beyond original estimates. Compared with Nimitz-class carriers, Ford-class ships have more than 23 new or modified systems.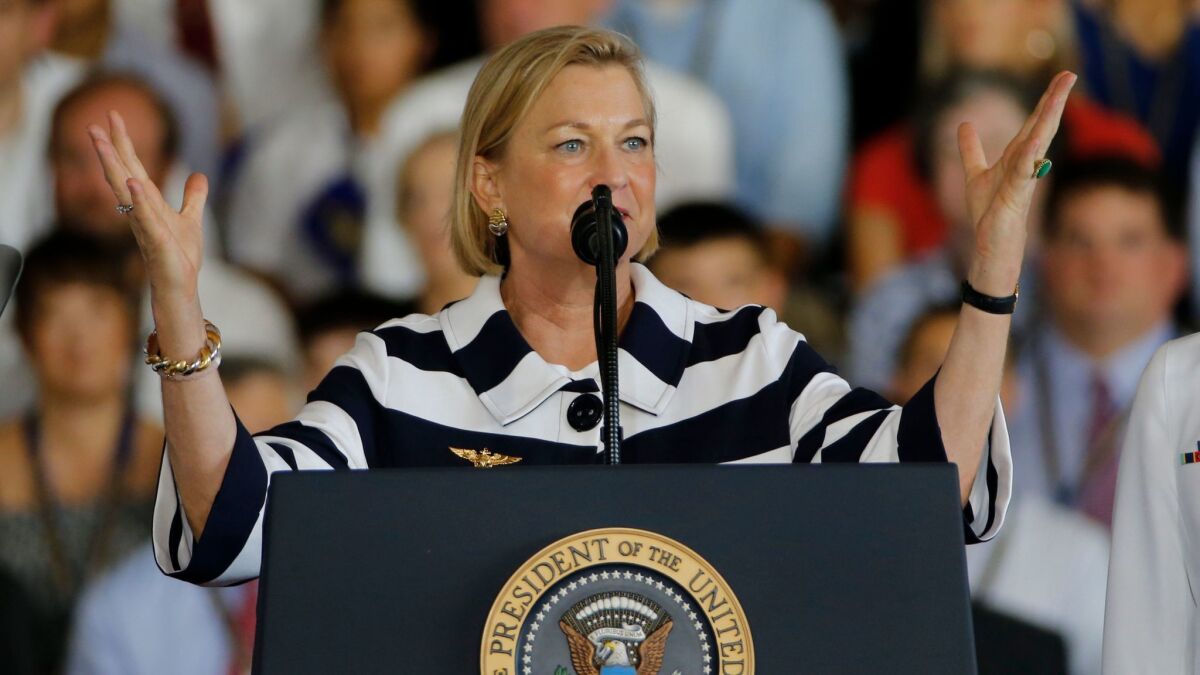 More hurdles await. The Ford's crew, many of whom spent years helping build the ship, now turn their attention to getting it ready for deployment. The Government Accountability Office recently released a report that said the Navy is expected to spend another $780 million over several years before the ship can deploy. The Ford will head back to sea as soon as possible for further trials.
The sailors can't wait.
Petty Officer 1st Class Jeremy Stoecklein joined the crew almost four years ago, when things were quite different.
"It was just stripped down to the bare metal," he recalled days before the ceremony. "No doors, no non-skid on the flight deck. We've watched it for the last four years come to life. This is an extremely exciting moment, not just for us but for the whole crew."
Saturday's ceremony offered the opportunity to celebrate the life of Gerald R. Ford, a man who initially did not seek the presidency, but ended up leading the nation through the turmoil that followed Watergate.
Ford Bales often says that nothing came easy for her father.
He was the product of a broken home, born Leslie Lynch King Jr. His parents separated two weeks after he was born, and mother and child moved to Grand Rapids, Mich. She later obtained a divorce and married Gerald R. Ford, a paint salesman. They began calling their son Gerald Jr., although his name wasn't legally changed until he was 22 years old.
That same year, Ford graduated from the University of Michigan. He financed his education with part-time jobs, a small scholarship and some assistance from his family. He earned a law degree and in 1942 joined the U.S. Naval Reserve, commissioned as an ensign.
In 1943 he began service on the light aircraft carrier Monterey, which took part in several battles in the Pacific theater in World War II. His closest call came not as a result of enemy fire, but during a typhoon in the Philippine Sea. Ford came within inches of being swept overboard, but he caught the ship's scupper rail.
As for Ford Bales, she has put her fingerprints on the ship, and she's done it the hard way.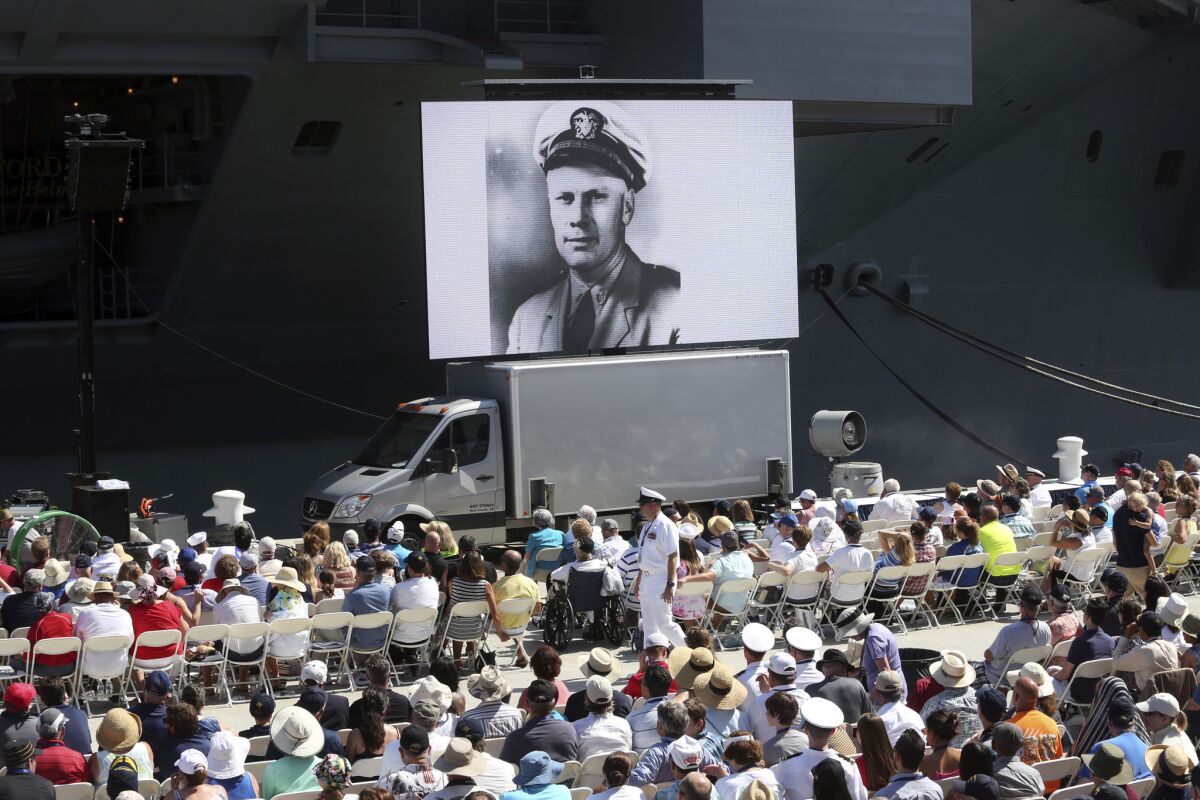 Over the years, she rolled up her sleeves and worked alongside the skilled workers at Newport News Shipbuilding as the next-generation ship slowly took shape. In April 2016, she broke down in tears during a change-of-command ceremony on the Ford when her friend, former commander John F. Meier — then a captain, now a rear admiral — relinquished the helm. She choked up again that day in addressing shipyard employees, calling them "my fellow shipbuilders."
On Wednesday, Ford Bales greeted reporters aboard the ship and reflected on her journey as the vessel's sponsor. Asked why she was attracted to the physical work in the shipyard, she replied, "That's what my dad would have done if he were alive. Having been a Navy man, he would have been involved."
She also discussed how Ford assumed the presidency after Watergate and his efforts to heal a wounded nation.
With the country again facing turmoil in 2017, Ford Bales was asked what could be learned from her father's example.
"The one thing we can learn is working together," she said. "Democratic, Republican, whatever — we work together, and we need to do what is best for the country.
"As long as you put your country in front of you and make that your basis, I think you have a chance of good success. But you've got to work together. And if not, we're not going to go anywhere."
Lessig writes for the Daily Press in Newport News, Va.
ALSO
Could Trump pardon himself? No president ever has, and legal opinions are mixed
In Seattle, vouchers let voters steer city money to political campaigns. But some aren't buying it
'I had to photograph this shocking event.' What one journalist remembers 50 years after the Detroit riots
Must-read stories from the L.A. Times
Get the day's top news with our Today's Headlines newsletter, sent every weekday morning.
You may occasionally receive promotional content from the Los Angeles Times.