In Seattle, vouchers let voters steer city money to political campaigns. But some aren't buying it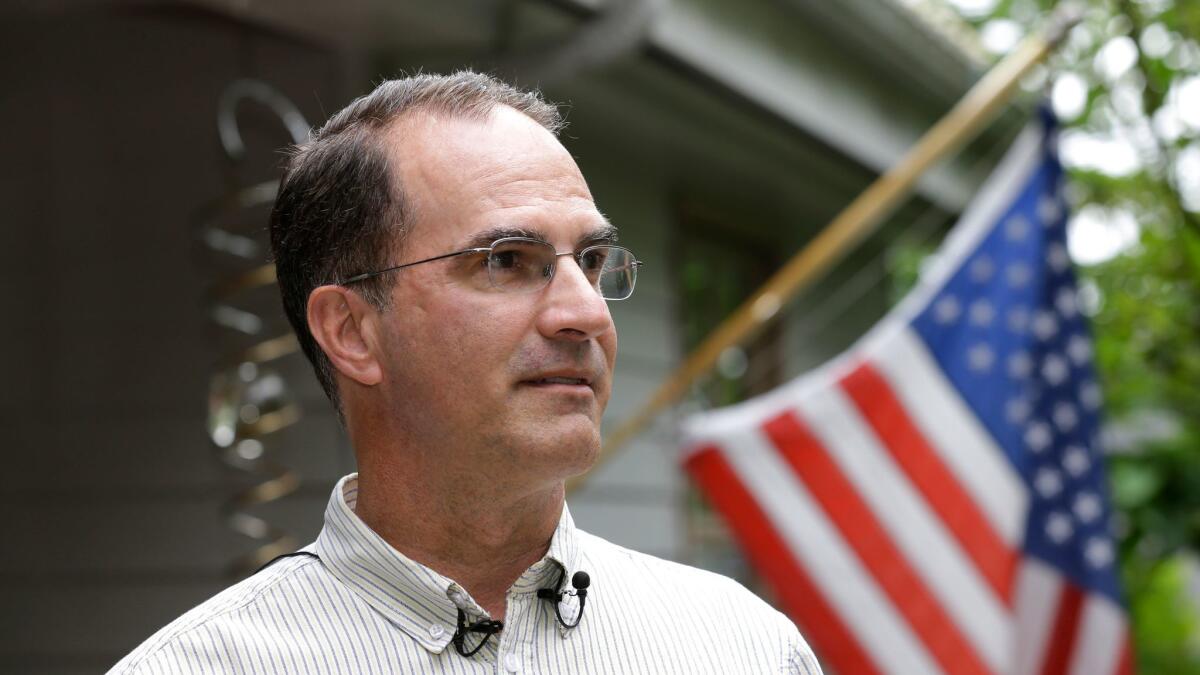 Reporting from SEATTLE —
The nation's first "political voucher" system — a coupon of sorts that lets voters direct public money into the campaigns of candidates — is a rousing success in Jon Grant's view.
Vying for a seat on the Seattle City Council, Grant has raised $186,000 through the vouchers, which are funded by a city property tax and intended to offset the financial advantage of big-money candidates.
"The last time I ran," says Grant, a community activist who unsuccessfully sought a council seat in 2015, "our campaign was outspent 8 to 1."
This time he's the one outspending his opponents.
Seattle's program works like this: Each voter receives four vouchers, each worth $25 in public funds. A voter can give all four vouchers to one candidate, or divvy them among contenders. Candidates redeem the vouchers for cash from a city account funded through a property tax.
While some U.S. cities have public campaign financing, Seattle's program is considered one-of-a-kind, having been approved by voters and imposing no matching funds requirement.
"With the Democracy Voucher program, we've been able to lead campaigns in fundraising, with 90% of our donations coming from publicly financed vouchers," said Grant, who asks for vouchers as he campaigns door to door.
His campaign website also offers to send a volunteer to pick up vouchers from donors who don't want to mail them in. Vouchers also can be dropped off at several locations, or be scanned and sent to City Hall via email or fax.
They're putting political speech in my mouth. They're using my money for political campaigns I may nor may not agree with.
— Mark Elster, Seattle resident challenging city's campaign finance system
In the first five months of the program, 4,150 voters returned at least one voucher, according to Wayne Barnett, executive director of the Seattle Ethics and Elections Commission, which regulates the program.
To qualify, candidates must collect 150 donor contributions of $10 or more on their own and pledge to follow various rules, including limits on spending, and participate in at least three public debates leading up to the Aug. 1 primary and the November general election.
As with most political donations, the names of voucher donors are public information and published on the commission's website. The effort is being closely watched by other cities after it was approved in 2015 as part of a citizen-led initiative dubbed Honest Elections Seattle.
But also being watched is a legal challenge contending the program's taxing system is unconstitutional.
Seattle's famously liberal voters easily authorized a 10-year, $30-million property tax levy to support the campaign contribution fund. Amounts vary, depending on the size of a property, but the average homeowner pays $11.50 a year.
At least one of those homeowners, architect Mark Elster, thinks that's a 1st Amendment violation.
"Our free-speech rights come with a right not to speak," Elster said at a news conference last week after joining Seattle landlord Sarah Pynchon in a lawsuit backed by the conservative Pacific Legal Foundation.
"They're putting political speech in my mouth," said Elster, who lives in Seattle's upscale Magnolia neighborhood. "They're using my money for political campaigns I may or may not agree with."
The lawsuit contends that the "politician enrichment tax" compels property owners to "pay for political viewpoints they object to and enrich the campaign coffers of politicians they don't support."
Pynchon, though she owns Seattle rental properties, isn't a Seattle resident or registered to vote here, and thus isn't qualified to receive vouchers — but still must pay for them.
"Ms. Pynchon objects to being compelled to subsidize other people's political speech, especially when she herself is not entitled to vouchers," the lawsuit states.
The suit in part targets Grant, a tenants advocate whose promises including giving renters new bargaining rights. He has vowed to "freeze all permits, licenses and rental registrations where the landlord has any ownership stake until they meet and negotiate in good faith with the tenants," the suit says.
The voucher system "forces landlords and other property owners to sponsor these messages," the suit adds.
Community activist Alan Durning, who helped write the voucher initiative, said the "right-wing lawsuit" is baseless.
"More than a dozen cities and states use small amounts of public funds to give candidates the option of running for office without dialing for dollars from the donor class," said Durning, executive director of the nonprofit environmental group Sightline Institute.
"The law was vetted by a team of constitutional law experts to make sure it was within the lines drawn by federal courts for such public campaign programs. Seattle's program is actually the most democratic of them all, giving voters — regardless of income — a real voice in supporting campaigns that opt to run without big money," he said.
In any event, the lawsuit won't affect the current election season. The Pacific Legal Foundation did not seek an immediate injunction to halt the effort, saying it prefers an in-depth review by a court.
Grant was happy to hear that. So far, he is one of three candidates who've qualified to receive vouchers. (Only council and city attorney candidates can qualify this year; in 2021 the program will include the mayor's race). Ten others are still seeking qualification and four refused the offer, saying they didn't need the money or that the tax was unfair.
Grant has raised $201,000 in total contributions, said his aide Erin Fenner, with about 92% of that coming from vouchers.
Teresa Mosqueda, one of Grant's opponents, has raised about $69,000 in voucher contributions, and incumbent City Atty. Pete Holmes has collected just over $43,000, according to city figures.
Grant says he and his fellow candidates are blazing a new political trail that he hopes other cities follow.
"We're showing that grass-roots campaigns can stand up to big money and represent real people struggling to afford to stay in Seattle," he said.
ALSO
'I had to photograph this shocking event.' What one journalist remembers 50 years after the Detroit riots
Sean Spicer out as White House press secretary
Trump said he left his seat at G-20 dinner because the Japanese first lady spoke no English. She's pretty fluent
Sign up for Essential California for news, features and recommendations from the L.A. Times and beyond in your inbox six days a week.
You may occasionally receive promotional content from the Los Angeles Times.