Armed with only a martini and a long memory, former Vegas mayor talks mobsters, 'rats' and Trump
Reporting from Las Vegas —
Oscar Goodman sits in the chair, head bowed. The glow of his cellphone reflects in his large glasses. The dark, pinstriped suit jacket hangs long on his body. The martini, when not in his hand, is never far from reach.
The people begin to filter into the private room decorated with black-and-white pictures of downtown Las Vegas when the mob was in charge. There's the Union Plaza. One of Tony "The Ant" Spilotro. And a much younger Goodman, of course.
A tall man in a trim gray suit weaves through the quiet conversations and past round tables draped in white tablecloths. All the chairs are leather-bound and match the walls. Large wine glasses gleam — even in the dim, recessed lighting. Dean Martin croons lightly through the room's speakers.
Goodman looks up.
"Hi, Johnny," Goodman says.
"Hello, Mr. Goodman," Johnny replies.
Johnny would be Jonathan Jossel, chief executive officer of the Plaza Hotel and Casino. This is his hotel, which also houses Goodman's restaurant, Oscar's Steakhouse. Goodman hasn't been mayor of Las Vegas for over seven years. It's been even longer since he represented names notoriously affiliated with Vegas mobsters.
But in the speakeasy-like confines of Simpatico — as this private room is called — there are no clocks or calendars. It's Old School Vegas. Appearances matter. There is a code. Respect is paid.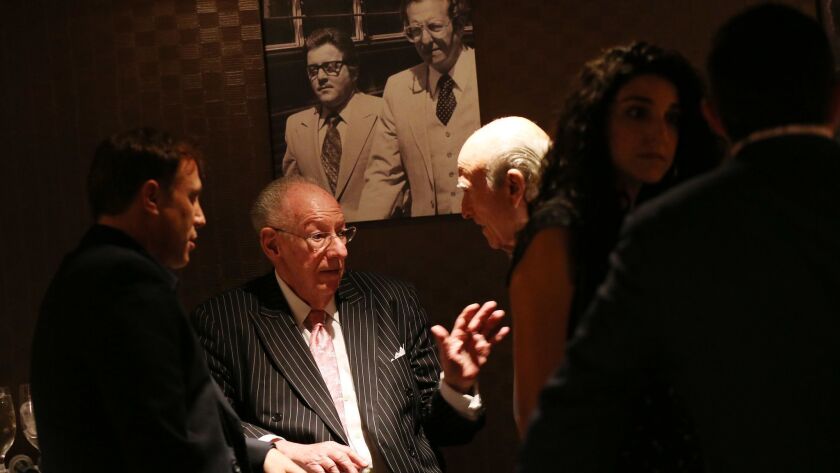 A waitress in a white coat approaches Goodman and asks what he'll be ordering for dinner. It's best if they can get it going before he begins his talk.
"I'm not hungry," Goodman decides. "I think I'll just drink."
They know what to get him. Bombay Sapphire gin. With a jalapeno pepper slice floating in it. It wasn't his first.
About 70 people have found their way to their seats, and a wait staff glides efficiently around the diners, pouring red and white wine. There's a couple of women from England — one a barrister in London. Joe Asher, chief executive officer of William Hill U.S. Sports Book, is here. Sport coats, suits and heels fill out the room.
Dennis Hof, the brothel owner and Republican candidate for a state Assembly seat, was an invited guest too. But the celebrity pimp hasn't arrived yet, and his absence is holding up dinner.
This displeases Goodman.
He looks at his watch. The 79-year-old takes the microphone and is initially vague about the delay, saying only that a few guests are running late. It's a face-saving move for the stragglers. No names. For now.
Goodman has been doing these talks for a few years, and Thursday's was the 22nd one. It's a residency of sorts. Aerosmith has theirs at MGM. Mariah Carey has hers at Caesars. The former mob lawyer does his in this low-lit corner of downtown.
He will often talk about his days rubbing elbows with reputed mobsters, name-dropping guys like John "No Nose" DiFronzo and Vinnie "The Animal" Ferrara — though a handy black book given to guests notes that Ferrara is still alive, visits Goodman in Las Vegas regularly and advises guests that nobody calls him "The Animal" to his face. Consider that a warning.
Jossel says he usually invites guests who he thinks will either spar or engage with Goodman during the talks. Sometimes it works and sometimes it doesn't, Jossel says. In the early days of the talks, rapper Flavor Flav showed up a couple of times. But he didn't care for the tit-for-tat with Goodman. Jossel says he hasn't been back since.
Goodman is stalling a bit tonight, and says the theme of the talk will be about flipping witnesses to obtain convictions. Goodman is no fan of President Trump and scoffs at the idea that his show might be affected by the president's presence a few miles away, stumping for Nevada Republicans.
But he also finds himself in a peculiar spot — agreeing with something Trump said. Trump suggested, after associates Paul Manafort and Michael Cohen cut deals with special prosecutor Robert S. Mueller III, that flipping should be outlawed.
Flippers are rats, Goodman says. "I would not represent rats."
The room is quiet, except for the gentle clinking of knives and forks digging into salads, slicing thick steaks or cutting delicate fish fillets. More wine is poured. Still no Hof.
Goodman says the president should be worried about what Cohen and Manafort can do to him. Goodman says he saw it happen plenty of times with clients he had. He tells the crowd that once a deal was cut, they "couldn't wait to bury my client."
"When they join that side — when they flip — they feel they're overcoming their past and they actually like being shepherded and, quote, 'befriended' by the FBI," Goodman says. "They feel like they're part of something different than where they came from, and now they're going to expiate themselves by testifying as hard as they can against the defendant in the case."
Goodman doesn't spare the crowd gory details.
There is the case of Frank LaPena, who was convicted of hiring Gerald Weakland to kill the wife of a slot manager in the 1970s. Goodman talks about her throat being slit and how government agents got Weakland to flip and finger LaPena for the crime. A travesty, Goodman believes.
There are other cases, too. There was Philip "Crazy Phil" Leonetti, who flipped on Nicodemo "Little Nicky" Scarfo — a notoriously violent and ruthless mob boss in Philadelphia. Goodman represented Leonetti and tells how he learned his client decided to flip. It was on the day of sentencing, Goodman says. He never saw that one coming.
He is defiant and unapologetic about his experience with some of the FBI agents he encountered during his criminal defense lawyer days. He says flipping encourages perjury and doesn't help get at the truth.
"I will say this, and I challenge anyone to call me a liar on this one: I was never in a case in my life where the FBI testified and at least one agent under oath swearing to God to tell the truth [didn't lie]," Goodman says. "Not one case did they not lie. It's the most incredible thing in the world. Never."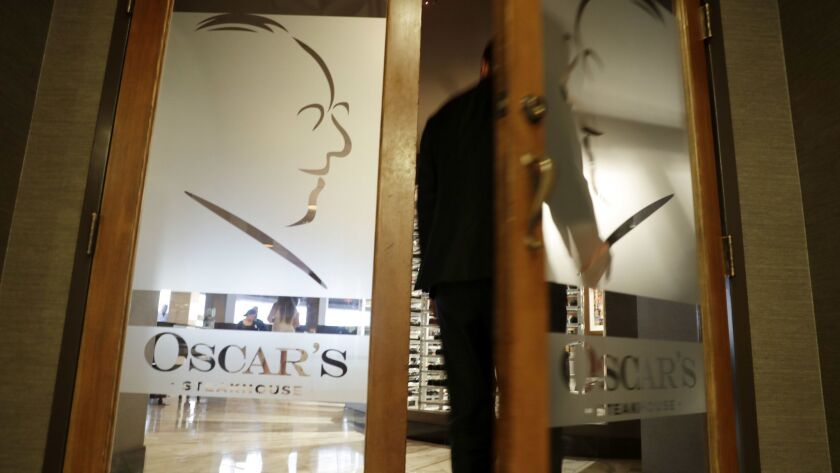 By the time dessert arrives — a tray of mousses, cakes and ice cream — he still hasn't forgotten about Hof. He suggests that he hopes Hof got into an accident — a sentiment Jossel says Goodman shouldn't have shared. Goodman calls Hof "rude" a few times for holding up dinner.
Goodman isn't holding back now, and offers no more protection for Hof.
"I can't wait until he comes in, because I'm going to tell you all about this guy," Goodman says. "This guy prides himself — doesn't gamble, he doesn't drink — but he takes advantage of more women than any human being who ever lived."
There is some laughter from the crowd. Goodman makes his way to his seat at a table. He isn't there long when Hof, wearing a baseball cap and sport coat and accompanied by a woman, arrives bearing gifts. At first, when Hoff tries to sit next to him, Goodman gets up to move away. Jossel ends up being the peacemaker, sitting between the two men.
Hof came bearing gifts — two robes and an autographed copy of his book, "The Art of the Pimp." The robes are embroidered, with one saying "Oscar TRAINER" and the other saying "Mayor Carolyn MADAM." That's Goodman's wife, the current mayor of Las Vegas.
Hof explains his tardiness was due to being at a fundraiser that ran late.
"People were giving me money," Hof says. "I had to stay."
He's sorry he missed the talk and dinner. The two men chat a little bit, their conversation hushed as the suits, sport coats and heels exit. Goodman eventually excuses himself. Hof stays a little longer.
At the door, the former mayor is stopped and asked what message he delivered to Hof. Goodman, who places a premium on punctuality, didn't mince words.
"You're an [expletive] for being late," Goodman said.
david.montero@latimes.com | Twitter: @davemontero
---
Must-read stories from the L.A. Times
Get the day's top news with our Today's Headlines newsletter, sent every weekday morning.
You may occasionally receive promotional content from the Los Angeles Times.