'Guantanamo Diary': In new book, detainee describes torture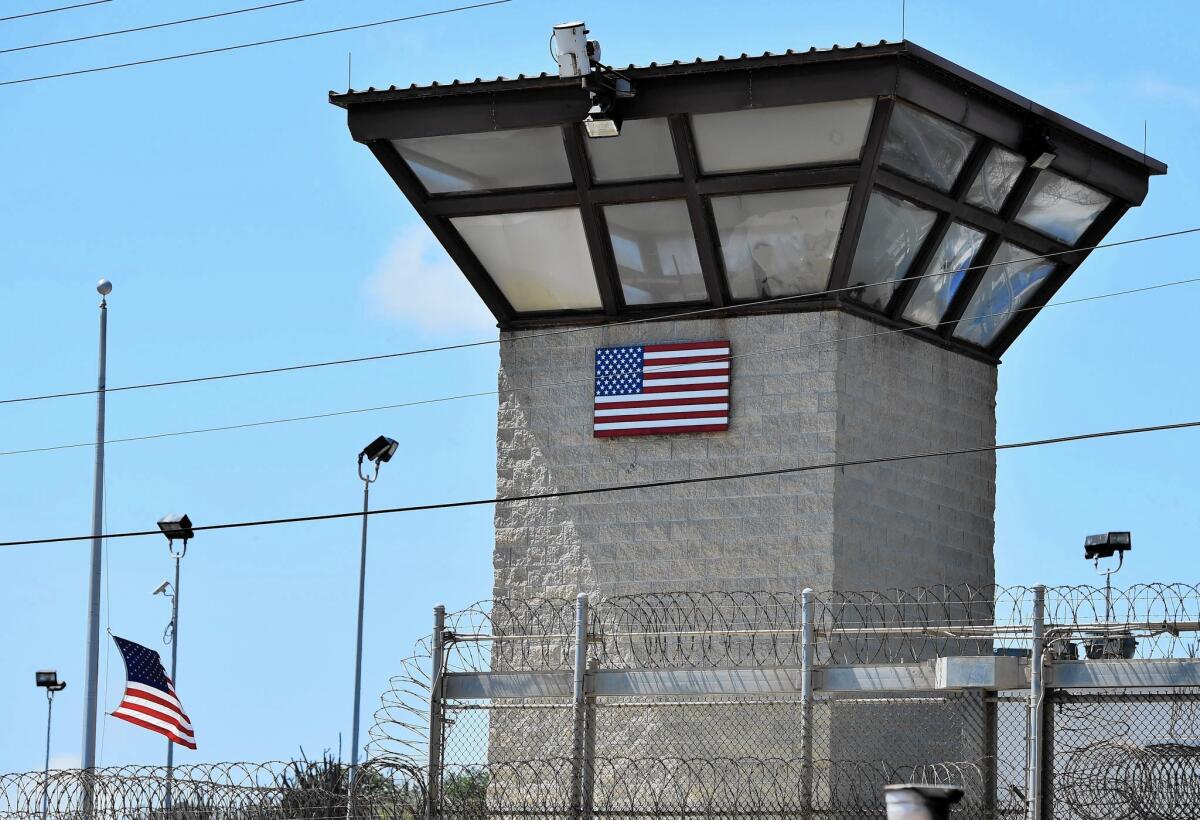 Reporting from WASHINGTON —
One of the longest-held prisoners at Guantanamo Bay alleges in a book to be published Tuesday that he was tortured and abused during his early years in U.S. captivity.
The 466-page book, partially redacted by U.S. officials, appears to be the first lengthy account by a current Guantanamo inmate about life inside a CIA "black site" and the Cuban detention facility.
In "Guantanamo Diary," Mohamedou Ould Slahi, 44, describes beatings, death threats, sexual humiliation and a mock execution, according to an advance copy of the book. Excerpts of the memoir were previously published by Slate magazine.
He tells of a grim life removed from his family. "July 2002, 10 p.m.," he writes in the opening pages. "... Somebody started to rip my clothes with something like scissors.... I was stripped naked. It was humiliating, but the blindfold helped me miss the nasty look of my naked body."
His handwritten logs, written in English in 2005, were seized by prison guards and deemed classified. A federal judge cleared them for release after a seven-year legal battle waged by Slahi's attorneys.
The book's release is part of a renewed campaign by Slahi's supporters to send him home to Mauritania. In 2010, a U.S. district judge ordered him released. That ruling was reversed by a federal appellate court, and the case was sent back to the district court for more hearings.
The U.S. government opposes his release, accusing him of helping to recruit and train three of the Sept. 11 hijackers. The government also alleges that Slahi became a member of an Al Qaeda terrorist cell in Canada that was behind the foiled millennium plot to bomb Los Angeles International Airport on Jan. 1, 2000.
In his book, Slahi acknowledges that he joined Al Qaeda in the 1990s, but contends that he intended to fight communists in Afghanistan and that he had cut ties with the terrorist organization long before the Sept. 11 attacks. He says he was taken to Guantanamo after one of the alleged Sept. 11 plotters, Ramzi Binalshibh, linked him to the scheme while being tortured.
Army Lt. Col. Myles B. Caggins III confirmed Monday that Slahi wrote the manuscript at Guantanamo and that it was later given to his lawyers. Caggins said the Defense Department "allowed the release of the Slahi manuscript after it completed an extensive, interagency classification review to ensure that the information released would not harm U.S. personnel or damage U.S. national security."
He said the government "reviewed it for potentially classified information, redacted as appropriate, and then filed the manuscript as part of the federal court case in Washington."
Caggins said Slahi's allegations of abuse are under review. "These investigations analyzed thousands of documents, medical records, hundreds of interviews of Guantanamo personnel, and statements relevant to any allegations of abuse occurring at Guantanamo," he said.
Slahi was arrested in Mauritania 18 days after the Sept. 11 attacks. He was held there for two weeks and questioned by FBI agents about the millennium plot. He was briefly released, then picked up again on Nov. 20, 2001.
A CIA rendition plane flew him to Jordan, where he says he was interrogated for 7 1/2 months. He writes that he was flown to Bagram airfield in Afghanistan. He arrived at Guantanamo on Aug. 4, 2002. Most of what he wrote was in the same cell where he sits today, his lawyers said.
"I have only written what I experienced, what I saw, and what I learned firsthand," he writes. "I have tried not to exaggerate, not to understate. I have tried to be as fair as possible, to the U.S. government, to my brothers, and to myself."
He says he was subjected to long interrogation sessions designed to "break" him; deprived of food, water and pain medication; kept awake at night by guards banging on his cell and threatened with dogs. He says detainees were "exposed to loud music and scary pictures, and molested sexually."
"Lonely in my cell, I was terrified when I heard the guards carrying the heavy chains and shouting at my door," he writes. "My heart started to pound because I always expected the worst."
Twitter: @RickSerranoLAT
Sign up for Essential California for the L.A. Times biggest news, features and recommendations in your inbox six days a week.
You may occasionally receive promotional content from the Los Angeles Times.