After decades of resistance, Atlanta's booming suburbs face a historic vote on public transit
Reporting from Lawrenceville, Ga. —
For nearly half a century, plans to link trains and buses in Atlanta, the bustling hub of the Deep South, to its sprawling northern suburbs went nowhere.
In 1971, and then again in 1990, residents of Gwinnett County, long a majority-white area northeast of Atlanta, voted overwhelmingly against joining the Metropolitan Atlanta Rapid Transit Authority. In a deeply segregated metro region, many suburbanites expressed fears that public transit would bring inner-city residents and violent crime out to the suburbs.
"That place has a reputation for murder and rape," one Gwinnett man said at a packed 1990 public meeting, the Atlanta Constitution reported at the time. "The wrong people. We don't need 'em, we don't want 'em."
Gwinnett is no longer a white, rural outpost. Since the referendum nearly three decades ago, its population has ballooned from about 350,000 to 920,000 and the proportion of white residents has plummeted from 89% to 37%.
But even now that Gwinnett is majority minority, and a new referendum will be held Tuesday on whether to connect with MARTA and fund new heavy rail and rapid bus lines, it is not certain that a new generation of young, black, Latino and Asian residents will vote to connect.
Attitudes to public transit have changed — but not necessarily as swiftly as the county's population and demographics. While minority residents, in general, lean toward linking up with MARTA and paying an extra 1% in sales taxes for public transit, they are less likely to come out and vote in a special election. And polling shows that a good chunk — more than a third of blacks and a majority of Latinos and Asians — are opposed or on the fence.
"I don't want to be paying taxes for something that 10 years from now hasn't taken effect," said Jamell Cottrell, a black, 50-something program manager who lives in Lawrenceville, a city about 30 miles northeast of downtown Atlanta.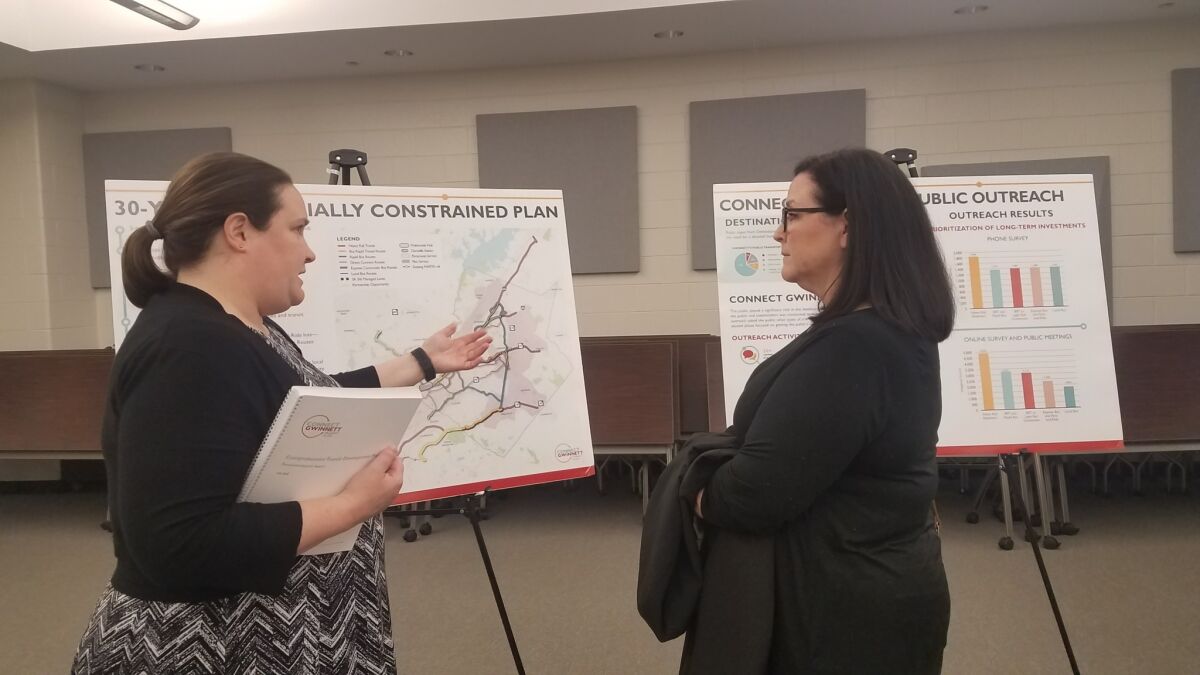 Cottrell, who moved to Gwinnett 13 years ago from Long Beach, Calif., understands the Atlanta area's traffic is bad. But she worries the project will take too long for her to benefit from the extra taxes she would pay. She is also not sure she wants her community to be more connected with Atlanta and the rest of the metro region.
"I love living in the suburbs, away from the bustle of the city, away from the crowds and buses and trains," she said. "I prefer not to be in the city."
If the referendum is approved, Gwinnett would link up with MARTA and three other Atlanta metro counties, committing residents and visitors to the county to paying an extra 1% on their sales tax until 2057 to cover the cost of adding 4.5 miles of high-speed electric rail, introducing new rapid bus transit routes with dedicated lanes, and tripling the number of local bus routes.
A recent survey of 1,000 likely Gwinnett voters conducted by WSB, an ABC-affiliated television station, found that just more than half opposed the plan and 39% were in favor. The remaining 10% were undecided.
About 62% of whites and 57% of Latinos and Asians were opposed, while 62% of African Americans supported it. Opposition increased with age, with 45% of 18- to 39-year-olds against compared to 54% of residents 65 and over against.
"We cannot assume that just because someone is young or a minority, they support public transit," said Fredrick Hicks, campaign manager for the transit referendum campaign of the New Georgia Project Action Fund, an advocacy arm of the nonprofit group formed by 2018 Democratic gubernatorial candidate Stacey Abrams to register new voters.
Initially, the fund set out to knock on 100,000 doors of young and minority voters who had voted for Abrams. But during the first days of canvassing, Hicks said, campaigners were startled to find a substantial portion of their target audience was not on board with public transit.
In fact, some minority voters were mouthing the same talking points as older, white Republicans, he said, telling canvassers they were not likely to use public transit or that empty buses would clog up the roads.
"Minorities who choose to live in Gwinnett often move there for lower taxes and for the same reason that others do: They don't want to be in the city," Hicks said.
Still, a significant number of Gwinnett residents — particularly those with grueling commutes — consider public transit a no-brainer. Roads are already chock-full of cars, and the county is projected to be the region's most populous by 2040, with a population of 1.35 million.
"Too many people are coming here for us to be so behind on transit," said Chante Gosha, a 49-year-old district sales manager from Lawrenceville, as she exited an early voting polling station recently after voting yes.
Gosha, who is black, said her job required her to crisscross the metro region and she was not likely to switch to public transit. But she hoped her commute would be smoother if others did. Over the last 20 years, she said, traffic had gotten steadily worse to the point that afternoon rush-hour traffic can start at 3 p.m and continue past 8 p.m.
"It can take two hours to get somewhere that should take 30 minutes," she said.
If the referendum is approved, it would probably build momentum for public transit across the metro Atlanta region, nudging Cobb County, another traditionally conservative but increasingly diverse northern suburb, to link up with MARTA, too.
"A yes vote would be a real turning of the page, a clear sign that the older era of suburban secession has come to an end," said Kevin Kruse, a history professor at Princeton University and author of "White Flight: Atlanta and the Making of Modern Conservatism."
Historically, the metro Atlanta transport system was rooted in a stark and strident racism designed to keep people apart, Kruse said.
After the "white flight" of the 1960s, when affluent whites fled urban areas as black neighbors moved in, the refusal of suburban communities to link up with MARTA essentially relegated the city to a bare-bones transportation system predominantly used by poor, working-class blacks. Some suburbanites dubbed it Moving Africans Rapidly Through Atlanta.
"People moved to the suburbs to get away from the people and the problems of the city, and they'd be damned if they followed them out to the suburbs," Kruse said. "They didn't want to be drawn back into the orbit of the city."
Nearly three decades after the last referendum, some residents still look down on those who ride public transit.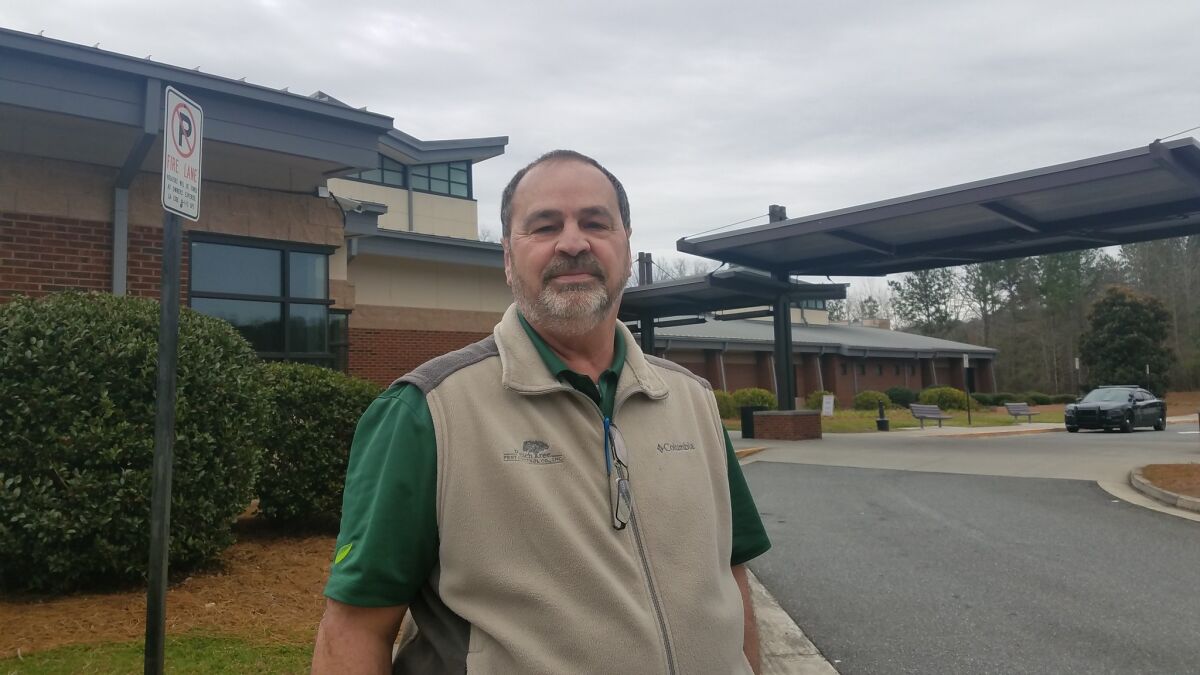 "We don't want more riffraff," said Danny Watson, 65, the white owner of a pest control company, as he headed to an early-voting polling station recently.
Jeanetta Shepherd, 57, a white property manager who lives and works in Duluth, said she opposed the plan because she was unlikely to travel by bus or train and suspected the services would be used mostly by low-income residents and immigrants, who she referred to as "illegals."
"Why should we pay for it?" she asked. "Why subsidize people who can't manage their money and save up a dime to buy a car?"
At the same time, a long list of Gwinnett's political and business leaders, including its chamber of commerce, supports expanded public transit — largely on the basis that traffic congestion presents a threat to future economic development.
"All the other areas are looking to Gwinnett to see if we're forward-thinking or not," said Ben Ku, a newly elected Democratic county commissioner who defeated a two-term Republican last year to become the commission's first-ever member of Asian descent.
Some skeptical of the plan say MARTA has a history of poor management and can't be trusted to operate Gwinnett's transit system. Others point out that public transit ridership is down across metro Atlanta as gas prices have fallen and more people work from home or use Uber and Lyft.
"A railroad is 1800s technology," said Joe Newton, a retired law clerk who runs one of the few visible resistance campaigns — the "No MARTA in Gwinnett" Facebook page. "It's a colossal waste of money."
The current plan would extend one existing MARTA rail line five miles at a capital cost of $250 million a mile — more than 10 times more than rapid bus transit.
Newton insists he's not racist or against public transit. He just doesn't trust MARTA or Gwinnett's leaders, and he thinks the plan should focus less on heavy rail.
"People think we're prejudiced and ignorant," he said. "We're not.… We just want value for our money."
Days before the election, Thao Le, a 20-year-old biology student at Georgia State University, was still weighing her options. Le already boards a MARTA train most days to get from her home in Norcross to downtown Atlanta. Right now, the line stops about five miles southwest of Norcross, but she was not sure about the prospect of it coming closer.
While her experience of riding MARTA has been mostly positive, she said, she frequently encountered vagrants and panhandlers. Would they start to encroach on her family's quiet residential neighborhood?
"It's safe and nice, a typical suburban place," she said. "We hope it would stay like that."
Atlanta's tough commute gets even tougher after the collapse of a freeway bridge »
Must-read stories from the L.A. Times
Get the day's top news with our Today's Headlines newsletter, sent every weekday morning.
You may occasionally receive promotional content from the Los Angeles Times.