They spent decades turning a dilapidated Texas property into an artists retreat. Then Harvey struck
In 1975, Sue and Rod Bown fell for a secluded four-acre property next to the Dickinson Bayou.
There was an old house that was unlivable. The roof leaked, the floors sagged. A little cottage out back wasn't any better. Several banks refused to lend them money to buy the property unless they tore down the dilapidated house and started from scratch.
But the place had history, and Rod loves history. Sue wanted a house to fix up, and Rod would never say no to Sue. They found a local bank that agreed to a loan, and they poured their lives — and more than four decades — into restoring the Oleander Drive property and turned it into an artists retreat and bed-and-breakfast they named Bide-a-While.
Rod said the previous owner told him the place was built "the year of the hurricane." Meaning the Great Galveston Hurricane of 1900.
The year 2017 will be recalled as the year Hurricane Harvey nearly washed Bide-a-While away.
It was just over a week ago that water rushed out of the bayou.
It flowed beneath the bird-watching deck at the back of the property, then seeped into the tiny chapel built by the Bowns and blessed by bishops both Catholic and Episcopalian. It crashed into the cottage, slamming antique daybeds against the back wall and swelling the doors. It even had the nerve to invade Sue's art studio and soak her paintings.
By the time it stopped raining, several feet of brown water stood in most of the property's 10 buildings, and a huge fallen pecan tree rested on Rod and Sue's house, which they call the Big House.
As friends and his handyman of two decades ripped out the buildings' walls and floors, Rod walked through the property where he and Sue raised two sons, now both medical doctors. They spent seven years living in the little cottage as they fixed up the Big House and just kept adding buildings from there.
"Some people travel," Rod said. "We haven't been to Europe. We haven't been to New York City to the shows. This is what we did. Call it borderline insanity. But it worked."
Rod is a retired aerospace engineer and former Marine pilot with a white beard and lively blue eyes. He wouldn't give his age, but said he started as a freshman at UCLA in 1954, when the football team was really good. He and Sue have been married for 51 years.
Bide-a-While was considered wetlands when they bought it. Rod, the history buff, likes to note that this town didn't abide by Prohibition and that bootleggers were said to have hauled booze up the Dickinson Bayou and run through the yard.
Sue is a lifelong Texan and self-described workaholic — a teacher for the deaf, a painter, an art instructor whose chalkboard calendar of artists' retreats on the property over the next three months had about every day filled.
"We've been here 42 years, and we've been working on it 42 years," Sue said of the retreat, where she designed the newer buildings, adding antique stained-glass windows, European linens and lace and her own paintings.
Their place had never flooded in over a century. Not during Hurricane Carla in 1961. Or Hurricane Alicia in 1983. Or Hurricane Ike in 2008.
Rod and Sue were at home when Hurricane Harvey made landfall late the night of Aug. 25, near Rockport, a more-than-three-hour drive southwest of Dickinson.
---
On Sunday afternoon, Sue sent a text message to Jenny Sanders, her friend from nearby Santa Fe, Texas.
Water, Sue wrote from the Big House, was "coming up at kitchen door n raining hard."
Sue had opened her door at one point and heard people in the distance yelling, "Help me! Help me!"
She later wrote to Sanders: "We r fine. Packed and ready. Water has gone down 4-5". We r in no hurry. Would be good if not in the dark."
Sanders, 47, pleaded with the Bowns to leave. She's not on social media, but, bucking typical privacy concerns, she gave her brother and sister the couple's address and said to post it and ask people in the area to check on them.
On Sunday night, water had made it up to the back porch of the Big House and stood about an inch deep in the kitchen.
When sheriff's deputies knocked on the door, they told Sue they had people on rooftops they needed to save. They needed to take care of people in "dire straits," Sue said, so she told them not to worry about her and Rod. If the water got worse, she'd call them in the morning.
By the morning of Aug. 28, she thought they were in the cleanup stage. The water had receded a lot, and she went out to an old shed she had converted into sleeping quarters and started sweeping.
Sanders texted again. The town was being put under mandatory evacuation orders. Sue and Rod left in a friend's big truck. As they were heading out, Sue saw fish jumping in the front yard.
Days later, as she was starting the daunting task of helping clean up, Sanders pulled a soggy book up from the water. Its title: "What On Earth Have I Done?" And she got a laugh out of a sign hanging on a bathtub in the cottage: "To this old tub be sweet, 6" of water then your feet."
"Sue, I think we surpassed the 6-inch mark," she said.
There was a darkened line on all the walls, marking where the water had stood. In one spot, someone measured 26 inches.
Sanders wound up spending the entire week helping out at Bide-a-While. As she cleaned out the musty cottage on Monday, she found a tiny bird on the window sill, confused and beating itself against the window, trying to get out. She cradled it in her hands, and its eyes were closed. It clung to her finger for a few minutes, then opened its eyes and flew away.
"Thank you, God!" Sue said, clapping.
In the tiny chapel, where Sue had painted saints in the retablo Mexican folk art style, the water knocked over a kneeling bench that had come from a convent in New York. But still standing was a thin metal stand bearing a Franciscan blessing: "May God bless you with enough foolishness to believe that you really can make a difference in this world."
Hanging above the water line were framed drawings of the Stations of the Cross depicting Jesus on the day of his crucifixion. They had been drawn by the Bowns' son when he was 9, and they were spared by the flood.
Sue says they're blessed because the Big House was mostly spared. Water badly buckled the wooden kitchen floor, but they can fix that.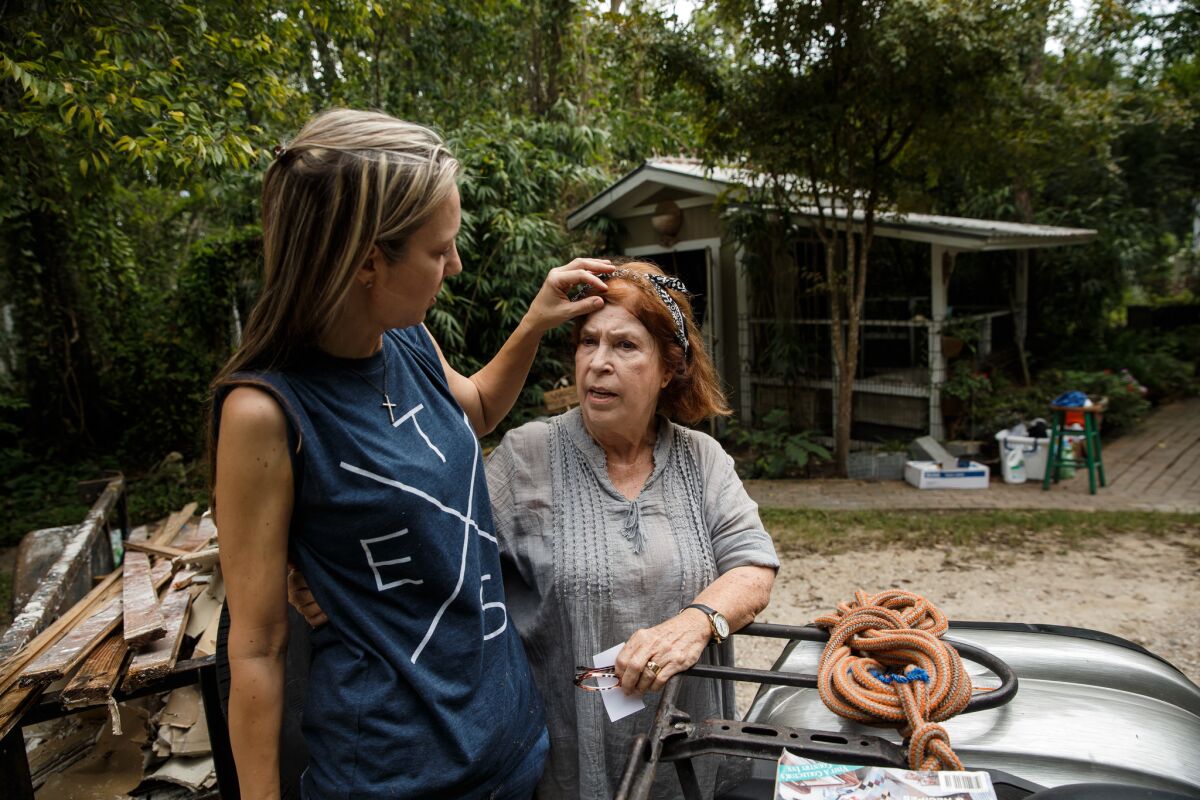 In her art studio, where natural light poured in through a floor-to-ceiling window, paintings that she'd plucked from the water dried on shelves. Harvey didn't take her daddy's paintbrushes, which were standing in a glass jar on the window sill.
She couldn't stop laughing over the storm sparing three pieces she calls the "how-not-to-paint" paintings. She bought the ugly paintings — including a rudimentary moose — at Goodwill to show her students how to critique art. Go figure that they would survive, she said.
"I have never cried since the storm," Sue said. "I just started working."
The property was in such bad shape when they found it four decades ago, and they fixed it then. It'll take time, she said, but they'll do it again.
Twitter: @haileybranson
---
Must-read stories from the L.A. Times
Get the day's top news with our Today's Headlines newsletter, sent every weekday morning.
You may occasionally receive promotional content from the Los Angeles Times.