Braving mud, debris and dread, Houston residents venture home to see what Harvey left behind
Reporting from Houston —
O.J. Barnes rose at 6:30 a.m. to reach the only Home Depot that had reopened in the Lakewood area of East Houston, where he grabbed as much wallboard, lumber, bleach and other supplies as he could.
A landlord, Barnes owns two houses on Richland Drive and had not seen them since Hurricane Harvey struck last week. He wasn't counting on help from federal or state emergency managers, who weren't in the neighborhood Wednesday. Other storms had taught him to act fast.
"It's a mad dash," he said. "Now it's about safety — getting the mold out. Then it's about cleanup and rebuilding."
He was hoping to help one of his tenants, a mother with three children, return home from the massive shelter at the downtown convention center, where more than 10,000 displaced people had sought refuge.
"If we all pull together, we'll lose a little together. But we'll save everyone from losing a lot," he said before driving down the street with his pickup truck full of supplies.
Though vast portions of Houston remained inaccessible, water had receded in some areas, like this stretch of Richland Drive, and residents raced to remove valuables and debris before mold, pests — and possibly looters — spread.
Neighbors returned from the downtown shelter for the first time after wading out of Richland Drive in chest-high floodwater to find the water had risen several more feet inside their homes. It had broken doors, buckled floors, soaked carpets. Walls and ceilings crumbled into musty heaps.
Juan Figueroa, 30, an electrician, cleaned and removed some supplies from the home of his 71-year-old mother, who had evacuated. The power never went out, he said, and the food in her refrigerator had not spoiled, although the furniture was ruined by muddy water.
A few doors down, Erica Barrahona, 24, a special education provider, was also trying to save what she could. She and boyfriend Javier Calvillo, 32, a pipeline worker, had lost three cars to the flood, plus their furniture and most of their valuables as water rose several feet in their rented house. Barrahona worried about her 5-year-old daughter, Allison, who suffers from seizures.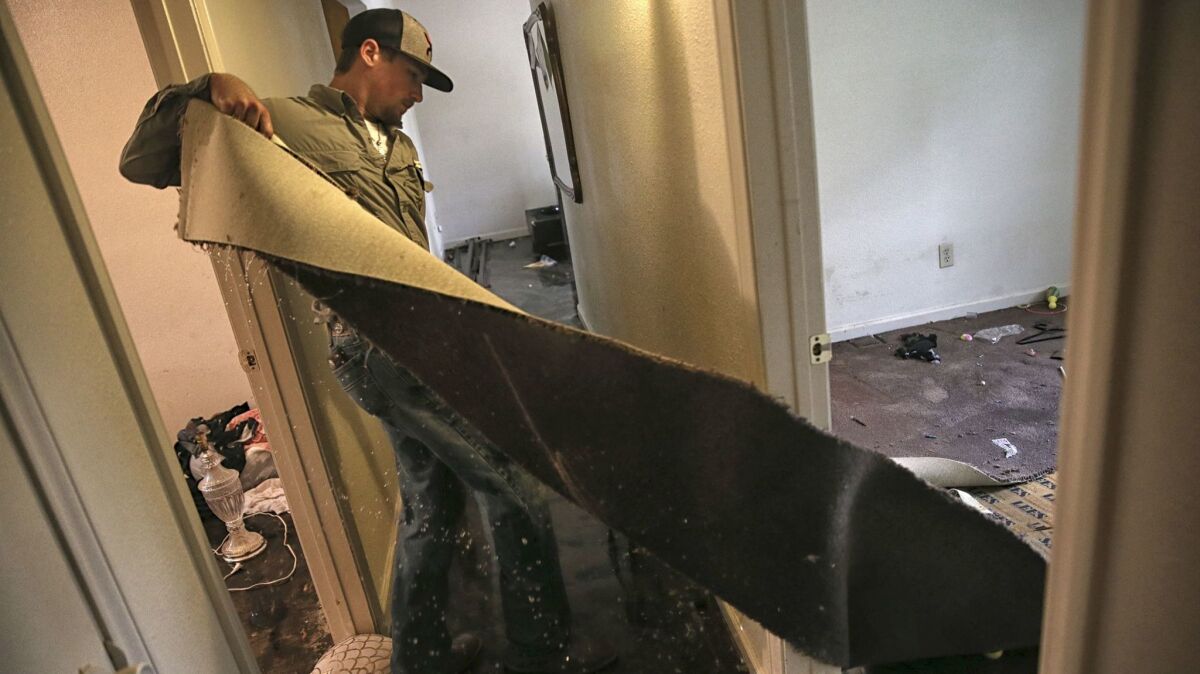 "It's very hard when you lose everything and you have children," she said in Spanish, and started to cry as she stood in the middle of her muddy kitchen. "We need lots of help."
Their landlord arrived in rain boots and started ripping out soggy flooring. Calvillo's brother helped. Calvillo salvaged his work uniform, furniture, dishes and some electronics. But what he really needed was a car to get to his job.
Friends offered help, he said, "but they don't have cars."
"They're broke. We're all broke now," said his brother, Guillermo Calvillo, 23, a forklift operator who lost his prized possession in the flood: a 2008 Ford F-150 King Ranch pickup truck he had already paid off.
No one on Richland Drive had seen any bodies. But a few streets away, police and sheriff's divers were recovering a van from Greens Bayou in which six members of a family, including several children, had been swept away and drowned.
Juanita Posada said one of the family's relatives at the convention center shelter told her the family was trying to reach a relative's house.
"The water just took them," she said.
Posada, 39, is a home-care provider, and her 82-year-old grandmother was still at the convention center, relying on shelter staffers to provide her dialysis treatments. Posada had watched her own home flood before fleeing through high water. Still, she was offering to assist the woman who had lost her relatives.
"It's probably not going to be a lot, but anything can help," she said.
Outside on her patio, Posada's brother, whose home east of the city had not flooded, held court in a Houston Astros jersey, making dinner for her and some neighbors on a makeshift grill. For a while, the stench of decay was overwhelmed by the mouthwatering scent of tacos al pastor.
molly.hennessy-fiske@latimes.com
Twitter: @mollyhf
ALSO
Harvey has knocked out a significant portion of the nation's oil-refining capacity
'A true testament to a mother's will' — saving her daughter, but not herself, from Harvey's floods
'We're at God's mercy': Texas coast doused with new assault from Tropical Storm Harvey
Must-read stories from the L.A. Times
Get the day's top news with our Today's Headlines newsletter, sent every weekday morning.
You may occasionally receive promotional content from the Los Angeles Times.