Former House Speaker Dennis Hastert accused of hiding sex abuse of former student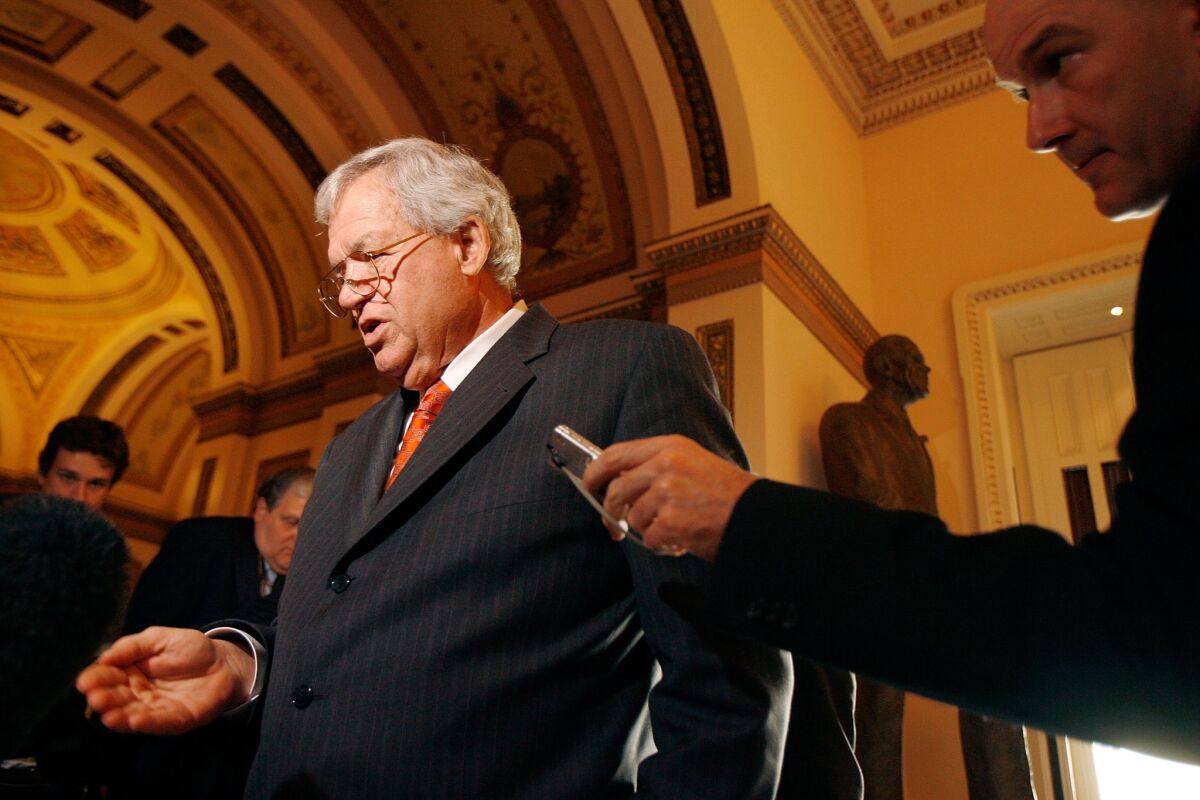 Reporting from Washington —
J. Dennis Hastert stumbled into political power amid a Republican sex scandal in 1998 that unexpectedly elevated the husky Illinoisan to a position just two heartbeats away from the presidency.
He became the longest-serving Republican House speaker in U.S. history, but remained so proud of his days as a small-town high school teacher and wrestling coach that he relished the Capitol Hill nickname "Coach."
But this week those once-idolized small-town roots caught up with the 73-year-old Hastert, who in recent years has worked behind the scenes as a Washington power broker.
On Friday, federal law enforcement officials said Hastert had paid $1.7 million over the last four years to conceal sexual abuse against a former male student he knew during his days as a teacher in Yorkville, Ill., where Hastert worked until 1981.
A top federal law enforcement official, who would not be identified speaking about the ongoing federal case, said investigators also spoke with a second man who raised similar allegations that corroborated what the former student said. The second person was not being paid by Hastert, the official said.
The disclosures followed Thursday's federal indictment against Hastert on charges of lying to the FBI about the reasons for large cash withdrawals he is accused of making to buy the man's silence.
"It goes back a long way, back to then," a second official said. "It has nothing to do with public corruption or a corruption scandal. Or to his time in office."
Thursday's indictment described misconduct against a person identified only as "Individual A," noting that Hastert had known the person "most of Individual A's life."
When asked about the nature of the alleged misconduct, the second official said, "It was sex."
Hastert has not responded to requests for comment. A representative of the lobbying and law firm where he had worked, Dickstein Shapiro, declined to comment.
The indictment alleged Hastert had agreed to pay a total of $3.5 million to "compensate for and conceal his prior misconduct."
He made several cash payments beginning in 2010, after being contacted by the individual, the indictment said.
Hastert allegedly began by withdrawing $50,000 at a time, but when the
activity was questioned by banking officials, he reduced the withdrawals to under $10,000, the indictment said.
That caught the attention of financial regulators, who suspected Hastert was trying to evade federal reporting requirements.
Concerned that Hastert might be the victim of criminal extortion arising from his government work or involved in some illegal activity, FBI agents asked the former speaker about the withdrawals. Hastert told the agents that he distrusted banks and still had the cash in his possession, according to the indictment.
Former colleagues expressed surprise at the charges. "Anyone who knows Denny is shocked and confused by the recent news," Sen. Mark Steven Kirk (R-Ill.) said Friday. "The former speaker should be afforded, like any other American, his day in court to address these very serious accusations."
It was another sex scandal that led to Hastert's improbable rise to become House speaker.
He was plucked from a junior GOP leadership position in December 1998 after Republicans ousted former Speaker Newt Gingrich following a poor midterm election showing and then Gingrich's presumed successor, Rep. Bob Livingston of Louisiana, admitted to an extramarital affair and turned down the post.
In chaos and division, the party turned to a pragmatic, no-drama Midwesterner who was believed to have nothing to hide: J. Dennis Hastert.
Dubbed the "Accidental Speaker," he dealt with the passage of President George W. Bush's tax cuts and the expansion of Medicare to include prescription drugs. In the aftermath of Sept. 11, he oversaw efforts to get money to New York and negotiate the Patriot Act.
Hastert left Congress in 2007, after Democrats had assumed the majority in the 2006 midterm election. Six months later, Dickstein Shapiro announced he was joining its team as a senior advisor, though he had to wait to become a lobbyist because of a federally mandated cooling-off period.
On Thursday, there were signs that Hastert's world had been turned upside down.
A spokesman for the CME Group confirmed that Hastert had resigned from the board of directors of the Chicago-based futures market operator.
Hastert also resigned his position as co-leader of Dickstein Shapiro's Public Policy and Political Law practice, a spokesman for the firm confirmed late Thursday.
Illinois legislators put on hold a proposal to spend $500,000 to put a statue in the state Capitol honoring Hastert. He had declined the offer about a month ago, a spokesman for state House Speaker Michael Madigan said.
On Friday, Hastert resigned from the board of the J. Dennis Hastert Center for Economics, Government and Public Policy at his alma mater, Wheaton College, a small, evangelical Christian college in the Chicago suburbs.
"The college respects Mr. Hastert's distinguished public service record and the due process being afforded him pursuant to the charges that have been filed against him," Wheaton officials said in a statement announcing his resignation.
Twitter: @RickSerranoLAT
Twitter: @KatherineSkiba
Times staff writer Timothy M. Phelps in Washington contributed to this report.
Must-read stories from the L.A. Times
Get the day's top news with our Today's Headlines newsletter, sent every weekday morning.
You may occasionally receive promotional content from the Los Angeles Times.