As lava nears homes in Hawaii, residents brace for evacuation order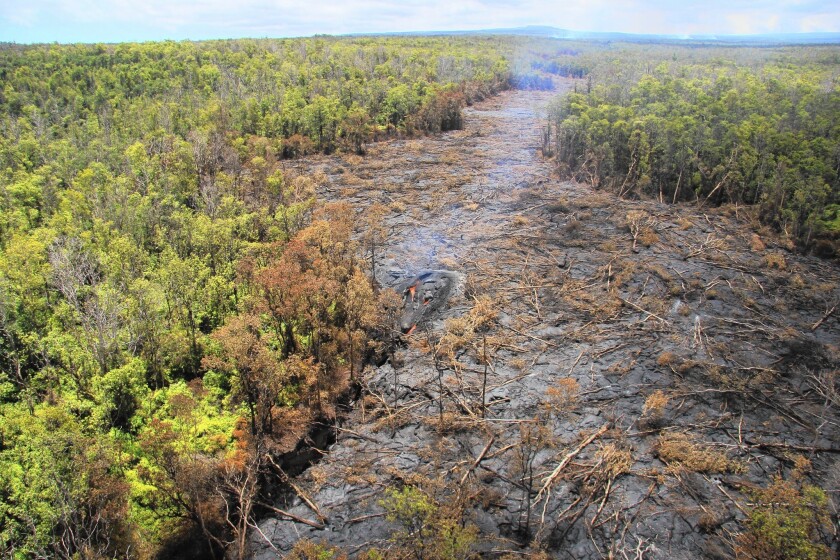 Reporting from Pahoa, Hawaii —
Cassandra Pensa met her husband, Clinton Barricklow, in Northern California and decided to go to Hawaii eight years ago to fulfill their dream of living off the land. They eventually moved to Ka'ohe Homesteads, a rural area where the land was affordable partly because it is near an active volcano.
But a volcano can be a dangerous neighbor.
Kilauea, which has been erupting continuously since 1983, is threatening the family's 12 acres of taro, bananas and greens with a slow-moving lava flow that is less than a mile away and could soon force the evacuation of what she estimated was more than 100 people in the area. And even though the lava is moving slowly, it cannot be diverted.
Pensa said her family — including a daughter, 6, and a son, 4, — is packing their things and will stay with friends if they have to flee. They have already sent their cow away to safety.
"This is a beautiful community of farmers and ranchers," Pensa said Friday of the close-knit region, part of the Puna district on the Big Island. "Everybody is wonderful, great people and neighbors. It will be sad if we have to separate."
Whether to go or stay is a question that will be answered within days. Scientists from the U.S. Geological Survey's Hawaiian Volcano Observatory say that lava is moving at more than 800 feet per day and that if it remains on its current path, it will reach houses in five to seven days. Officials have promised to give residents a few days' notice, though many are reluctant to go.
"Everybody wants Pele to cool down," Pensa said, invoking the Hawaiian goddess of volcanoes. "It's hard to think about what's going to happen next when everything you have is here. Everybody wants to stay.
"We're farmers living off of the land, growing our own food," she said. If the lava "comes this way, everybody wants to stay until we can't be here any more."
This area is known for people who love the land and will tolerate a lot. Last month, Hurricane Iselle knocked out power and downed thousands of trees.
Natalia Chambers, a teacher at the Volcano School of Arts & Sciences, lost power when Iselle hit Aug. 7. Electricity has been restored for her family, but dozens of others are still without. The downed trees are still being cleared. Then, last week, residents learned that the Federal Emergency Management Agency decided the damage from Iselle was not enough to warrant disaster aid and has denied requests.
Now this beleaguered area is in danger of being covered in lava from the Pu'u O'o vent of Kilauea. "Ours is the first house," Chambers said. With a child and elderly relative living with her, she doesn't know where they will go. If the time comes, she says, she will "store her stuff under a tarp" and get her family across the road.
Even now, the advancing lava is burning the nearby forest. "Our house has been filled with smoke since Saturday," Chambers said. "Yeah, we're scared."
Although Kilauea has been erupting for decades, new vents that allow lava to escape appear only occasionally. The last evacuation was ordered in 2011.
Chambers has good reason to fear the worst. Lava inundated much of the nearby towns of Kapoho in 1960 and Kalapana in 1990. In this land ruled by Pele, there isn't much to be done except to wait, pray and hope. In the words of a Hawaiian proverb: The land is the chief, man is the servant.
"We feel like it's Pele doing what Pele does," Graywols Claire said at a packed community meeting Thursday night, according to local media. "We're staying until it's burning."
Billy Kenoi, the mayor of Hawaii County, issued an emergency declaration Thursday, a first step that restricts access to Ka'ohe and warns people to prepare for an evacuation. It also allows the county to lay the groundwork for new roadways in case Highway 130 is inundated by the lava. The tip of the crack through which the lava is flowing is more than four miles from the road, so it could take a month for the highway to be in jeopardy.
"One of our fears is that the lava will continue flowing to the road," Pensa said sadly. "If that happens, I think most people worry that the community will be cut off."
---
Must-read stories from the L.A. Times
Get all the day's most vital news with our Today's Headlines newsletter, sent every weekday morning.
You may occasionally receive promotional content from the Los Angeles Times.