Evacuations ordered in Hawaii as fast-moving lava threatens neighborhoods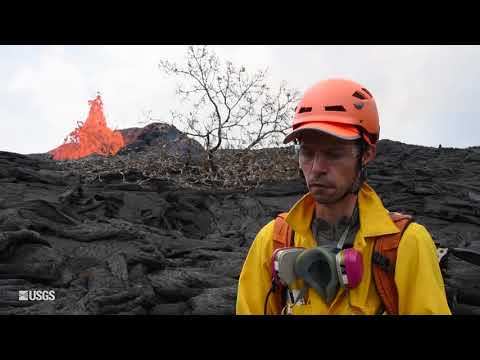 USGS discusses the 24-hour watch of the Kilauea volcano.
Reporting from Honolulu —
Hawaii officials have issued a mandatory evacuation for several areas threatened by lava coming from Kilauea volcano on the Big Island.
Most of the residents of the Leilani Estates neighborhood were given until noon Friday to leave their homes, said David Mace, a spokesman for the Federal Emergency Management Agency.
Anybody who refuses risks arrest, the possibility that emergency crews will not respond to calls or liability for the cost of being rescued.
More than 2,000 people once lived in the neighborhood, which sits 20 miles east of the summit of the volcano and has received the brunt of the damage since the eruptions began a month ago.
At least 24 fissures have opened in the ground there, several of them spewing fountains of lava. A total of 77 homes have been destroyed.
Until now, evacuations have been voluntary. Some residents stayed. Others left and came back to check on their property and gather belongings.
The number of evacuees in the three shelters on the island has nearly doubled in the last few days to 409.
"We have a tremendous housing problem on our hands," said Hawaii County Mayor Harry Kim.
The Hawaiian Volcano Observatory says lava from several fissures continues to move through Leilani Estates and nearby Lanipuna Gardens.
Fissure 8 is producing the most active flow. On Tuesday, its lava crossed at least two roads and shut down Highway 132, leaving Highway 137 as the only way in or out of the area.
Road crews are clearing lava from a 2014 eruption to reopen another evacuation route, the Chain of Craters Road.
The lava is now headed northeast toward the rural areas of Waa Waa and Four Corners.
Residents in those areas have also been advised to prepare to evacuate.
Lava is not the only hazard. The eruptions create toxic gas. People living near the volcano have been shaken by hundreds of earthquakes. Ash plumes shooting thousands of feet into the sky from the summit have raised concerns about air quality. Lava flowing into the ocean has created laze, a white acidic plume that can burn the skin.
And this week residents began noticing a hazard known as Pele's hair, needle-like strands of glass created when liquid rock blows up and then cools.
"The sharp pieces of volcanic glass falling from the sky occur in fountaining eruptions," said Wendy Stovall, a volcanologist with the U.S. Geological Survey.
The strands can irritate the skin and eyes.
Chang is a special correspondent.
Sign up for Essential California for news, features and recommendations from the L.A. Times and beyond in your inbox six days a week.
You may occasionally receive promotional content from the Los Angeles Times.