The U.S. spends more on healthcare than any other country — but not with better health outcomes
Despite repeated attempts by Senate Republicans to dismantle the Affordable Care Act, the healthcare debate in Washington appears to have collapsed — for now.
The United States has much room for improvement when it comes to healthcare, experts said. "The U.S. spends more on healthcare, but we don't have the same health outcomes [as other countries]," said Cynthia Cox, associate director at Kaiser Family Foundation, a nonprofit organization that researches national health issues.
Americans have also long voiced their disillusionment with a system that many experts have warned does not meet the health needs of its population.
But while lawmakers engaged in heated back-and-forth debates in recent months over how to reform the U.S. healthcare system — ending in a lack of sufficient votes on Monday to make changes — people in many other countries have managed to get it right for years and enjoy a stable healthcare system.
Viewed from a global perspective, the current U.S. healthcare impasse underscores just how poor health outcomes for people in the United States are when compared with other countries.
Countries with largest per capita healthcare expenditures, 2015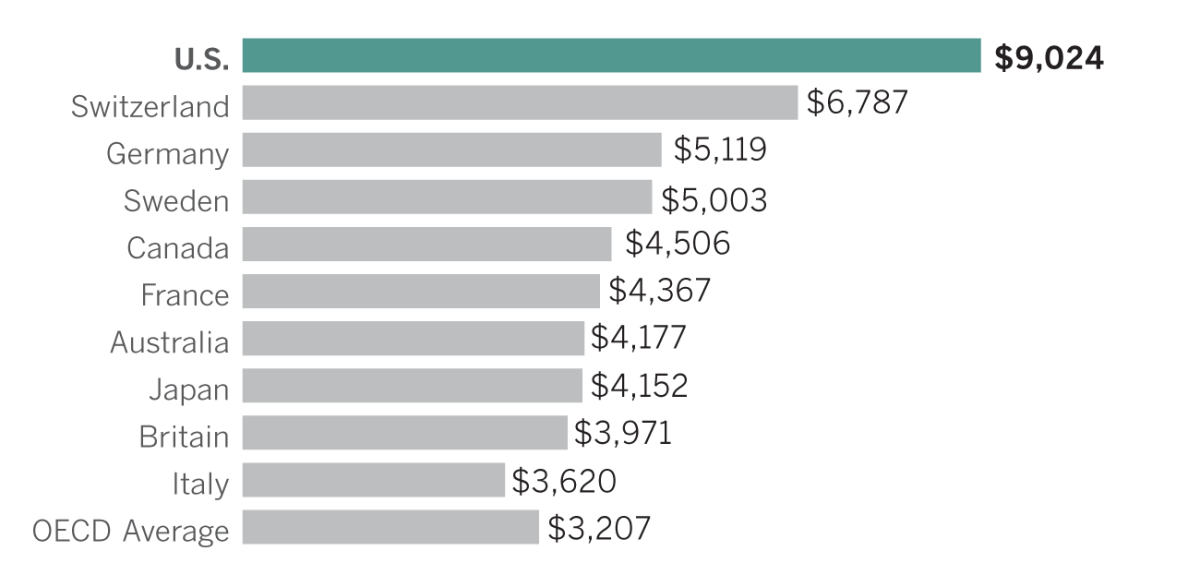 In 2015, the United States spent almost three times on healthcare as the average of other countries with comparable incomes, according to data from the Organization for Economic Cooperation and Development, also known as the OECD, a group of 35 countries, the majority of which have advanced economies, that work to promote economic development. And despite spending more, the results don't necessarily yield better health. Both Italy and Britain, for example, spent at least $5,000 less per person than the United States on healthcare, and yet the population of each of those countries has a higher life expectancy at birth than the United States.
According to experts, there are two underlying reasons why the United States spends so much on healthcare: It uses expensive medical technology and prices for healthcare services, and goods are higher than in other countries.
As a result, the United States spends more on healthcare than any other country, including those belonging to the OECD.
"The U.S. spends more money, but we definitely have worse health outcomes," said David Squires, president of the Commonwealth Fund, a private foundation based in New York that carries out independent research on healthcare issues.
"It doesn't appear that people in the U.S. use more healthcare in general. We go to the doctor less often than people in other countries and get hospitalized less, so it's not like we are making greater use, but we are paying more for the things we do use," he said.
Countries with longest life expectancy, 2015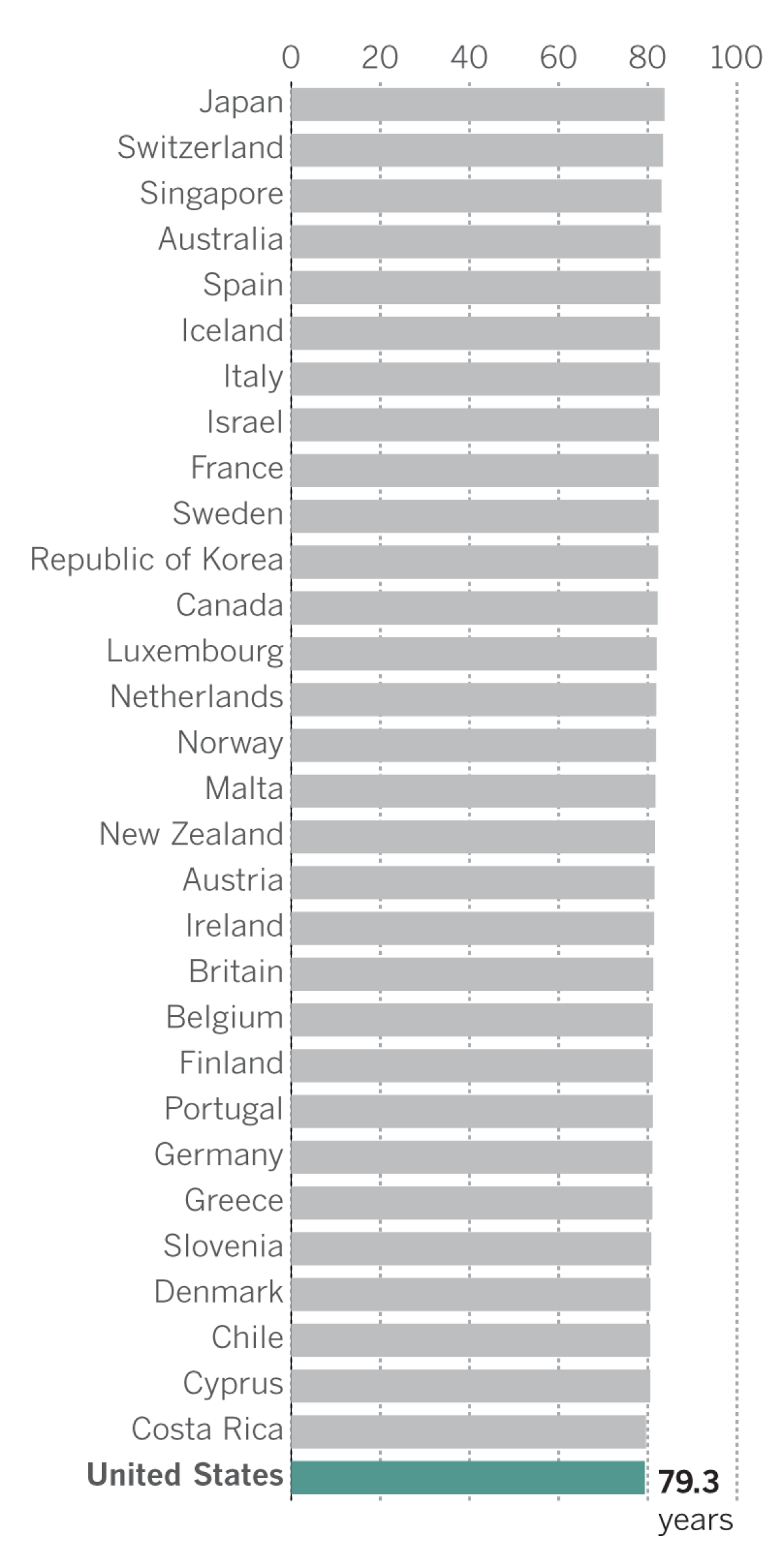 Despite investing heavily in healthcare, Americans live shorter lives than people in 30 other countries, data from the World Health Organization showed. On average, life expectancy in the United States is 79.3 years, the lowest rate among other advanced economies such as Switzerland, Australia and Canada.
Life expectancy is one way experts measure the effectiveness of a healthcare system, and experts say the United States' poor ranking, compared with other Western nations, indicates a weak healthcare system.
"This is a troubling statistic at just how poor American health is compared to other countries that have similar economic status," Squires said.
Health coverage rate by OECD country, 2015
When it comes to healthcare access, in many ways the United States trails behind other countries, including access to health insurance.
According to 2015 data from the OECD, the United States has a higher percentage of people who go without health insurance than at least 12 other comparable countries.
Although no two countries have the exact same healthcare system, many nations on the list — such as Sweden, Japan and the Netherlands — provide their residents with a universal healthcare insurance plan. Subsequently, nearly 100% of the population from these countries have their healthcare needs covered. That means, in exchange for free healthcare, many governments play an active role in creating the variety of systems to help fund it.
The United States is the only wealthy country without universal coverage. The idea of creating a healthcare system based on principles of universal coverage is one of the main points of contention in the current U.S. healthcare debate, Squires said. After President Obama signed the Affordable Care Act into law in 2010, it succeeded in providing insurance to millions of people. But while other countries have normalized such principles, experts said many Republicans are against the idea.
Number of deaths per 100,000 from preventable diseases or complications had adequate healthcare been available, in 2013
In 2013, more people died in the United States from preventable diseases or complications than those in 12 other high-income countries, according to data from the European Observatory on Health Systems and Policies, a health policy organization with offices around Europe.
For every 100,000 people who died in the United States before age 75, 112 people died from complications or conditions that could have been avoided with timely and effective care.
This indicator, known as mortality amenable to healthcare, measures the number of preventable deaths had adequate medical care been available. By tracking this number over time, health experts can monitor both setbacks and improvements in healthcare systems.
By studying the barometer over time, health experts found that the United States has continuously struggled to keep up with other countries in this measure. According to the Peterson-Kaiser Health System Tracker, although the rate has been decreasing globally since at least 1982, more people still die in the United States from preventable diseases or complications than in other countries with similar advanced economies.
Hospital beds per 1,000 people by OECD countries, 2015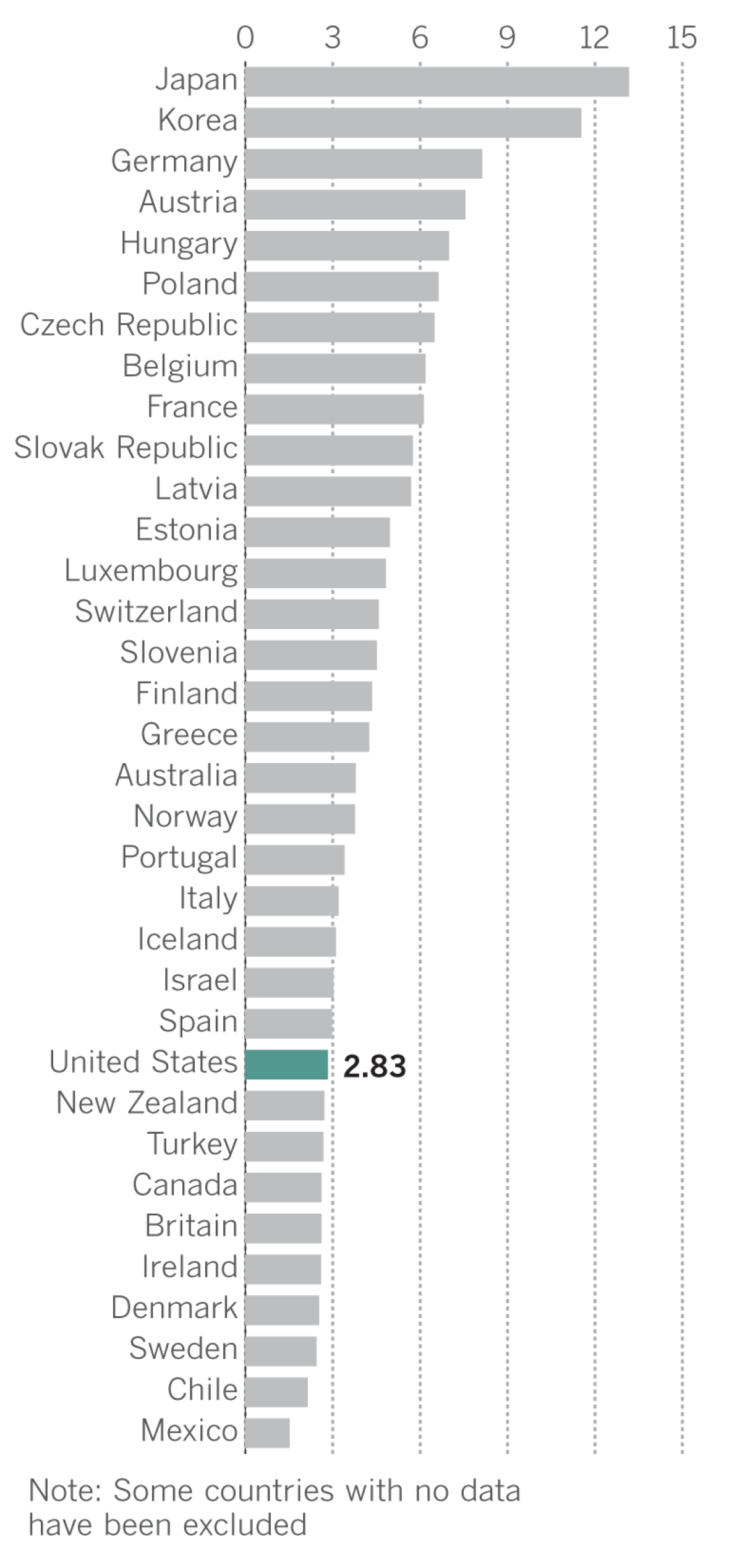 Health experts also use the number of beds in a hospital as an indicator of the capacity and quality of resources a healthcare system is able to provide. A low number of hospital beds, for instance, may suggest people have limited access to care. The OECD definition of hospital beds includes psychiatric care beds, long-term care beds and other beds in hospitals.
The United States has one of the lowest numbers of hospital beds per capita among all OECD member countries, with 2.83 hospital beds for every 1,000 people, data from the OECD showed.
The number of hospital beds per capita is highest in Japan, with about 13 beds for every 1,000 people and then Korea, with about 11 beds for every 1,000 people. The number of hospital beds in Germany, Austria and Hungary also are above average for other OECD countries.
Over the last decade, most OECD countries have decreased the number of hospital beds per capita. In 2000, the average number of hospital beds in OECD member countries was 5.5 per 1,000 people, according to data from the OECD. That number decreased to 4.8 beds per 1,000 people in 2013. One reason, according to a 2015 study by the OECD, is that as medical technology improves, hospitalization time is reduced. But a reduction in hospital bed numbers also can reflect policies that seek to reduce public spending on health.
---
UPDATES:
FOR THE RECORD
July 19, 7:47 a.m.: A previous version of this article stated that 112 out of every 1,000 people who died in the U.S. before the age of 75 passed away from a complication or condition that could have been avoided with timely and effective care. The ratio is 112 out of every 100,000.
Must-read stories from the L.A. Times
Get the day's top news with our Today's Headlines newsletter, sent every weekday morning.
You may occasionally receive promotional content from the Los Angeles Times.