Harvey pounded the nation's chemical epicenter. What's in the foul-smelling floodwater left behind?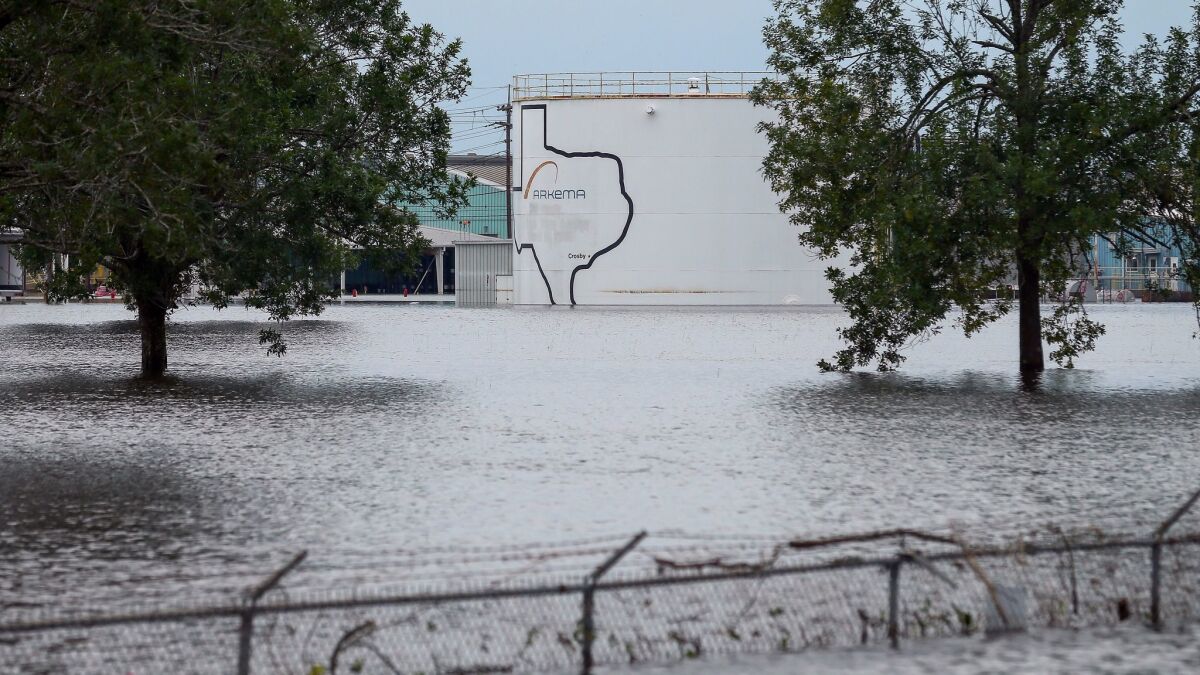 Reporting from Crosby, Texas —
The pounding rains of Hurricane Harvey washed over the conduits, cooling towers, ethylene crackers and other esoteric equipment of the nation's largest complex of chemical plants and petroleum refineries, leaving behind small lakes of brown, foul-smelling water whose contents are a mystery.
Broken tanks, factory fires and ruptured pipes are thought to have released a cocktail of toxic chemicals into the waters. Explosions that released thick black smoke were reported at the Arkema Inc. chemical plant, where floods knocked out the electricity, leaving the facility outside Houston without refrigeration needed to protect volatile chemicals.
Meanwhile, emissions into the air have soared as the petrochemical industry shut down and then started up chemical operations, a cycle that causes an uptick in releases.
The potential health problems were magnified by overflowing sewers, inoperative treatment plants and the residues of animal waste, including carcasses.
Nobody is sure how much long-term health impact, if any, will result from the tidal wave of toxins and bacteria that swept through the nation's fourth largest city.
Exhaustive investigations by the Environmental Protection Agency and the National Academy of Engineering after Hurricane Katrina, in which floodwaters languished in New Orleans for about six weeks, showed that toxic concentrations and the resulting exposures were too low to cause significant long-term health problems.
That festering flood caused a stench for weeks that left soldiers gagging for air as they flew helicopters 2,000 feet over the city. The Army Corps of Engineers had to pump the water out of New Orleans, much of which lies below sea level.
A report by the National Academy of Engineering in March 2006 said the floodwaters contained elevated levels of contaminants. The inorganic compounds were below drinking-water standards, while arsenic levels, attributed in part to lawn fertilizer, were above those standards.
The EPA took 1,800 samples of residue and soil from across the New Orleans area after Hurricanes Katrina and Rita and found that generally "the sediments left behind by the flooding from the hurricanes are not expected to cause adverse health impacts to individuals returning to New Orleans."
The situation is far different in Houston, where the floodwaters are receding much faster.
But because Houston is far more industrialized, Harvey could have a much larger potential for leaving a toxic trail.
Without question, air emissions rose significantly during and after the storm, said Elena Craft, a toxicologist and senior scientist at the Texas branch of the Environmental Defense Fund.
The industry shutdown and startup cycle released 2 million pounds of pollutants, equal to 40% of all the emissions from 2016, Craft said, based on reports the industry made to the Texas Commission on Environmental Quality.
"In a few days, we have had months of exposure," Craft said.
Marathon Oil, for example, reported to the state that heavy rain had pounded the roof of a storage tank so hard that it tilted, exposing gasoline to the air.
The emissions reports also included such carcinogens and suspected carcinogens as benzene and butadiene.
Craft said that sewage treatment plants in Beaumont went off line. A pipe carrying anhydrous hydrogen chloride was compromised in La Porte. Harris County's 26 federal Superfund toxic waste sites may have been affected, including one that contains dioxins from a former paper mill along the San Jacinto River.
The fire at the Arkema chemical plant in Crosby released organic hydrogen peroxide, which officials said is an irritant but not toxic.
Tommy Newsom, who lives about 7 miles from the plant, said he felt fine but wondered what other chemicals might be involved. "Who knows how much of what they're telling us is true?" he said.
"I think the wind's in my favor," said Newsom, a 60-year-old port worker, pointing to Texas state and U.S. flags at the entrance to his housing development.
Jennifer Sass, a senior scientist with the Natural Resources Defense Council's health program, said the situation in Houston is a perfect breeding ground for hepatitis and tetanus.
"The flood is so large and slow-moving and the area is packed with dirty industries that are poorly regulated. Because the oil and gas industries down here are not as safe, we are concerned those toxins and chemicals are leaking," she said.
Texas regulators urged caution. "Floodwaters may contain many hazards, including infectious organisms, intestinal bacteria, and other disease agents," the Texas Commission on Environmental Quality said in a statement. "Precautions should be taken by anyone involved in cleanup activities or any others who may be exposed to floodwaters."
The American Chemistry Council said its members are in constant communication with state and federal regulators about the status of their operations.
"Hurricane Harvey has presented extreme and unique challenges for the city of Houston and the surrounding areas in southeast Texas and Louisiana, warranting an unprecedented response effort, including that by local industry," the trade group said in a statement.
Molly Hennessey-Fiske contributed to this article from Crosby and Melissa Etehad contributed from Los Angeles.
ALSO
Hurricane Harvey destroyed this town. But residents are laughing through the destruction
Houston offers a grim vision of L.A. after a catastrophic quake
After storm's fury, a sorrowful task: Gathering up the dead
---
Must-read stories from the L.A. Times
Get the day's top news with our Today's Headlines newsletter, sent every weekday morning.
You may occasionally receive promotional content from the Los Angeles Times.