Hurricane Harvey destroyed this town. But residents are laughing through the destruction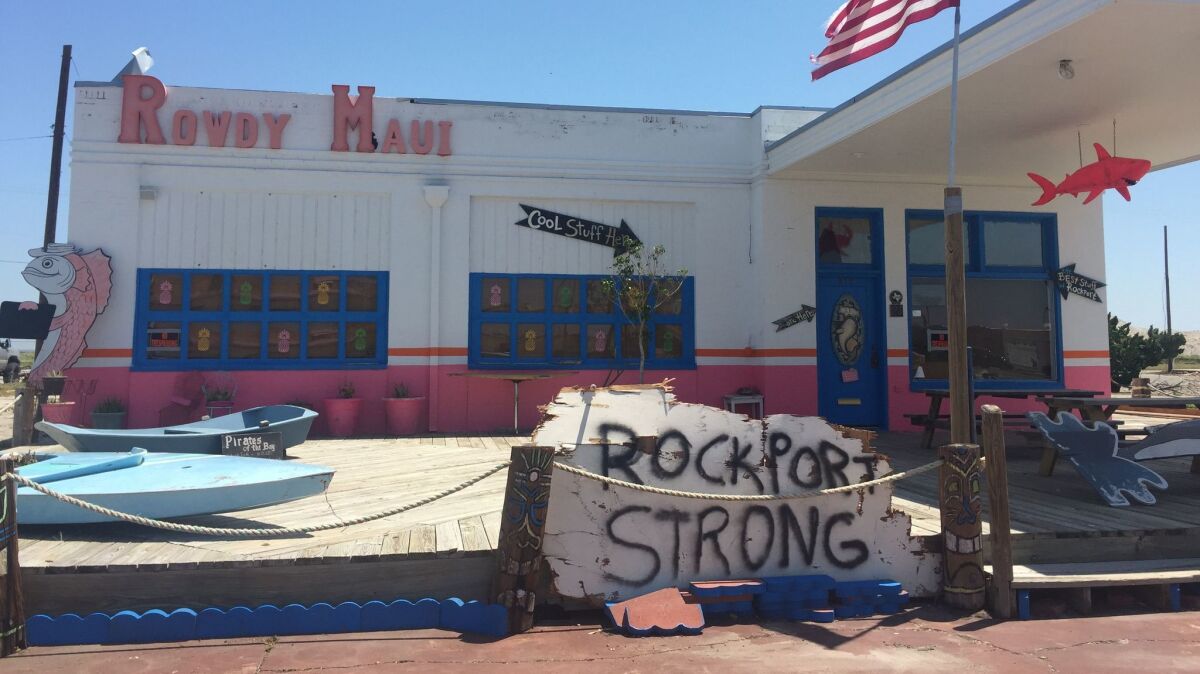 Reporting from Rockport, Texas —
People kept pulling up to the Rowdy Maui gift shop here, whipping out their cameras and doing something that felt so good in this town that was in Hurricane Harvey's cross-hairs when it first slammed into Texas at its most powerful. They laughed.
For there in front of the neon-pink-and-white shop on the Aransas Bay was a piece of plywood with this spray-painted message: "Kiss Our Ass Harvey."
Down the street, the Mermaid Ranch Coastal Decor shop had a board in the window with its own cheeky sentiment: "Good Thing Mermaids Can Swim!!!"
As attention has shifted to Houston and a string of coastal cities ravaged by deadly floods in recent days, Rockport, the coastal fishing town of about 10,000 people where Harvey made landfall Friday night as a Category 4 hurricane, is wiped out.
The whole city looks as though it's been tipped on its axis. Everything that's standing leans.
Houses are pancaked. Businesses are piles of splintered wood. Power lines dangle over roadways, if their poles aren't broken. The smell of gas lingers in the air.
Car tires crunch over broken glass, and bits of housing insulation are just about everywhere.
Electricity? Forget about it. Cellphone service? Good luck.
The good news here is that the sun has come out. But with the sun comes the heat, soaring over 90 degrees on Wednesday. And there's little air conditioning to speak of. Ice is a precious commodity.
It's hard for people in the small towns here not to feel that their tragedy will be forgotten after the catastrophic flooding in Houston and elsewhere.
"It's a great thing everyone is doing for Houston and we understand But … what about the rest of us?" one man from the adjacent town of Aransas Pass wrote in a Facebook post that has been shared more than 2,000 times.
Still, in Rockport this week, residents were doing their best to keep their heads up and their humor intact.
At the corner of Austin and Concho streets, people just started to bring stuff — clothing, toiletries, diapers, pallets of water — and an impromptu volunteer space was born.
Steve Lopez, a Corpus Christi attorney, helped organize donated items outside Sand & C Emporium Antiques. Lopez bought the desk for his home office there, he said, pointing to the store with a sigh.
The windows and roof of the antique store were gone. The furniture inside was a big, twisted heap of chair legs and overturned dressers.
As they volunteered and picked up needed items, people seemed to be in good spirits, Lopez said.
"It's the resiliency of Texans," he said. "It's the need to move on."
Larry Williams, a 58-year-old food truck owner, drove down from his home in Austin to Rockport, where he owns a second home. He only lost "a square of shingles," but his neighbor lost everything. The storm, he said, seemingly picked its victims at random.
Williams stood outside his truck, called Crazy Mary's, which has been doling out free comfort food since Tuesday, to the tune of 1,600 meals.
One older man, who lost several houses he owns and a laundry business, told him he didn't want any handouts.
"I told him I wasn't giving him a handout; I was giving him a hand up," Williams said. "He broke down crying."
People keep bringing food and water to keep the truck stocked, said Williams, who was helping move donated supplies despite having broken his back twice in recent years.
Near him, a woman in a pair of rainbow-colored socks, sorting through donated bags of clothing, chirped, "Woo! We got hair ties!" and started dancing.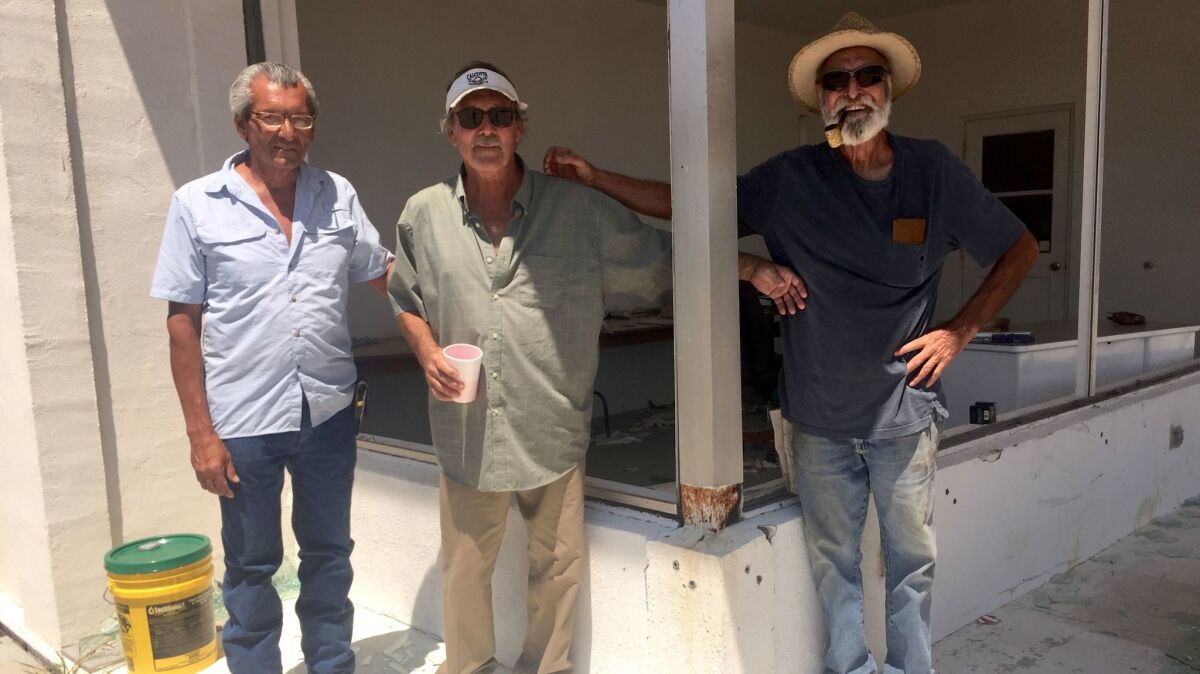 A few streets over, C.J. Duckworth sat in the empty frame of the busted-out storefront window of his crane and sign shop with his friend Richard Gonzales.
"We're window shopping," Duckworth joked. The glass had exploded from the building and covered the now-glinting ground in front of it.
Duckworth, 65, lives in a small but tidy "bachelor pad" in the back of the white concrete-block shop.
On Friday, a friend with a big house nearby let him ride out the storm, which he said sounded like a freight train, with "explosions of wind." The roof there sounded like it was going to come off, and rain steadily dripped in.
As he drove home the next day, passing flattened houses, he felt sick, wondering if his home, which is uninsured, would be there. When he saw that it was standing, with the windows the only real damage to speak of, he fell to his knees and prayed, he said.
Gonzales, a 59-year-old stonemason, built the place years ago, making it sturdy with rebar in the concrete blocks. When Gonzalez came to visit, Duckworth wrapped him in a hug.
"This wouldn't be here if he hadn't done it right," he said, his face softening.
The two men have known each other for over two decades, longer than many marriages, they noted.
Gonzales lives in a one-bedroom house in Aransas Pass. His roof was partially caved in, and he's got some broken windows. But the house is standing, so he considers himself lucky.
Since the storm, a seagull with a broken wing has been hanging around his place. He's been feeding it Cheetos.
"There's a bird walking around here now with an orange beak," he said.
Gonzales taught Duckworth a trick for living with no electricity or running water. Put bottles of water on a hot black surface in the sun — the bed of a truck worked nicely — and you've got warm water for a shower.
When he first came to check on his friend this week, Gonzales danced goofily in front of the security camera out front, thinking it would show up on Duckworth's monitor. It didn't.
"I call him my braniac … there's no electricity for the cameras," Duckworth teased.
Duckworth said he was trying to pass the time at night by barbecuing. And Gonzales brought him a battery-powered radio, so now he's got music to keep him company too.
It's been weird being totally disconnected, with no cell service, he said. He hadn't realized President Trump visited nearby Corpus Christi on Tuesday.
"I miss Facebook," Duckworth said, laughing. "Good Lord, I'm on that every night."
Gonzales said they would be busy over the next few years.
"The sign maker and the stonemason together; we'll rebuild Rockport," he said to his friend.
But Duckworth's eyes hinted that he was tired. They'll rebuild, he said. But today he just didn't really have the heart to do much at all.
Twitter: @haileybranson
ALSO
Humanity shows its best self as Harvey devastates Texas coast
Body count expected to rise in Texas as areas hit by Harvey grapple with fresh perils
As Harvey moves east, a 'Cajun Navy' of volunteers descends on Port Arthur to rescue people
As Houston floodwaters recede, returning residents make some grim discoveries
Must-read stories from the L.A. Times
Get the day's top news with our Today's Headlines newsletter, sent every weekday morning.
You may occasionally receive promotional content from the Los Angeles Times.