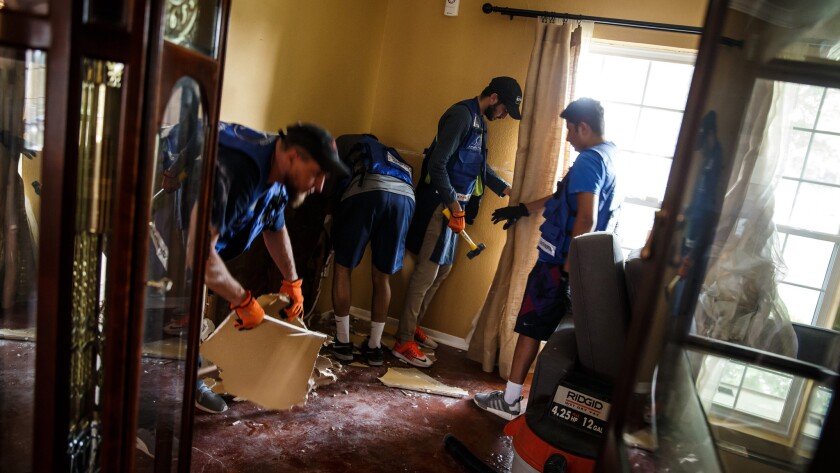 Reporting from Houston —
When volunteers from Ahmadiyya Muslim Community USA's youth group arrived to aid hurricane victims this week, they were welcomed by a cross-section of Texans, some of whom recognized them by name.
"You helped us two years ago," one elderly woman on the city's southwest side told them.
Texas is home to a large Muslim community that in recent years has found itself targeted. State officials tried to block resettlement of Syrian refugees, citing safety concerns. Mosques were vandalized. Women wearing headscarves were harassed. Dr. Bilal Rana, the group's president, was singled out on a flight back to Houston two years ago while wearing a traditional South Asian shalwar shirt and detained (he was later released).
Despite the tense political climate, the Muslim group volunteered in response to flooding in 2015, then again last year, and now with Hurricane Harvey.
About a hundred volunteers have rescued more than two dozen flood victims by boat. They have distributed donated chicken dinners and other food from a local mosque despite flood damage there. And they have been going door-to-door to help residents clean up.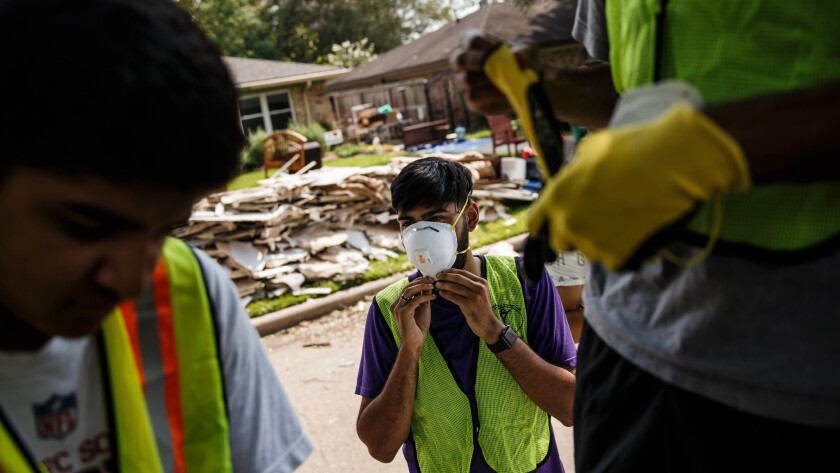 On Friday, the Muslim festival of Eid al-Adha, volunteers attended prayer services in the morning, then changed out of their formal clothes to help storm victims haul away drenched furniture and rip out soaked drywall.
"We were actually pretty stoked to be able to celebrate our Eid this way: Not just in word, but in deed," said Rana, 38, an anesthesiologist and father of five whose suburban Houston neighborhood also flooded. "We know people often harbor negative stereotypes about Muslim youth, and actions like this do a lot to dispel those. It gives us an opportunity to prove people wrong by being the exact opposite of what they expect."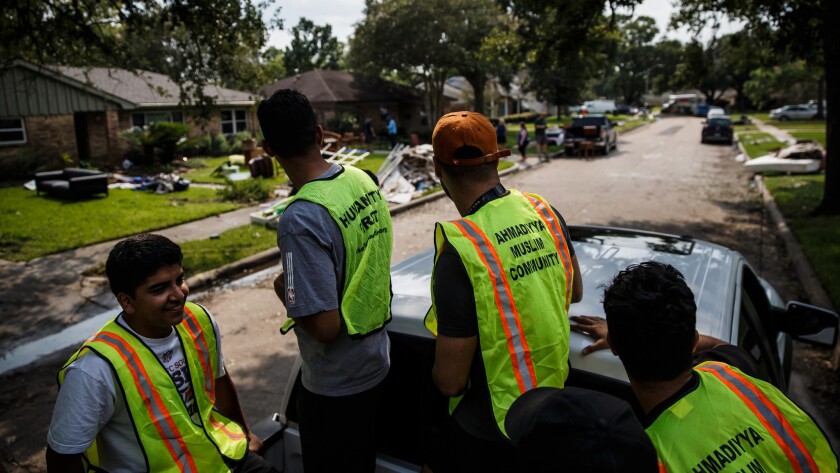 Rana said volunteers had not encountered any opposition. Much of their help was directed at the elderly, who often seemed surprised to find able-bodied young people ready to lift soggy mattresses and other heavy debris.
"An older gentleman said, 'I was praying for someone to come; I didn't know how I was going to lift all this stuff, and then you did,'" Rana said.
Earlier this week, they met an elderly Russian professor whose home had flooded, who was so grateful for their help cleaning up, he wanted to repay them.
"He said, 'I don't have much to thank you with.' We could see he didn't have anything. All he had was a bottle of room-temperature water. That was his gift to us," Rana said.
Rahman Nasir, 23, said he and other volunteers felt compelled to help fellow Texans, both because of their faith — Eid al-Adha celebrates sacrifice — but also because of their upbringing.
"Most of us, Houston is the only home we've ever known. We were sitting at home stranded, wanting to serve our city. This place raised us," he said. "It's like this extensive family in Houston right now. It doesn't matter what race you are, what religion you are. We're all Houstonian, and we're struggling."
molly.hennessy-fiske@latimes.com
Twitter: @mollyhf
---