Region assesses Hermine damage, including one death, after most powerful storm in a decade slams Florida
A resident surveys damage around his home from high winds and storm surge associated with Hurricane Hermine which made landfall overnight in Tampa, Florida.
(Brian Blanco / Getty Images)
Pat Bonish moves debris off the sidewalk in downtown Cedar Key, Fla. after Hurricane Hermine passed through Friday.
(John Raoux / Associated Press)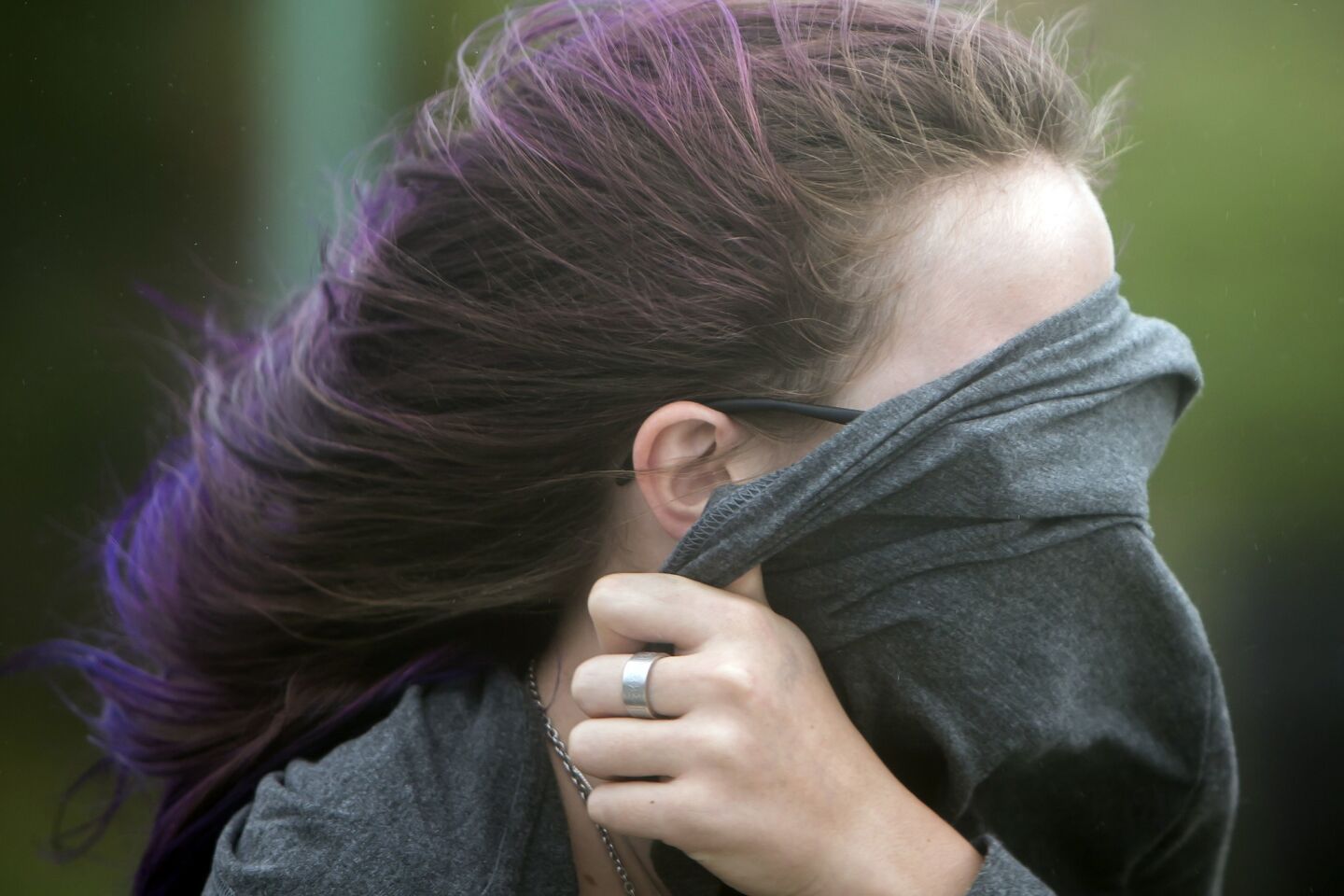 Ava McNally protects her face from blowing sand while walking to the beach during tropical storm Hermine on Tybee Island, Ga.
(Stephen B. Morton / AP)
Shawn Stephenson, left, and Marshall Dimick clear water from a real estate office that was flooded by Hurricane Hermine in Cedar Key, Fla. Hermine was downgraded to a tropical storm after it made landfall.
(John Raoux / Associated Press)
Residents check the damage to a boat in their neighborhood after Hurricane Hermaine came ashore in Shell Point Beach, Florida.
(Mark Wallheiser / Getty Images)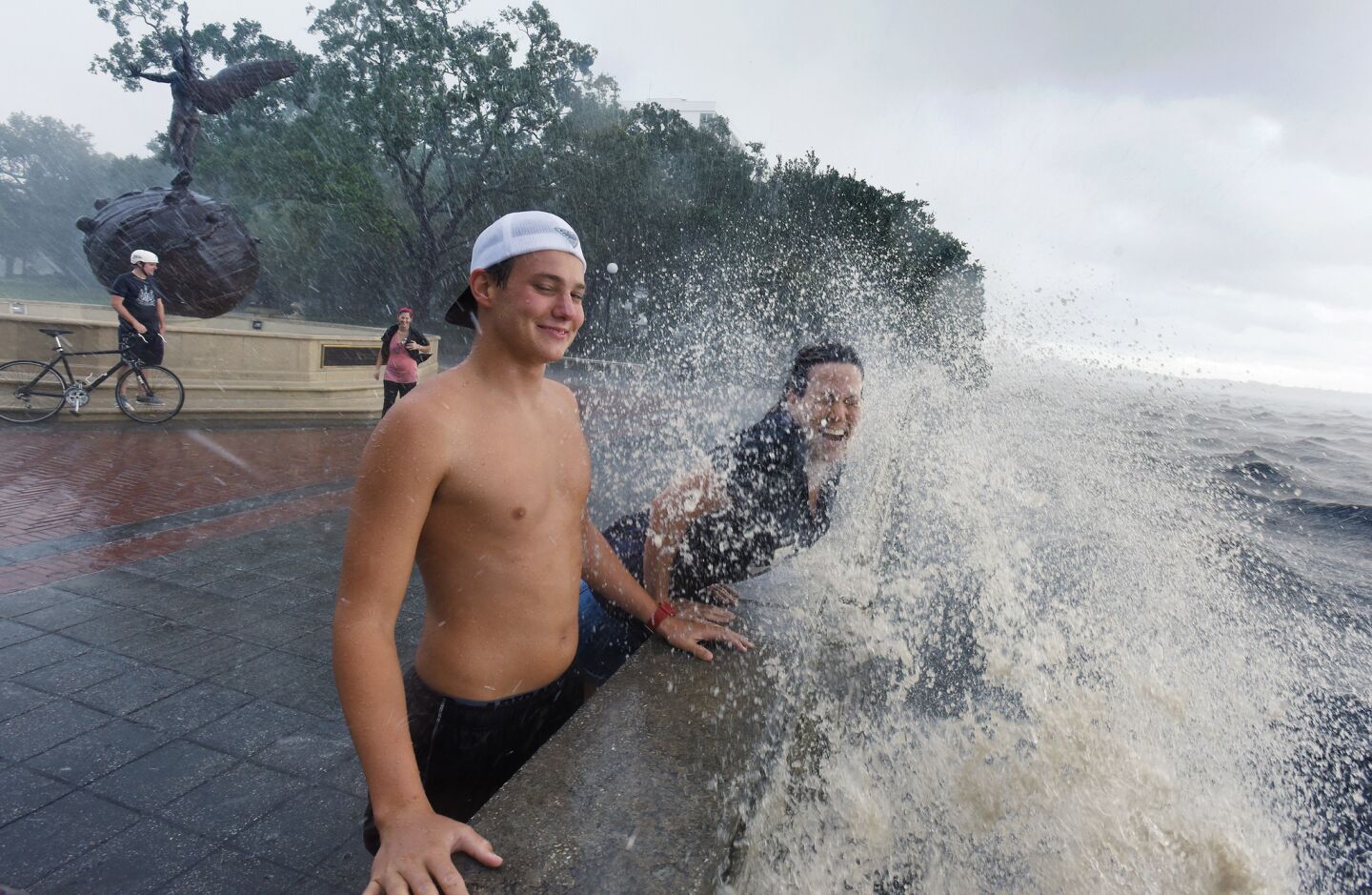 Connor Sidman and his mother Peggy Sidman get hit by a wave, as they take in the sights from the railing of Memorial Park in Jacksonville, Fla.
(Bob Self / Associated Press)
Lisa Bolton holds her 3-year-old daughter, Lois Bolton, both of Manchester, England, during a visit to Clearwater Beach, Fla. The National Hurricane Center in Miami says Tropical Storm Hermine is gaining strength as it rumbles toward Florida's Gulf Coast.
(Douglas R. Clifford / Associated Press)
Murray Stokes, right, and Brian Rozelle carry stock to an awaiting truck ahead of the storm surge from Tropical Storm Hermine at Shell Island Fish Camp in St. Marks, Fla.
(Mark Wallheiser / Getty Images)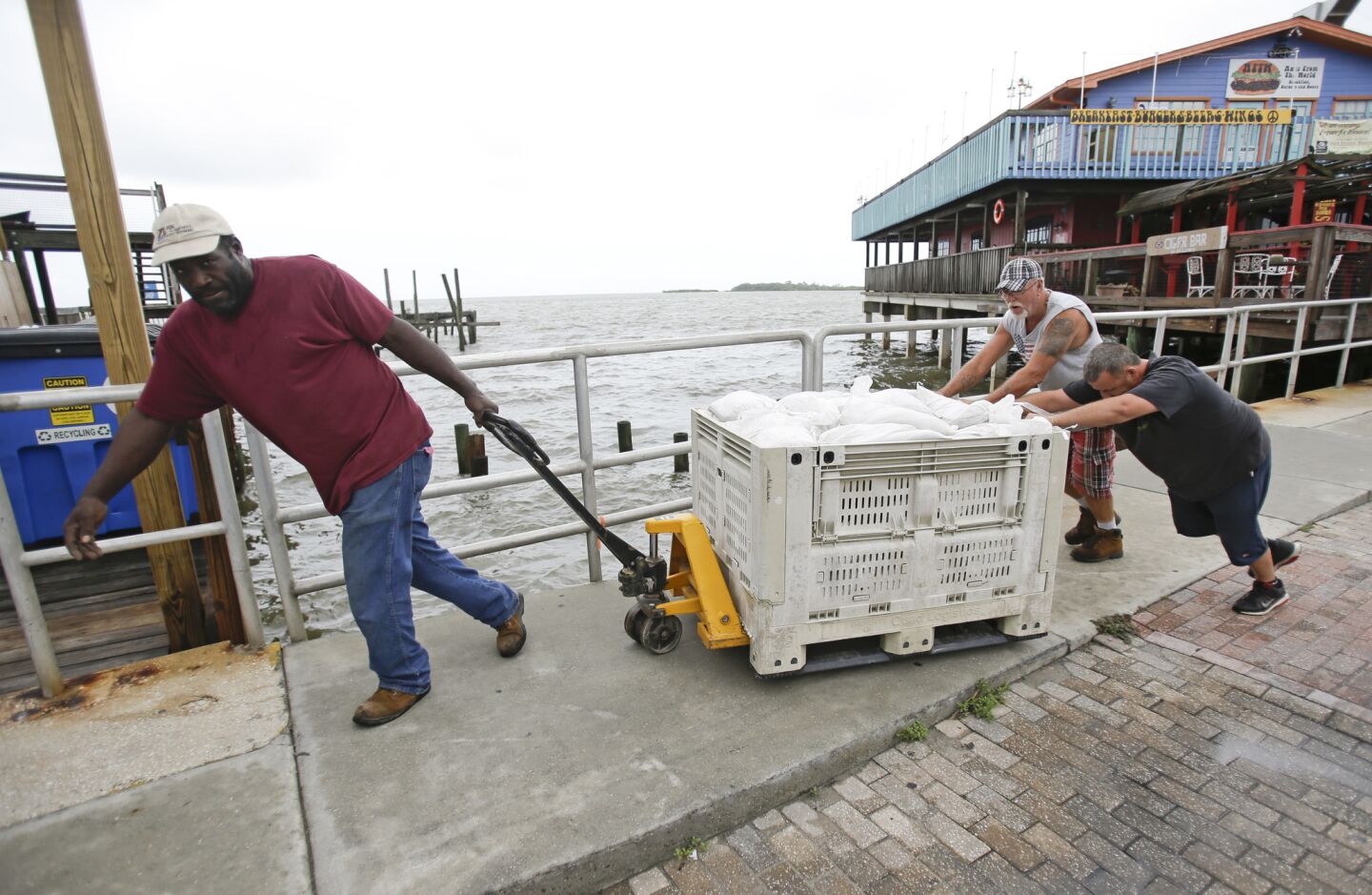 Workers move sandbags to protect a restaurant in preparation for Tropical Storm Hermine in Cedar Key, Fla.
(John Raoux / AP)
Ariel Callahan, 5, left, and her grandmother Kelly Smith navigate rainwater at Anona Elementary School in Largo, Fla.
(Douglas R. Clifford / Associated Press)
Andre Anton gathers his family's belongings as the rain continues to pour inside his home after a large tree crashed through the roof in Tampa, Fla. The National Hurricane Center in Miami says Tropical Storm Hermine is gaining strength as it rumbles toward Florida's Gulf Coast.
(Octavio Jones / Associated Press)
Workers install flashing around the roof and windows of a restaurant in preparation for Tropical Storm Hermine in Cedar Key, Fla.
(John Raoux / Associated Press)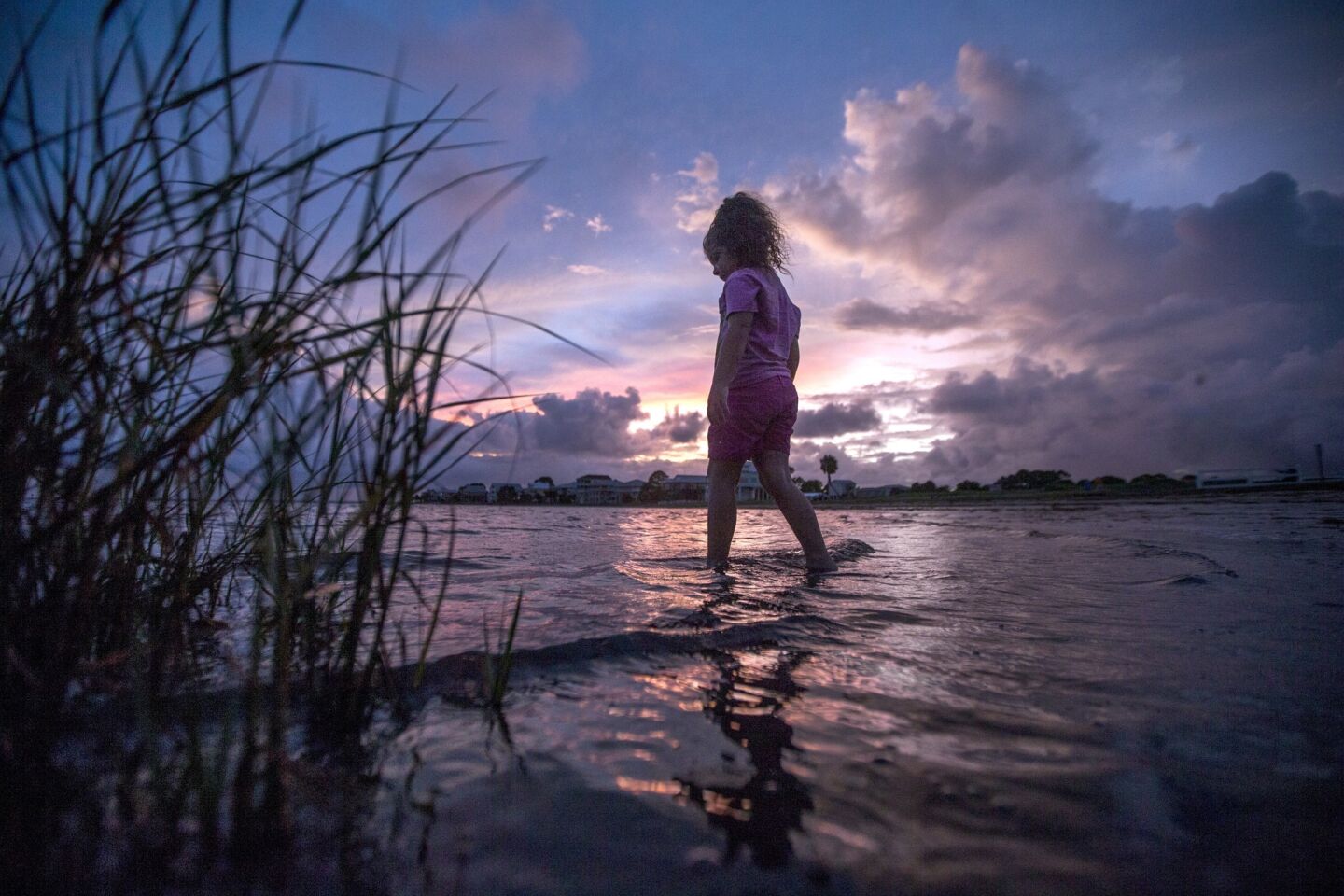 Shelby Burdette looks for shells in the shallow water at Shell Point Beach prior to the arrival of Tropical Storm Hermine near Crawfordville, Fla.
(Mark Wallheiser / Getty Images)
Reporting from Atlanta —
Hermine, the first hurricane to strike Florida in more than a decade, made landfall on the Florida Gulf Coast early Friday morning, pummeling small seaside towns with powerful 80 mph winds and heavy rain.
The Category 1 hurricane crashed ashore early Friday near St. Marks, a tiny town with a population of less than 300, in the low-lying, marshy Big Bend area, where the state's peninsula meets the Panhandle.
In St. Marks, the storm surge flooded the Riverside Café, the Sweet Magnolia Inn and Bo Lynn's Grocery, the community's only market. Yet it did not reach the post office as it did when Hurricane Kate swept through the region in 1985.
"It just came up like a torrent, like you're on the river rapids," said Denise Waters, owner of the Sweet Magnolia Inn, which began to fill with 18 inches of water around dusk Thursday night. Stormwater pooled in all the lower rooms, damaging her etched-glass doors and baby grand piano, and leaving mud all over her baseboards.
"Oh, boy, it's a mess, for sure," Waters said, as her husband, Andy, drove 15 miles to visit his 92-year-old mother, who had taken refuge in a hotel. "I don't know what we're going to do, as she needs oxygen and all the hotels have lost power."
After pounding through a mostly undeveloped area of Wakulla County, full of national wildlife refuges and forests, Hermine stormed into the state's capital of Tallahassee, which has a population of more than 181,000.
Hermine felled trees and limbs and knocked down power lines, blocking roads and cutting off power to more than 253,000 utility customers across Florida.
About 100 miles south of St. Marks in Cedar Key, a historical coastal resort with a population of 700, a 9-foot storm surge swept through the raw bars and seafood restaurants that serve tourists on Dock Street, flooded City Hall and wiped out the walls of an older apartment complex building.
"This is by far the worst storm I've ever experienced in my 34 years of living here," said Virgil Sandlin, Cedar Key's police chief, who estimated that about 300 people had experienced damage to their homes and businesses. "It's worse than the storm of the century."
Yet there were few reports of injuries. In Marion County in Central Florida, a homeless man was hit by a tree, but officials were waiting for the coroner to confirm that the death was storm-related.
At least 59 shelters were operational in Florida on Thursday night, serving approximately 400 people, the American Red Cross reported. Five shelters were open in Georgia, accommodating 140 people.
"We got a little less rain than we thought," Florida Gov. Rick Scott said in a Friday morning news briefing. "What I worry about now is people driving in standing water, people touching power lines. … We need to be careful. By the end of the day, hopefully a lot of this will be cleaned up."
In Tallahassee, a tree fell on Amy Parks' brick home about 11:45 p.m. Thursday, creating a 10-by-10-foot hole in the middle of her living room and another in her kitchen. As rain poured through the roof, flooding her house, her husband and a friend emptied buckets through the night.
"We have six kids sleeping on mattresses in the hallway right now," she said in an interview with local television station WCTV. "The house is actually flooding, so we've grabbed pillows, blankets, couch cushions, anything we can to try to stop flooding from coming into the hallway where the children are."
As the hurricane traveled north, residents were urged to remain indoors and not travel unless absolutely necessary as crews from the Florida Department of Transportation cleared debris and fallen trees from roads.
A few hours after landfall, Hermine weakened into a tropical storm as it moved farther inland toward Georgia, according to the National Hurricane Center. Friday morning, it passed through Valdosta, a town of about 55,000 people in south Georgia, with strong winds and heavy rain causing power outages and downed traffic signals and power lines.
"The amount of debris on city streets and in private yards and properties is overwhelming," City Manager Larry Hanson said in a statement, noting that 15,000 homes and businesses were without power and cleanup efforts were likely to continue for weeks.
Still, there was some relief.
"In spite of Tropical Storm Hermine's devastating impact to our area, we feel our city is safe this morning, and there have been no reported deaths."
At 2 p.m. EDT, Hermine was about 80 miles west-southwest of Charleston, S.C., with maximum sustained winds of 50 mph. The storm is forecast to move up into the Carolinas on Friday night and Saturday, with strong winds extending outward up to 175 miles from the center.
While the storm is not expected to change in strength through Saturday morning, the National Hurricane Center has forecast strengthening once the center of Hermine moves offshore Saturday afternoon.
Tropical storm warnings were extended northward, all the way to Fenwick Island, Del. Major Northern cities, such as New York City and Long Island, are under a tropical storm watch.
On Friday afternoon, Virginia Gov. Terry McAuliffe declared a state of emergency.
"We are strongly encouraging everyone in Virginia to prepare for the possibility of damaging winds, downed trees, power outages and flooding in much of the Commonwealth," McAuliffe said in a statement, warning residents of "significant rainfall" and "life-threatening surge and flooding."
Hermine was the first hurricane to strike Florida since Wilma hit just south of Marco Island in the southwestern part of the state in 2005, killing five people and causing $20 billion in damage.
Governors in Florida, Georgia and North Carolina declared states of emergency in a swath of counties: Scott listed 51 Florida counties, Georgia Gov. Nathan Deal assigned 56 counties and North Carolina Gov. Pat McCrory labeled 33 counties.
Friday morning, the Weather Channel reported that 16 million people were under a tropical storm warning, and 6 million were under a tropical storm watch.
Jarvie is a special correspondent.
ALSO
Cornell University welcomes 12-year-old college freshman — the school's youngest student ever
Meet the Donald Trump advisor who was once among Hillary Clinton's most emphatic fans
What Georgetown's atonement means for the campus debate over slavery
---
UPDATES:
1:35 p.m.: This article was updated with details of damage in Valdosta, Ga.
11 a.m.: This article was updated with details of damage in Cedar Key, Fla.
This article was originally published at 9:08 a.m.
---
Must-read stories from the L.A. Times
Get the day's top news with our Today's Headlines newsletter, sent every weekday morning.
You may occasionally receive promotional content from the Los Angeles Times.