Snowmobile slams into Iditarod teams, killing one dog and injuring others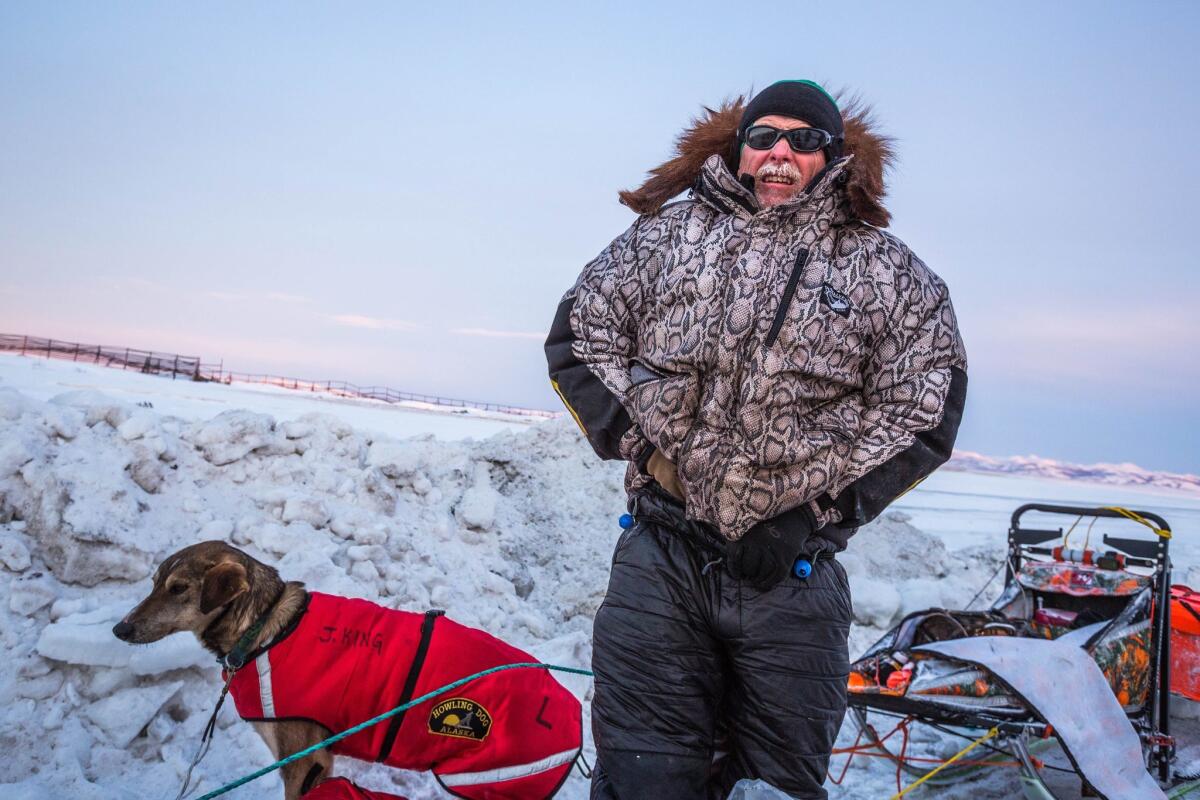 Reporting from Anchorage —
The Iditarod Trail Sled Dog Race — Alaska's "Last Great Race" — was reeling in the wake of a suspected snowmobile assault on two dog teams along a remote section of the Yukon River that left one dog dead and two others seriously injured.
Alaska State Troopers said Saturday they had caught the snowmobiler responsible. They charged 26-year-old Arnold Demoski of Nulato, a community of about 350 people, with assault, reckless endangerment, reckless driving and criminal mischief after the incidents that left mushers Jeff King of Denali Park and Aliy Zirkle of Fairbanks badly shaken.
Both mushers said they believed Demoski, who has a history of assault, intentionally tried to run them down on the trail in the dark of night.
The Iditarod has witnessed dog deaths before after snowmobiles, or snow machines as they are commonly called in Alaska, accidentally veered into teams, but never a willful assault.
Some residents of Nulato speculated that Demoski might simply have been trying to scare the mushers and then ran into them accidentally.
In a taped interview with Anchorage television station KTUU, Demoski denied any intent to harm anyone.
"It not was intentional," he said. "That's not me. I don't do stuff like that."
Demoski gave similar statements to other media and claimed only to have been involved in an unfortunate accident while driving drunk. He did not know what had happened until sleeping off a night of drinking, he said.
According to his version of events, he was driving in an alcoholic blackout and only put the facts together after waking up to find his snow machine damaged and everyone in the village talking about the dog teams run down.
Still, he somehow remembered going back to see whether Zirkle was OK, and then deciding he didn't want to stop and talk to her because he might get in trouble.
The 59-year-old King, a four-time Iditarod champ who suffered the loss of a dog named Nash, viewed the attack as intentional. He said his sled was well lit and easily visible when the snowmobile came screaming into it.
King estimated Demoski's machine was doing 80 mph when it went past the front of his dog sled and slammed into the musher's team with such force the snowmobile's cowling came flying off. King collected the cowling and brought it into the Nulato checkpoint with his dead and injured dogs in the sled.
The cowling matched that missing from Demoski's sled, which was parked in his yard.
Officials of the Iditarod and the Nulato Tribal Council were quick to blame alcohol for what happened and express sympathy for the two mushers.
"We are disturbed and saddened that celebrated Iditarod veteran dog teams led by Jeff King and Aliy Zirkle were struck by a resident of our village," the tribe said in a written statement. "Nulato recognizes the complex behavioral health issues that impact our village and we ask for prayers as we seek wellness for all."
Nulato is what is known as a "damp" village in rural Alaska, where alcohol laws are complicated. Some villages ban booze. Some allow it. And some like Nulato live in between. There are no bars or liquor stores in the community, but alcohol is not banned. About 20 miles upriver, Koyukuk, home to about 100 people, is a "wet'' village, where alcohol can be bought at the Last Chance Liquor Store.
Snow brought in by train was used to provide a picturesque ground cover on the streets of Anchorage for the ceremonial start of the 1,000-mile Iditarod Trail Sled Dog Race.
(Rachel D'Oro / Associated Press)
A train carries snow from Fairbanks to Anchorage.
(Rachel D'Oro / Associated Press)
The lead dogs of veteran musher Ryan Redington of Wasilla, Alaska, make their way through Long Lake, Alaska, during the 44th Iditarod.
(Jay Christensen / Associated Press)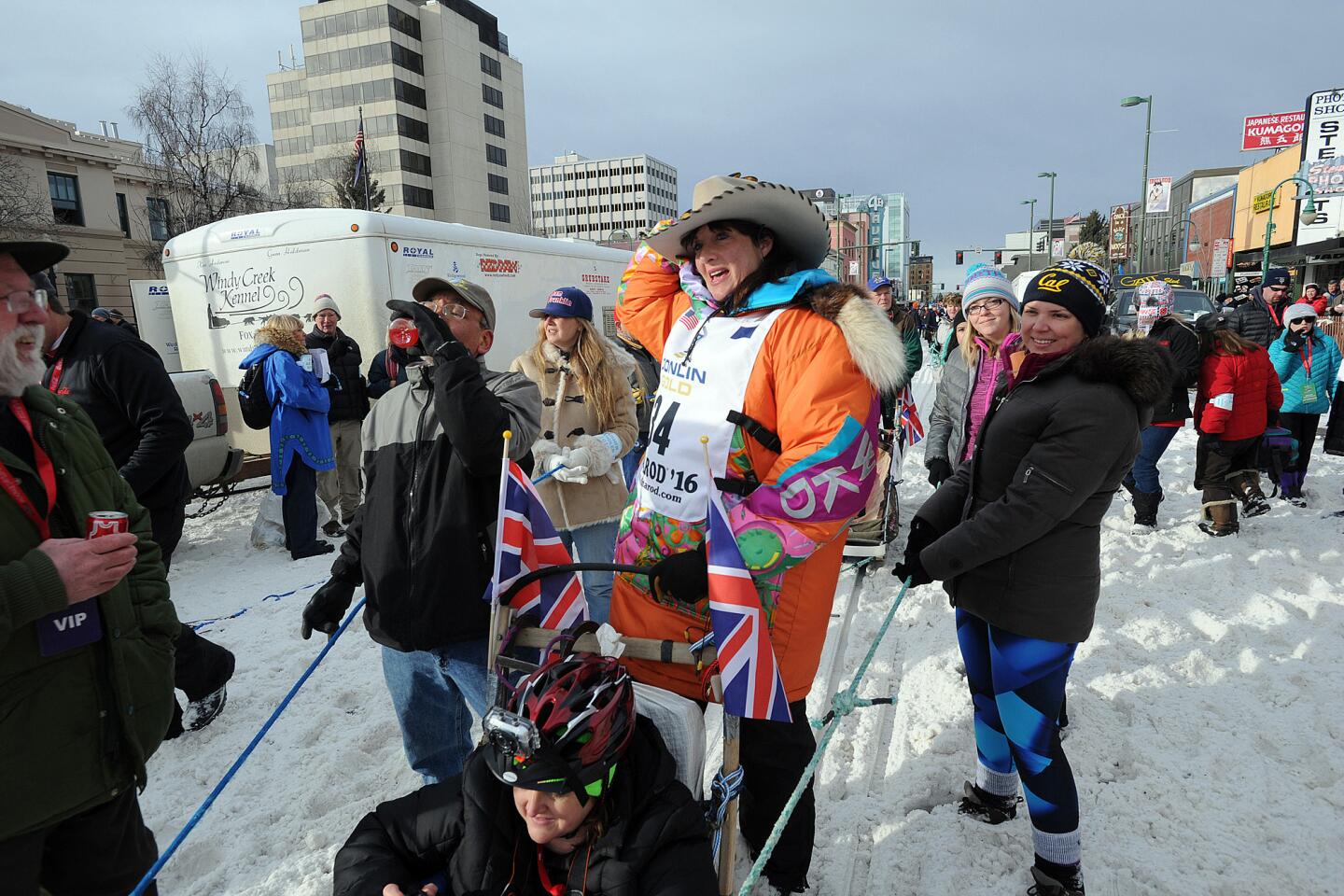 Iditarod rookie Kim Franklin, center, engages spectators prior to beginning the ceremonial start of the 1,000-mile race in Anchorage.
(Michael Dinneen / Associated Press)
Dog handler Mark Hibma unloads an Aliy Zirkle team dog prior to the start of the Iditarod Trail Sled Dog Race.
(Michael Dinneen / Associated Press)
With kids and goods in tow, spectators arrive early for the start of the Iditarod Trail Sled Dog Race in Willow, Alaska.
(Michael Dinneen / Associated Press)
Iditarod veteran Matts Pettersson of Sweden holds his 16-month-old daughter, Frega, as he prepares to begin the ceremonial start of the 1,000-mile race in Anchorage.
(Michael Dinneen / Associated Press)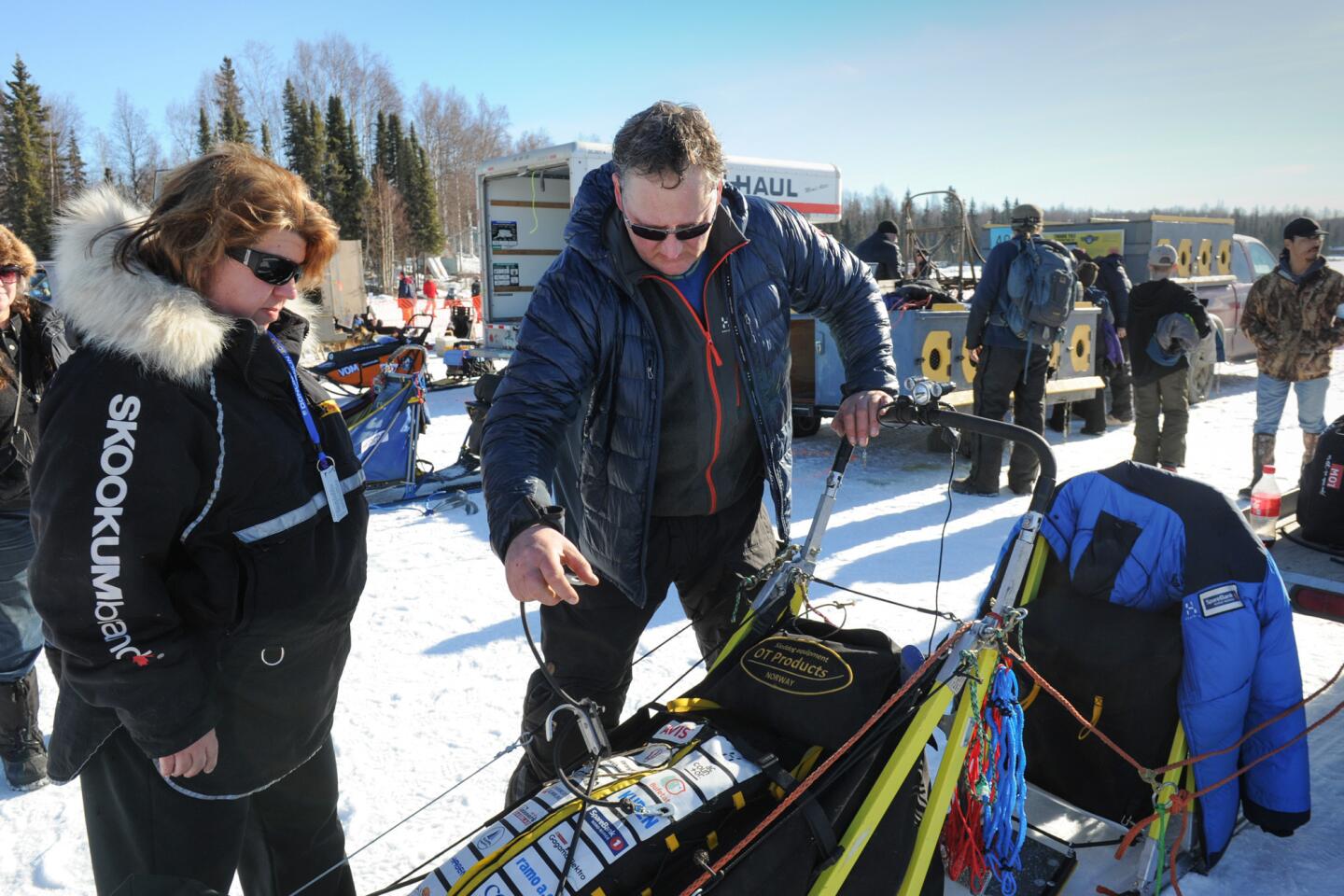 Norwegian musher Dag Torulf Olsen, right, has his sled bag checked by Iditarod Trail Sled Dog Race judge Karen Ramstead prior to the race in Willow, Alaska.
(Michael Dinneen / Associated Press)
The 46-year-old Zirkle, a three-time Iditarod runner-up, shared King's view that the snow machine assault looked intentional, not accidental. She twice told "Iditarod Insider," a pay-per-view video news service run by Iditarod organizers, that the snowmobile driver "tried to kill me."
According to state troopers, Zirkle was about five miles downriver from Koyukuk headed for Nulato when her dog sled was first hit on "the side by a snow machine and the snow machine turned around multiple times and came back at her before driving off."
Those reports said the machine then went on down the river but later returned and approached her again about 12 miles out of Nulato. This time it aimed its headlight at her and revved its engine, but left without incident. Not long after, troopers allege the machine hit King's team from behind, killing the one dog and injuring five others, two seriously.
Demoski's mother said troopers and a Nulato village public safety officer came and took her son to jail around noon Saturday after his interviews with reporters who were in the village to cover the Iditarod race.
Janice Demoski was told her son was to be arraigned in Fairbanks on Sunday. She said she believed he had been in an accident.
"They say it was an accident, so I believe it was,'' she said in telephone interview.
The Demoskis are part of a large extended family in the Alaska Interior. Janice said Rudy Demoski, an Iditarod icon, is her husband's first cousin. Rudy, now 70 years old, ran the first Iditarod in 1974 and finished fourth. He grew up in a time when sled dogs were a way of life in Alaska.
Most of the dogs are gone from rural Alaska now, and the snow machine has taken over.
Among some villagers, the Iron Dog — a 2,000-mile race that follows the Iditarod route and goes well beyond it — has become more popular than the Iditarod.
Reached by telephone at his home, Rudy Demoski said he didn't want to talk about the incident.
"The bad part is my last name," he said.
The Iditarod dog race is Alaska's most cherished sport. Though it has come under fire from animal-rights activists outside of the 49th state, few dare to speak unkindly of it in the North.
After leaving injured dogs in the care of race veterinarians in Nulato, both Zirkle and King were continuing north along the trail late Saturday afternoon.
Medred is a special correspondent.
ALSO
New snowstorm hits Sierra Nevada as 'March Miracle' continues
After scuffles in Chicago, Trump tells supporters he can unite the country. It's a hard sell
Without this Texas clinic, women with unwanted pregnancies would have to travel 230 miles or cross into Mexico
Sign up for Essential California for news, features and recommendations from the L.A. Times and beyond in your inbox six days a week.
You may occasionally receive promotional content from the Los Angeles Times.