U.S. is separating immigrant parents and children to discourage others, activists say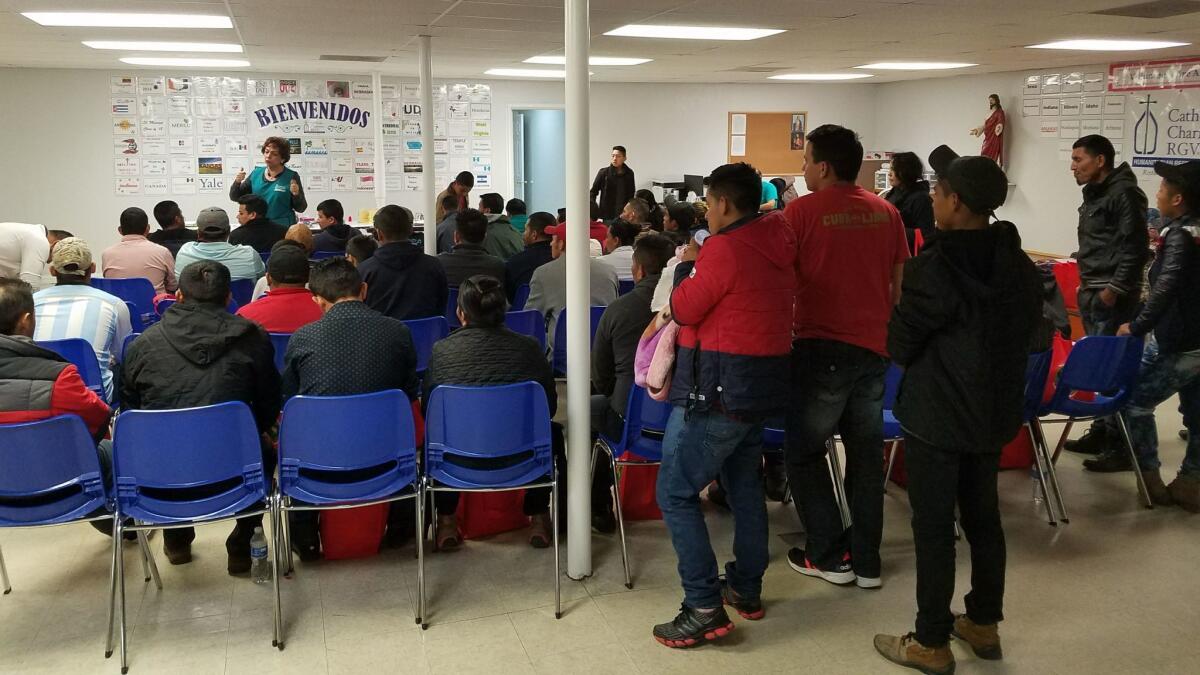 Reporting from El Paso —
Thousands of parents who crossed illegally into the U.S. in recent years have been held with their children at immigration detention centers. But the case of a Brazilian woman and her son illustrates what migrant advocates call a harsher approach to immigration enforcement that aims to separate parents and children.
She's being held in Texas, while her son was taken to a shelter in Illinois. The unspoken goal, advocates say, is to discourage parents from crossing illegally or attempting to request asylum.
The Brazilian mother — who asked to be identified only as Jocelyn because she was fleeing domestic violence — entered the U.S. last August with her 14-year-old son, who she said was being threatened by gangs. They hoped to apply for asylum.
Migrant families like Jocelyn's are usually processed by immigration courts, an administrative process. Such families are detained together or released with notices to appear at later court proceedings. President Trump promised to end the practice, dismissing it as "catch and release."
Historically, most border crossers were sent back to their home countries, but the Trump administration has threatened to prosecute some migrant parents because entering the country illegally is a federal crime. The first offense is a misdemeanor, with a maximum sentence of six months. Those caught a second time face a felony charge with a maximum sentence of up to 20 years, depending on their criminal record. Once a case becomes a criminal matter, parents and children are separated.
According to public defenders and immigrant advocates, more and more immigrant families who come to the southern border seeking asylum are being charged in federal criminal courts from El Paso to Arizona. Jocelyn was charged with a misdemeanor, and her son was sent to a shelter in Chicago. Comprehensive statistics do not exist, but activists and attorneys say anecdotal evidence suggests the practice is spreading.
"There's not supposed to be blanket detention of people seeking asylum, but in reality, that's what's happening" in El Paso, said Dylan Corbett, director of the Hope Border Institute, a nonprofit social justice group. "We're still in this limbo in our sector and across the border: What's going on? What are the new policies?"
Last week, 75 congressional Democrats led by Rep. Lucille Roybal-Allard (D-Downey) sent a letter to the secretary of Homeland Security expressing outrage at increased family separations and demanding officials clarify their policies within two weeks.
"We are gravely concerned that these practices are expanding and worsening, further traumatizing families and impeding access to a fair process for seeking asylum," they wrote.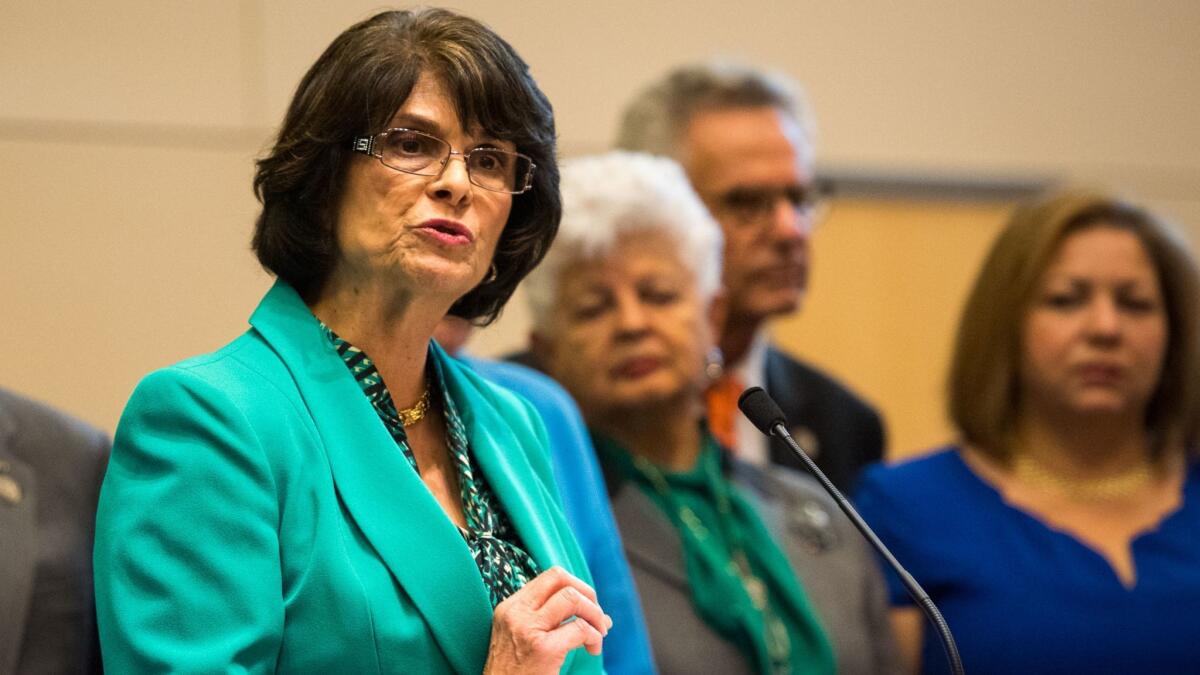 Homeland Security won't say it is targeting families but does say it is making procedural and policy changes to deter illegal immigration.
"The administration is committed to using all legal tools at its disposal to secure our nation's borders," said Tyler Houlton, a Homeland Security spokesman.
Jocelyn said she fled Brazil to escape an abusive husband. During a recent meeting at the El Paso detention center where she is being held, she lifted the sleeve of her white uniform to show scars on her arm that she said came from beatings by her husband, an armed security guard who refused to grant her a divorce.
She and her son flew to Mexico on Aug. 24, crossed the border two days later, turned themselves in to Border Patrol near El Paso and were told they would be separated.
"I didn't know where they were taking him," she said of her son. "They didn't tell me. I asked many times. They just said 'Don't worry.'"
Elsewhere on the border, including Texas' Rio Grande Valley to the east where most migrants cross illegally, many parents and children are still released together with notices to appear in immigration court.
To opponents of illegal immigration, the practice of charging migrants with criminal offenses is a good thing. Andrew Arthur, a former immigration judge now serving as a resident fellow at the conservative Washington-based Center for Immigration Studies, said criminal charges are a deterrent.
"The reason the children are there to begin with is this belief [among immigrants] that a parent with a child will not be detained," Arthur said. He added that exposing children to smugglers who could abuse and kidnap them "borders frankly on child abuse."
Last April, Atty. Gen. Jeff Sessions issued guidance to U.S. attorneys urging more aggressive prosecution of those illegally reentering the country. As the number of migrant families crossing illegally increased last summer, parents were detained by U.S. marshals, but their children were reclassified as unaccompanied minors and placed at shelters across the country by the Office of Refugee Resettlement.
Migrant advocates sued in federal court, arguing that when asylum seekers declare a fear of returning to their home country, federal law dictates that they be referred to an asylum officer, even if they crossed the border illegally, and their cases considered by immigration judges.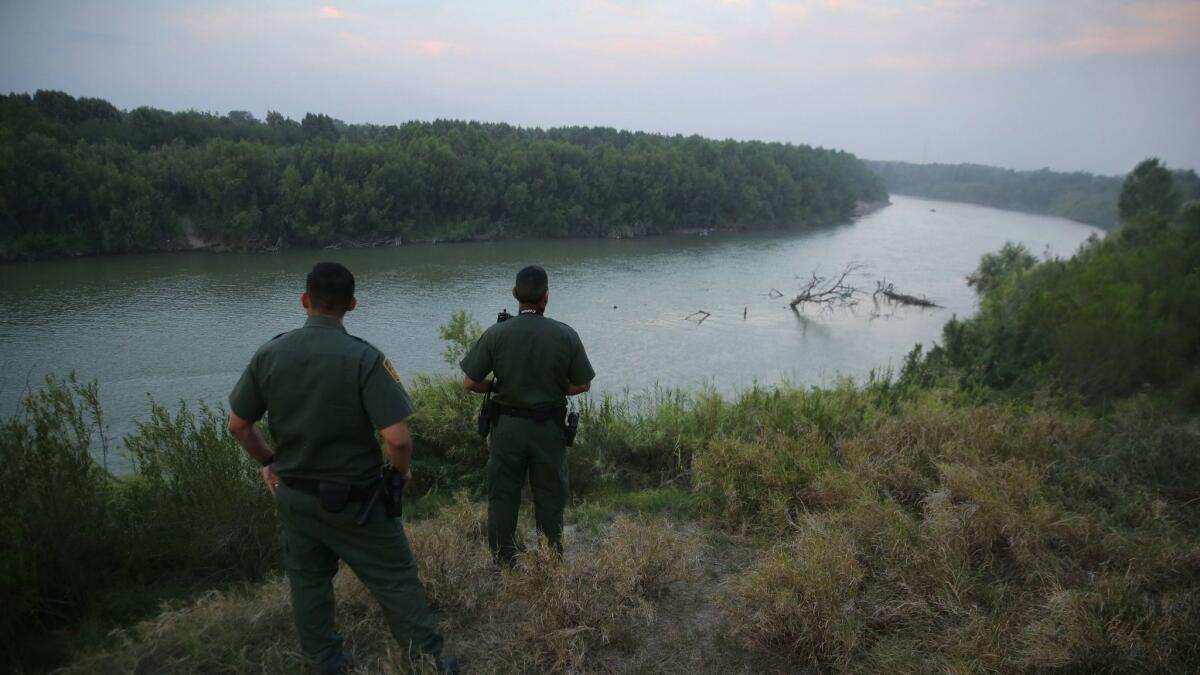 In October, El Paso immigrant advocates asked Border Patrol officials whether they were separating migrant parents from their children.
"They volunteered yes, we're doing family separation," Corbett recalled, adding that one agent "said it was standard practice locally here in the sector to separate all children 10 years and older from their family. We were all shocked."
Afterward, Border Patrol attorney Lisa Donaldson emailed those who had attended the meeting, insisting that the "Border Patrol does not have a blanket policy requiring the separation of family units" and that any increase in separations "is due primarily to the increase in prosecutions of immigration-related crimes."
Daryl Fields, a spokesman for the U.S. attorney's office in western Texas, which files federal criminal charges, said each case is considered individually and that "we do not target individuals for prosecution based on their parental status."
Federal public defenders said that criminally charging asylum seekers not only violates international treaties, it encourages migrants to plead guilty so they can end their case quickly, get deported and try to reunite with their children.
"It impacts the lawfulness or constitutionality of their guilty plea," said Maureen Franco, the federal public defender for the western district of Texas. "They're under the misconception 'The quicker I get my case over with, the quicker I'll get my children back.' Any lawyer worth their salt will tell them it's not like that."
Franco's office has asked a federal court to dismiss improper entry charges against four Central American parents and a grandmother whose children were removed after the adults were detained. A judge ruled in favor of the government Jan. 5. Federal public defenders are appealing.
Immigration attorney Bridget Cambria has handled 15 family separation cases, including several mothers charged and separated from their children in El Paso.
"There's huge questions about whether it's legal when they're seeking asylum. They're using the federal statutes as a reason to take their child," Cambria said.
It's not clear how many migrant parents like Jocelyn have been charged and separated from their children. Federal public defenders and U.S. district courts do not track them. U.S. Customs and Border Protection reported just five migrant family members referred for prosecution in federal criminal court this year fiscal year, which started in October. It reported seven last fiscal year and 21 the year before that.
Estimates from migrant advocacy groups are much higher.
In Arizona, the Tucson-based Florence Immigration and Refugee Rights Project saw 213 such cases last year, an increase from the 190 cases the year before. Legal director Laura St. John said the group has already served 23 separated families this year.
A dozen cases of family separation were reported by Washington-based Lutheran Immigration and Refugee Service. Hope Border Institute surveyed attorneys representing 90 asylum seekers in the El Paso area between June and November 2017 and found 94% had clients separated from their children. Lawyers contacted for the report told The Times they had seen at least 70 cases of parents charged and separated from their children during the past six months.
In December, a host of immigrant advocacy groups filed a complaint with Homeland Security alleging that parents have been charged and separated from their children, "without a clear or reasonable justification, as a means of punishment and/or deterrence, and with few mechanisms to locate, contact, or reunite with family members." The complaint is pending.
As for Jocelyn, a federal judge in Las Cruces found her guilty of crossing the border illegally, a misdemeanor, last Sept. 22. She received a suspended sentence and was transferred to immigration detention in El Paso. Instead self-deporting, Jocelyn stayed to pursue her asylum claim.
She learned through the Brazilian Consulate that her son was at a Chicago shelter and she has since spoken to him by phone four times. She said her son told her that other children of migrants in the shelter tried to run away because they missed their parents. Jocelyn urged her son to stay put. He promised he would.
She worries, but is hopeful. Immigration officials recently found she has a credible fear of returning home, the first step toward obtaining asylum, and a pro bono attorney, Linda Rivas, executive director and managing attorney of the Las Americas Immigrant Advocacy Center, is trying to get her released on bond.
She tried to reassure her son during a recent phone call. "As soon as I get out," she said, "I will come get you."
Sign up for Essential California for the L.A. Times biggest news, features and recommendations in your inbox six days a week.
You may occasionally receive promotional content from the Los Angeles Times.