Lawsuit alleges improper medication of migrant children in federal shelters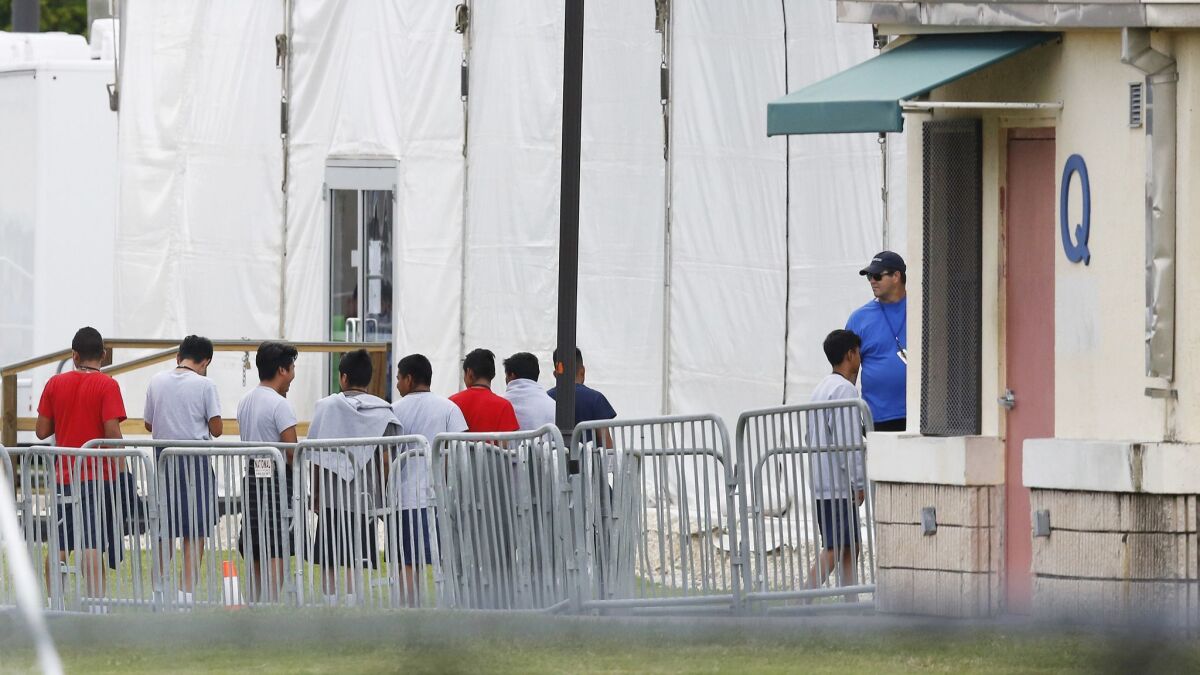 Reporting from Brownsville, Texas —
After crossing into the U.S. last year to join her mother in Houston, a 16-year-old Honduran girl was placed at a shelter for immigrants where, she said, she was given drugs for anxiety and depression.
The medication, she said, "makes me feel dizzy and sometimes makes it hard to concentrate…. Sometimes I have no desire to do anything. I just want to be with my mother."
Advocates have filed a lawsuit charging that the 16-year-old and more than 30 others — some as young as 11 — are representative of thousands of children housed in federally contracted immigrant shelters who can be medicated without parental or judicial consent. Some, they say, are forcibly drugged more for control than for health issues.
The 16-year-old's mother, who also had entered the country illegally, said the staff at the Shiloh Treatment Center near Houston never contacted her about her daughter's health, even though she lives 45 minutes away, visited frequently and provided them her contact information. The woman, who was not identified in court documents, was trying to regain custody of the teen.
The girl's problems with anxiety and depression stemmed from her early childhood. At 5, she was raped and saw her father shot 16 times. "It was so traumatic that since that time I suffer from extreme anxiety," she said.
According to Justice Department attorneys, the Office of Refugee Resettlement, which oversees the shelters, has the authority to medicate children without parents' consent because the youths are in the agency's custody.
The resettlement office declined to comment on the allegations in the lawsuit, as did the Department of Health and Human Services, which oversees the office. Department spokesman Kenneth Wolfe said the office "provides mental health care for all unaccompanied alien children in its care, including any appropriate follow-up care, and weekly individual and group counseling sessions with care provider clinicians."
In April, immigrant advocates asked a federal judge in Los Angeles to intervene on behalf of the children, citing detention standard provisions established under a 1997 legal settlement.
In statements included in the lawsuit, children said that shelter staff told them if they didn't take the medication, they wouldn't be released. Youths described being forced to take up to nine pills at once, including psychotropics such as Prozac. In some cases, they said they were restrained and forcibly medicated.
"We've seen children who report being medicated and suffering a lot of negative side effects: nausea, dizziness, grotesque weight gain. One boy gained 45 pounds in 60 days," said Leecia Welch, senior director of legal advocacy and child welfare at the Oakland-based National Center for Youth Law. Welch said children in the shelters were also "being medicated for their behaviors rather than an underlying mental illness."
Justice Department attorneys have said that the shelters meet state standards for administering psychotropic medication — including consent — and that doctors treating immigrant minors "strive to use no more than four psychotropic medications concurrently."
A court hearing is scheduled for Friday.
The issue of mental health care in shelters took on new urgency after the Trump administration announced its "zero tolerance" policy, which resulted in separating children from parents. Although President Trump last week signed an order stopping the practice, advocates say the issue remains relevant because about 2,300 children already separated from their parents remain at shelters, and are joined by more children who will arrive at the border unaccompanied by adults.
When children arrive at the border, whether seeking asylum or crossing illegally, they are taken to a U.S. Customs and Border Protection processing center.
By law, the Border Patrol must transfer children within 72 hours to the Department of Health and Human Services, which contracts with shelters where youths are sent until they can be placed with a sponsor or federal foster parent.
There are 11,799 children in about 100 shelters in 17 states. Many shelters are located in California, Arizona and Texas, where they must meet state child-care licensing standards. But they do not have to meet state standards for obtaining consent to medicate children.
Texas, for instance, allows psychiatrists to prescribe psychotropic medications to youths at the Shiloh shelter "on an emergency basis without such consent or court authorization when their extreme psychiatric symptoms render them a danger to themselves or others," Justice Department attorneys wrote in a recent court filing, noting that if a youth has a sponsor, that person is notified of any new medications or dosage changes.
Medical experts who specialize in treating youths with mental illness said more oversight is necessary to prevent vulnerable children from being overmedicated at a time when the side effects can lead to lifelong illnesses.
Dr. Amy Cohen, a Los Angeles-based child psychiatrist specializing in trauma who has worked with California judges to improve informed consent, traveled to Texas' Rio Grande Valley last week to protest family separation. She treated immigrant children released by the Border Patrol at a respite center Wednesday. Cohen said she was shocked to see court records showing some children at shelters had been prescribed Haldol, a powerful antipsychotic commonly used to treat adult schizophrenia.
"These children tend to be overmedicated with combinations of meds that are really not indicated for children with PTSD [post-traumatic stress disorder], particularly small children. The purpose of that medication is not really to treat an illness, but to tranquilize them. It's not a tool of therapy, it's a tool of control," Cohen said.
One of the largest shelter providers is Southwest Key, an Austin, Texas, nonprofit that runs 27 facilities in California, Texas and Arizona. Each has a medical clinic, with staff on site and doctors on call.
"Southwest Key does not prescribe any drugs to the children in our care. The children see doctors who are not Southwest Key employees, and those medical doctors make the evaluation about medical needs that involve prescriptions," said Cindy Casares, a Southwest Key spokeswoman.
The refugee resettlement agency "is the guardian of the children," added Alexia Rodriguez, vice president of Southwest Key, therefore youths at the shelter can be given medication "so long as a doctor prescribes it."
Pediatrician Nathalie Quion asked about parental consent when she visited a Southwest Key shelter for infants in McAllen, Texas, in April with members of the Washington, D.C., chapter of the American Academy of Pediatrics.
"The parent is not involved at all in making those decisions, and that is what is scary for me," Quion said.
"Taking away the parental rights — which is basically what is happening — is just prone to a lot of abuse."
Advocates like Welch want to see shelters meet state parental consent standards to ensure independent oversight of how children are medicated.
"Psychotropic meds can be very dangerous to young people. It's not like just giving them a Tylenol. You're putting them at serious risks for the rest of their lives," Welch said, and "the impact cannot be undone."
molly.hennessy-fiske@latimes.com
Must-read stories from the L.A. Times
Get the day's top news with our Today's Headlines newsletter, sent every weekday morning.
You may occasionally receive promotional content from the Los Angeles Times.