Honduras man released from custody after charges of racial profiling by local police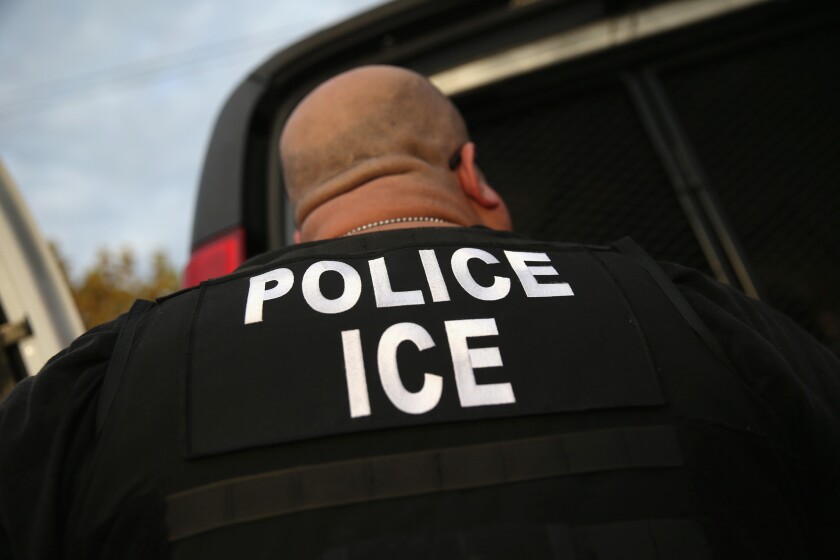 A Honduras man arrested by Louisiana police in what one government lawyer said was a case of racial profiling has been released by immigration officers.
Gustavo Barahona-Sanchez, who is in the U.S. illegally, was released from LaSalle Detention Facility by Immigration and Customs Enforcement late Friday, according to agency spokesman Bryan D. Cox. He must report to immigration authorities and still may face removal, Cox said.
Barahona-Sanchez, 29, who has two children who are U.S. citizens, was arrested along with another man in May in New Llano, La., as he was standing in a motel parking lot waiting with other Latinos for a ride to his construction job. Neither man was charged, but police contacted Border Patrol, and they were detained on immigration violations. The other man arrested that day, Jose Adan Fugon-Cano, was flown back to Honduras on Tuesday.
NEWSLETTER: Get the day's top headlines from Times Editor Davan Maharaj >>
Their cases became a focal point for immigration advocates after the Los Angeles Times reported that an attorney in the Department of Homeland Security had found that the two men were subjected to racial profiling. In an email that was inadvertently sent to lawyers for the men, Megan H. Mack, head of the civil rights office in Homeland Security, said they should be released from custody because they never should have been arrested in the first place. She wrote they apparently were targeted for an immigration status check solely because they looked Latino.
"It is imperative that the Department … work to avoid becoming a conduit, or an incentive, for improper profiling by local law enforcement," Mack wrote, in a Sept. 21 email to ICE Director Sarah Saldaña.
She said neither man presented a security threat, and said an arrest based on ethnic appearance is not a proper basis for a deportation.
Mack's email did not sway Saldaña; the men were cleared for removal. Cox said that both men met the agency's new priorities for deportation because both had been removed from the country before. Neither had any criminal convictions.
See the most-read stories this hour >>
Jolene Elberth, an organizer with the Congress of Day Laborers in New Orleans, an advocacy group involved in the case, said she was told that Barahona-Sanchez has been given a six-month stay of removal. But that stay could be revoked at any time, she said, calling on the agency to end its enforcement action against Barahona-Sanchez and to allow Fugon-Cano back into the country.
"Changes need to be made within the Department of Homeland Security to ensure that ICE cuts ties with local law enforcement agencies found to practice biased policing," Elberth wrote in an email.
Twitter: @jtanfani
ALSO:
How have states responded to the gun control debate?
Georgia man faces prison again for stealing sea turtle eggs
Critics say air marshals, much wanted after 9/11, have become 'bored cops' flying first class
---
The Latinx experience chronicled
Get the Latinx Files newsletter for stories that capture the multitudes within our communities.
You may occasionally receive promotional content from the Los Angeles Times.