Immigrant rights groups denounce new ICE policy that targets parents of child migrants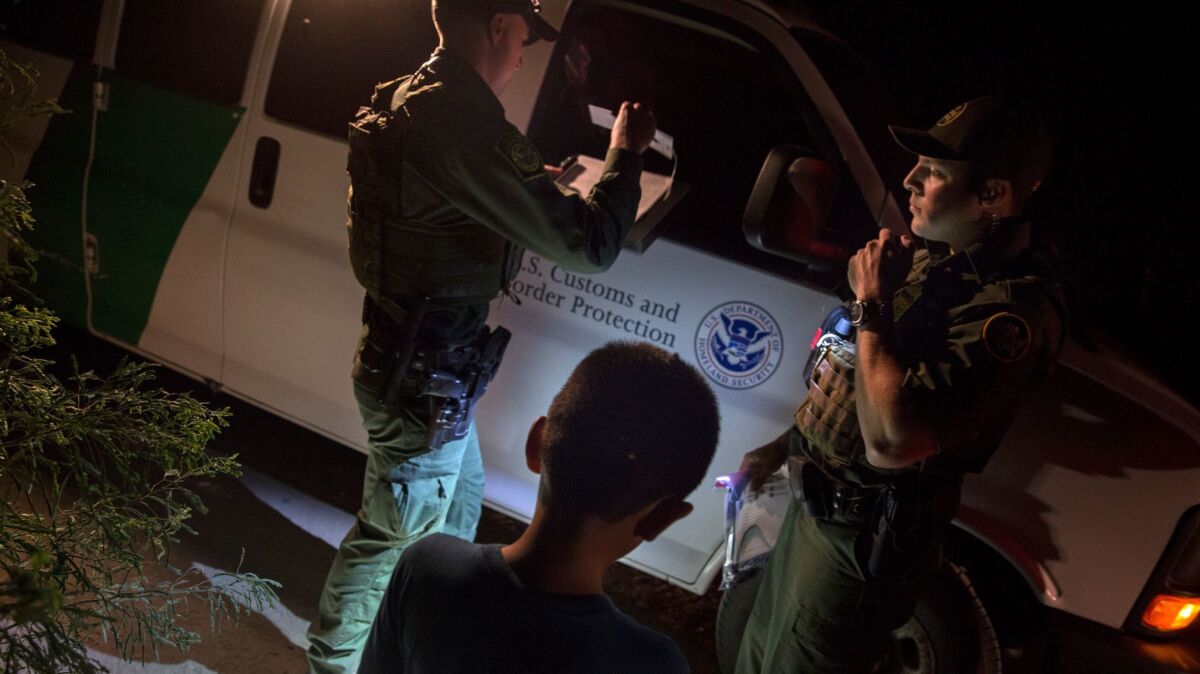 Reporting from ATLANTA —
The Trump administration has begun to arrest parents and relatives it suspects of paying to have children smuggled to the United States, sparking fierce criticism from immigrant advocates that officials are interrogating vulnerable migrant children with the intent of separating families.
Officials with Immigration and Customs Enforcement say the new "surge initiative," which involves identifying and arresting parents, relatives and others who have paid criminal organizations to bring children into the country, is a humanitarian effort to target human smugglers.
"ICE aims to disrupt and dismantle end-to-end the illicit pathways used by transnational criminal organizations and human smuggling facilitators," said Sarah Rodriguez, an ICE spokeswoman. "The sponsors who have placed children directly into harm's way by entrusting them to violent criminal organizations will be held accountable for their role in these conspiracies."
Refugee and immigrant advocacy groups across the country, however, are pushing back against officials' claims of acting in the interest of children. They argue that the government is manipulating children fleeing persecution and violence in Central America in a bid to target their loved ones and sow fear across migrant communities.
"Don't be fooled here by claims that this is an effort to protect children from smugglers," Michelle Brane, director of the Migrant Rights and Justice program at the Women's Refugee Commission, said in conference call with reporters Friday. "What we're seeing here is the United States government using children as bait with the clear intent of punishing parents and deterring them from protecting their children."
The administration's policy, Brane added, "is not only un-American and cruel. It's just bad policy."
During President Obama's administration, tens of thousands of unaccompanied minors fleeing violence and gang activity in Central America were placed with sponsors, usually parents and close relatives, as they applied for legal status in the United States.
Family members targeted by ICE under the new policy would have been considered possible sponsors in the past, said Philip E. Wolgin, managing director for Immigration Policy at the Center for American Progress. If such adults are detained or deported, he argued, it will become much more challenging to find sponsors for the children, prolonging the likelihood that they are kept in costly government care.
"Our concern is that sponsors will be less likely to come forward in the future, or that children may go into hiding, leaving them vulnerable to predator and traffickers," he said.
Already, immigrant and migrant advocacy groups are investigating about a dozen cases from Texas to Virginia that may involve the arrests of sponsors based on information gleaned from Customs and Border Protection interviews with children, said Cory Smith, vice president of Policy, Advocacy, and Communication at Kids in Need of Defense.
"It's important to realize how vulnerable these children will be if they lose the only support system and family that they have in this country," Smith said. "This is a soulless and shambolic policy by the Trump administration."
Nearly 170,000 unaccompanied children have been released to sponsors across the U.S. since October 2013, according to the federal Office of Refugee Resettlement. More than 22,000 have been placed with sponsors in California, with just under 22,000 in Texas and about 17,000 each in New York and Florida.
Many refugee children crossing the Southwest border are fleeing violence in Honduras, El Salvador and Guatemala, countries that have among the world's highest homicide rates of children and adolescents, Smith said.
Yet ICE notes that some sponsors who gain custody of children have worked with human smuggling organizations. The agency also noted investigations by the Department of Homeland Security, which found documented abuse suffered by minors.
In March 2014, a 12-year-old Ecuadorean girl committed suicide after suffering repeated sexual assaults at the hands of a smuggling organization operating in Ciudad Juarez, Mexico. In June 2015, investigators in Laredo, Texas, found a human smuggling organization was locking immigrants, including unaccompanied children, into tractor-trailers in which temperatures can exceed 140 degrees.
Leon Fresco, an immigration attorney and former deputy assistant attorney general for the Justice Department's Office of Immigration Litigation under Obama, said the Trump administration's new initiative would probably be subject to legal challenge. It appears to violate the 1997 Flores settlement agreement, he noted, which requires that children can only be held in detention for immigration purposes for a minimum amount of time before getting them to a parent or guardian.
"The problem is if you actually, intentionally, have a policy in place that says you are going to detain parents who come to pick up unaccompanied minors across the border, then what that means is that kids are going to be remaining in detention longer as no one will come to pick them up."
News of the Trump administration's latest crackdown on parents and family members comes just a day after Republican lawmakers in the House passed two strict immigration bills, which would increase prison sentences for immigrants caught reentering the country illegally and pressure "sanctuary cities" to cooperate with federal immigration officials.
On Thursday, a coalition of conservative states threatened to challenge Obama's Deferred Action for Childhood Arrivals program, or DACA, in court. In a letter to Atty. Gen. Jeff Sessions, attorneys general from Texas and nine other Republican-led states vowed to sue the Trump administration if it did not rescind the renewable two-year program that grants deportation relief and access to work permits to hundreds of thousands of "Dreamers," immigrants brought into the United States illegally as minors.
"All these efforts bring into question the strategy of this administration," said Greisa Martinez, advocacy director of United We Dream, the nation's largest immigrant youth-led organization, and a DACA beneficiary. "They keep saying that they're going after the criminals and not the people, but it seems that there's a wider targeting of undocumented immigrants."
Jarvie is a special correspondent.
ALSO
A showdown between Texas and local officials centers on the state's 'sanctuary' cities ban
As travel ban goes into effect, debate ensues over who counts as 'close' family, and Hawaii files a court challenge
Oceanside minister supported Trump, now he's getting deported
---
Must-read stories from the L.A. Times
Get the day's top news with our Today's Headlines newsletter, sent every weekday morning.
You may occasionally receive promotional content from the Los Angeles Times.