The federal government denies that it has broadened the scope of its immigration raids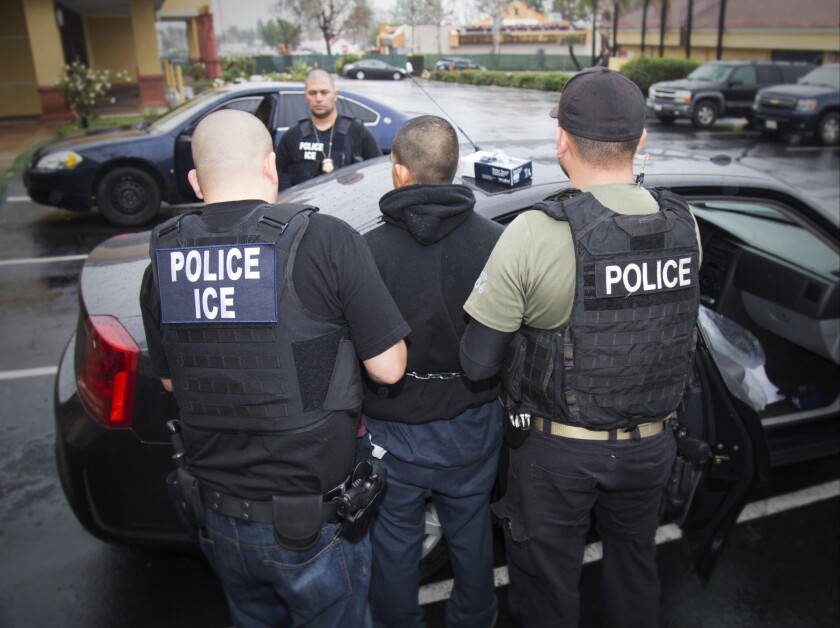 The U.S. Department of Homeland Security pushed back Monday against claims that it had broadened the scope of its immigration enforcement raids, saying that about three-quarters of the 680 immigrants arrested by federal agents last week had criminal convictions.
Over the last few days, immigrant advocacy groups have argued that Immigration and Customs Enforcement seemed to be going beyond the norm by arresting people who did not represent a public safety threat.
But John Kelly, secretary of the Department of Homeland Security, said in a statement Monday that the roundups were routine, targeting convicted criminals, gang members and others who posed public safety threats, as well as those who had illegally reentered the country after being removed and "immigration fugitives" who had already appeared before immigration judges and faced final removal orders.
"The focus of these enforcement operations is consistent with the routine, targeted arrests carried out by ICE's Fugitive Operations teams on a daily basis," Kelly said.
Roughly 75% of the 680 immigrants arrested in the raids last week had criminal records, including convictions for homicide and aggravated sexual abuse to drug trafficking and driving under the influence.
Immigrant advocates, however, suggested that under the administration of President Trump, federal agents were making fewer distinctions between serious and minor crimes.
"What were those convictions?" said Sarah Owings, an immigration attorney in Atlanta and chair of the Georgia-Alabama chapter of the American Immigration Lawyers Assn. "Was it driving without a license, which was made into a crime by the state of Georgia, or was it serious crimes?
"It's not just a bunch of rapists and murders, as Trump said when he was campaigning on this," she said. "There are a lot of people who may have very minor traffic offenses. If you didn't come to a full stop at a stop sign, that's a far cry from being a national threat."
Naomi Tsu, deputy legal director for the Southern Poverty Law Center, said some of the immigrants arrested in Georgia and the Carolinas last week and since interviewed by attorneys at Irwin Detention Center in Georgia appeared to have been stopped randomly in their vehicles as they were driving to work or pulling out of a trailer park. After identifying everyone in the car, she said, ICE agents detained all of them.
"They were arrested for seemingly no other basis than being Latinos in a work van," she said, noting that at least one of the immigrants had a clean criminal history and no prior contact with ICE. "This idea that they are targeting people with criminal backgrounds, it does not ring true. Either the administration is widening the definition of criminal to be meaningless, except as a marker of who ICE agents think don't belong, or they're not targeting just people with criminal backgrounds."
In California, the Department of Homeland Security said that among those arrested were a previously deported Honduras citizen convicted of drug trafficking, spousal battery and petty theft; an Australian convicted of lewd and lascivious acts with a child; and a Mexican with a final order of removal with convictions for drug trafficking, a weapons violation and spousal battery.
It did not specify any of the other immigrants' crimes.
The government figures also showed a sharp geographical discrepancy between arrests in coastal hubs, such as Los Angeles and New York, and Southern and Midwestern states.
In the Los Angeles area, the vast majority of those arrested — 151 of 161 — had prior criminal convictions. In New York, too, 38 of the 41 immigrants arrested had criminal records.
Across the South and Midwest, a lower proportion of immigrants taken into federal custody had criminal records.
A total of 235 foreign nationals were arrested across Illinois, Indiana, Wisconsin, Kentucky, Kansas and Missouri. About two-thirds — or 163 — had criminal convictions, 60 had illegally reentered the United States and 12 were immigration fugitives.
In San Antonio, fewer than half of those arrested — 23 of 51 — had prior criminal convictions.
Across Georgia and the Carolinas, that figure was about two-thirds, or 127 out of 190. Twenty-nine had illegally reentered the U.S. after having been removed and 17 were classified as immigration fugitives.
"Without getting very clear guidance, you're going to have disparate effects, and it's not surprising that things would shake out more anti-immigrant here," Owings said.
The region was the site of raids on immigrant women and children in January 2016, she said: "The Atlanta area is traditionally more pro-enforcement."
Jarvie is a special correspondent.
---
Must-read stories from the L.A. Times
Get all the day's most vital news with our Today's Headlines newsletter, sent every weekday morning.
You may occasionally receive promotional content from the Los Angeles Times.