Ted Cruz barnstorms Indiana as state's primary proves pivotal in GOP race
Ted Cruz stood on a basketball court in this movie-set-perfect small town and predicted the Hoosier State would provide the boost his campaign needed to stop Donald Trump from securing the Republican presidential nomination. Now, that outcome is seriously in doubt.
Ahead of Tuesday's pivotal primary, new polling shows Trump widening his lead in Indiana in what is shaping up to be a last stand for Cruz — and the GOP establishment — to block the billionaire businessman's momentum.
Party leaders appear increasingly resigned to Trump's forward march. But not Cruz. The Texas senator barnstormed the state, making an appeal to Hoosiers' pragmatic Midwestern sensibilities and asking them not to hand the election to Trump. It's crucial to Cruz's political survival if he has any hope of pressing on to a final showdown in delegate-rich California on June 7.
See more of our top stories on Facebook >>
"Indiana has a chance to choose: Do we want to support a campaign that is based on yelling and screaming and cursing and insults? Or do we want to unify behind a positive, optimistic, forward-looking, conservative campaign, based on real policy solutions to the problems facing this country?" Cruz said Sunday on "Meet the Press," echoing the line he used repeatedly on the trail here. "I am going to beat Donald Trump. We are headed to a contested convention, and we're gonna win."
Not in a generation have Indiana voters been asked to make such a decision. Usually, the state's primary arrives too late in the nominating process for its outcome to matter much. This year, the state's winner-take-all 57 delegates could determine the party's nominee.
Many have been alternately tickled and flummoxed by the attention.
"There's plenty of votes up for grab — everywhere," said David Buskill, executive director of the state Republican Party.
Cheryl Hammer is a caterer, not a political party activist, but she lingered at the Cruz stop in Knightstown to savor the moment.
"To actually have someone who's running for president come by is huge," said the 30-year resident of the area, who's leaning toward Cruz because she finds him more presidential than Trump in a part of the country where manners still matter. "I'll probably never see this again in my lifetime."
In some ways, Indiana should have been Cruz country, a chance to duplicate his victories in Iowa and Wisconsin. Midwestern voters often bristle at Trump's bravado, and Cruz is using a homespun approach to endear himself. He announced former Hewlett-Packard Chief Executive Carly Fiorina as his running mate here to boost attention, particularly with female voters.
But Cruz has found himself struggling. Indiana is a top manufacturing state, and Trump's appeal to blue-collar workers who have seen companies relocate abroad runs strong. Plans by companies like Carrier and Nabisco to shift operations outside the U.S. have become rallying cries at Trump's rallies, including one at the state fairgrounds in Indianapolis.
"I'm not playing games with Indiana," Trump said, his image projected on the Jumbotron and his slogan "Make America Great Again" spelled out in arena lights.
Frank and Shirlene Sundvall, who drove to the rally from Shelbyville, where they operate rental properties, climbed into their van pleased.
"We're hard-core Trumpers," Frank Sundvall said. His wife said she had been converting voters one by one — at the Burger King during lunch the other day and at the library where she used the public computer to print out Trump tickets.
"Hope is finally coming back to the silent majority," he said. "Hope is coming back to America."
Money is pouring into Indiana as Republican-aligned groups take one last swing at stopping Trump.
Election 2016 | Live coverage on Trail Guide | Track the delegate race | Sign up for the newsletter
A super PAC backing Cruz has spent about $2 million in TV and radio ads, while other groups, including the Club for Growth and the Never Trump campaign, are running spots propping up Cruz's conservative credentials.
In a sign of how important Indiana has become to the nominating process, Cruz and rival John Kasich entered an unusual nonaggression pact in which the Ohio governor stood down here, so as not to split the vote against Trump, in return for Cruz doing the same ahead of later primaries in Oregon and New Mexico.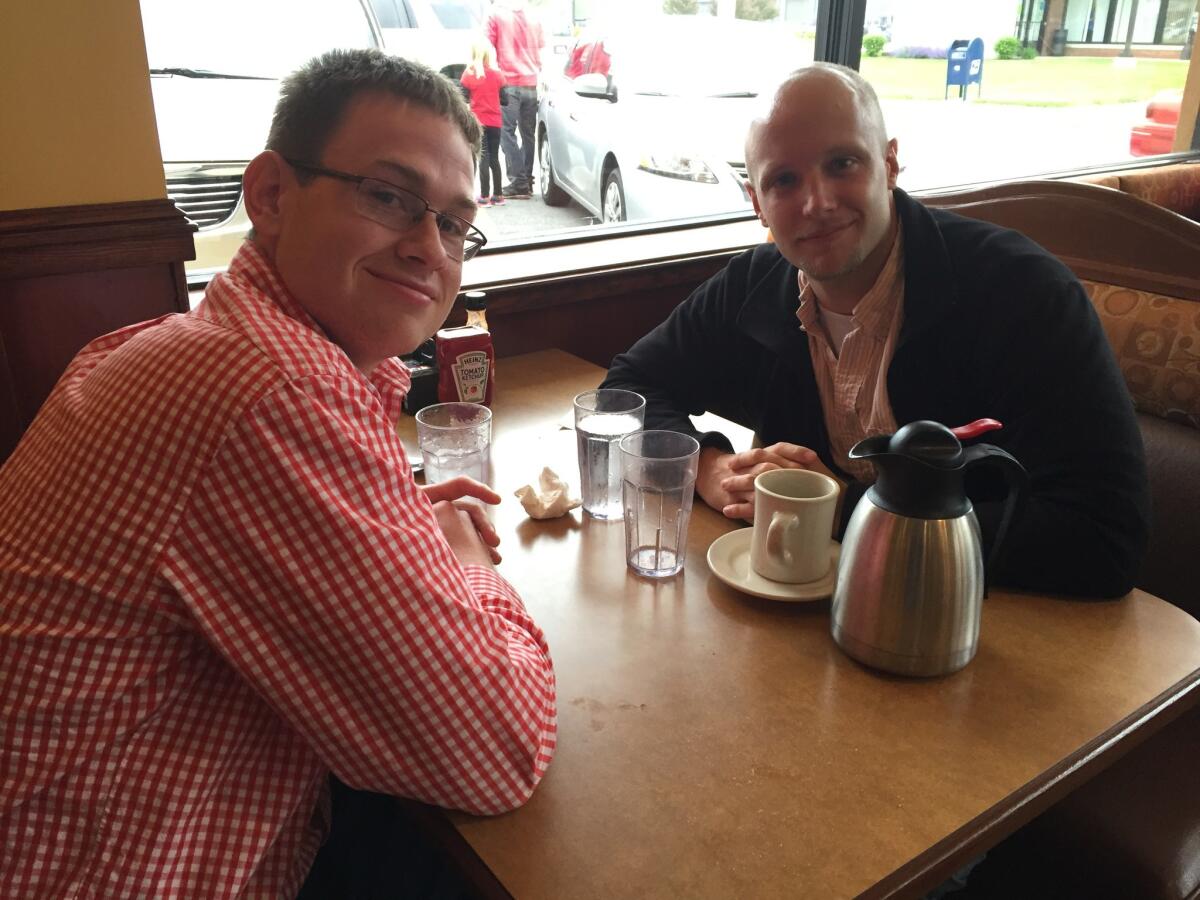 Voters, though, soured on the deal, according to an NBC/Wall Street Journal poll Sunday that gave Trump a 15-percentage-point lead. It was something of an outlier in an average of recent polls, where Trump still maintains about a 4-percentage-point edge, but he led in all three surveys conducted after the deal was announced.
The agreement left Trump and Cruz in their first one-to-one battle. Trump has swooped in to deliver rock-star-like performances to stadium crowds hungry for his showmanship, while Cruz grinds it out mile by mile in a bus tour, crisscrossing the state.
At times it has been brutal: Trump mocked Cruz for arriving in Hoosier Country and calling a basketball hoop a "ring." A Trump endorsement by former boxer Mike Tyson prompted Cruz to warn voters off a candidate backed by a convicted rapist.
Republican Gov. Mike Pence belatedly backed Cruz. Trump nabbed an endorsement from famed basketball coach Bobby Knight.
What Indiana lacks in demographic diversity, it makes up for as a Republican melting pot — an increasingly red state that stretches from the conservative Rust Belt of the north, to the establishment strongholds of Indianapolis, to the evangelical and rural working-class south.
It's what Buskill calls a crossroads of America — a state that chose President Obama in 2008 but shifted to Republican nominee Mitt Romney in 2012.
As Cruz traveled the state, he began badgering Trump as much as Democratic front-runner Hillary Clinton, and mocking the billionaire businessman as a candidate who "likes to parachute in, like Mick Jagger, show up at a football stadium, give some performance and then leave."
SIGN UP for the free Essential Politics newsletter >>
"This country isn't a reality show," Cruz said at a breakfast stop at Sisters Pancake House near downtown Indianapolis, going table to table, with his wife, Heidi, "to look voters in the eye, answer their questions, to show some humility and subject yourself to the scrutiny of Hoosiers."
Sara Hess, a mother of three small girls, said she liked Cruz even more after chatting with him about children's birthday parties.
"He spent so much time here," she said, cradling her newborn in the parking lot as her husband, Abram, pushed the stroller. "He made us feel we matter — and we do for once."
But the heralded organization that propelled Cruz in earlier contests was slow to get going here, and volunteers only belatedly ramped up efforts to call voters and knock on doors. More pointedly, he has failed to stir the grass-roots conservatives who pushed him past Trump elsewhere.
"Truth for me is, I support anything that is not Trump," said Jason Chambers, a millennial who works in sales and came to see Cruz at a diner. "I wouldn't say I necessarily support Cruz, but I want Trump to go away."
Cruz is making a last-ditch appeal to Hoosiers' "good sense" and "good judgment" to deny Trump a victory that would edge him closer to the 1,237 delegates needed for the nomination.
"The eyes of the nation are gazing upon you," he said in tiny Knightstown.
His venue of choice? The gym used as a set in the come-from-behind basketball classic "Hoosiers."
For the latest from Congress and the 2016 campaign, follow @LisaMascaro.
ALSO
How Donald Trump scored a win in Texas border country
Cruz campaign focuses on the only way he can win: convention delegates
Trump, Kasich and Cruz make their cases to California GOP: on unity, electability and fish
---
UPDATES:
8:48 a.m.: This story was updated throughout.
This story was originally published at 8 a.m.
Sign up for Essential California for news, features and recommendations from the L.A. Times and beyond in your inbox six days a week.
You may occasionally receive promotional content from the Los Angeles Times.