These migrant workers earn $350 a week in the fields. Now Irma has destroyed their homes
Reporting from Immokalee, Fla. —
Petrona Nunez cradled her 2-year-old daughter, Jazabell, in her arms and surveyed the damage to her family trailer.
The roof had caved in on the living room and bedroom. Debris was everywhere. Globs of pink insulation clung to furniture, walls and the floor, as did mud-like dollops of saturated roofing material.
A broken mirror and shattered door lay atop her bed. A plastic sheet served as a temporary roof, creating a diaphanous glow amid the chaos inside.
"It's so bad," Nunez, 24, said, clearly at a loss for words. "It's pretty sad when your home is destroyed."
Hurricane Irma caused large-scale damage on its rampage through Florida, but this impoverished, largely Latino farming hub in the southwestern part of the state was among the areas hardest hit. While aid was being rushed to the Florida Keys and other ravaged coastal zones, as of Monday evening there was no sign of any help arriving to this rural backwater a day after the storm blasted through.
Immokalee — the name is said to derive from a Seminole word referring to "home" — is a place apart in Florida, remote and well off the tourist trail. Its poverty rate is among the state's highest, encompassing more than one-third of the town's 25,000 or so residents — yet it is only 50 miles or so from seaside Naples, one of the state's wealthiest communities and the hub of Collier County, which includes Immokalee.
"We're part of Florida, we're part of Collier County, but sometimes it doesn't feel like it," said Connie Velasquez, 22, a beauty parlor worker and lifelong Immokalee resident. "We're usually the last to get help."
Plywood boards mounted as protection from the storm still covered windows of the taco shops, Mexican-style grocery stores and other establishments along Main Street. There was no electricity; power lines were down on streets and in yards. Residents lined up at a generator rigged with extension cords to charge their phones.
Roofs were blown off many of the trailer homes and ill-constructed shacks that pass as housing here for the multitudes of farmworkers, mostly from Central America and Mexico, but with a considerable contingent from Haiti. Pools of water from the hurricane still were found on streets and front yards.
"I don't know who is going to fix this," said Felipe Bartolo, 59, a native of Guatemala whose rented, one-room home had its tin roof sheared off.
He pays $70 a week rent for the claustrophobic accommodation, plus an $8-a-week surcharge to run the air conditioner, vital in this sweltering, swampy enclave. On a good day, he said, he earns about $70 picking tomatoes or doing other agricultural jobs in a region that provides much of the U.S. winter tomato crop.
"The water came in, everything was soaked," said Bartolo, who, along with much of the town, was out cutting huge branches that littered front yards, roofs and sidewalks. "No one helped us."
Despite considerable property damage, there were no reported serious injuries as Irma swept through town. Most people appeared to have taken refuge in shelters set up in schools and other buildings — despite widespread fears that using such facilities could expose immigrants in the country illegally to arrest and deportation.
"A lot of people here were afraid to go to the shelters," Velasquez said. "Finally they realized they wouldn't get deported and they went. That probably saved lives."
Immokalee achieved notoriety in 1960 when it was featured in the seminal CBS documentary "Harvest of Shame," by Edward R. Murrow, which exposed the exploitation of migrant workers. Immokalee periodically hits the news in contemporary accounts of sub-minimum-wage salaries for farmworkers, slave-like conditions and other labor violations. It's not clear that the situation has improved for farmworkers here since Murrow's expose.
The feeling is very Third World: Chickens wander about the streets, and most everyone sits outside in the evening to escape the heat, although there is not a lot to do. Spanish is the prevalent language. Strangers are eyed warily. On Monday, the entire town seemed to ignore what residents said was a 5:30 p.m. police curfew following Irma's rampage.
Irma essentially worsened — and in some cases finished off — what was already a dilapidated housing stock, which includes tree-shrouded parks with aging trailers and barracks-type apartments and houses erected years ago for migrant laborers. Parts of the town resemble a 1960s, B-movie set.
The agricultural belt here was created from drained swamps. A reserve for the endangered Florida panther is situated along nearby State Road 29, which features yellow "Panther crossing" signs, with the big cat's outline. The main east-west drag, Interstate 75, is known as Alligator Alley.
Few government officials have arrived to assess the damage, residents said. There was widespread confusion about who can provide help. Cell phone coverage has been out, complicating matters.
"I thought you guys were with the Red Cross," said Jerry Thomas, 40, who is among a remnant African American population here. "I'm looking for some help. My sister was supposed to call the Red Cross. You know anything about contacting FEMA?" he added, referring to the Federal Emergency Management Agency.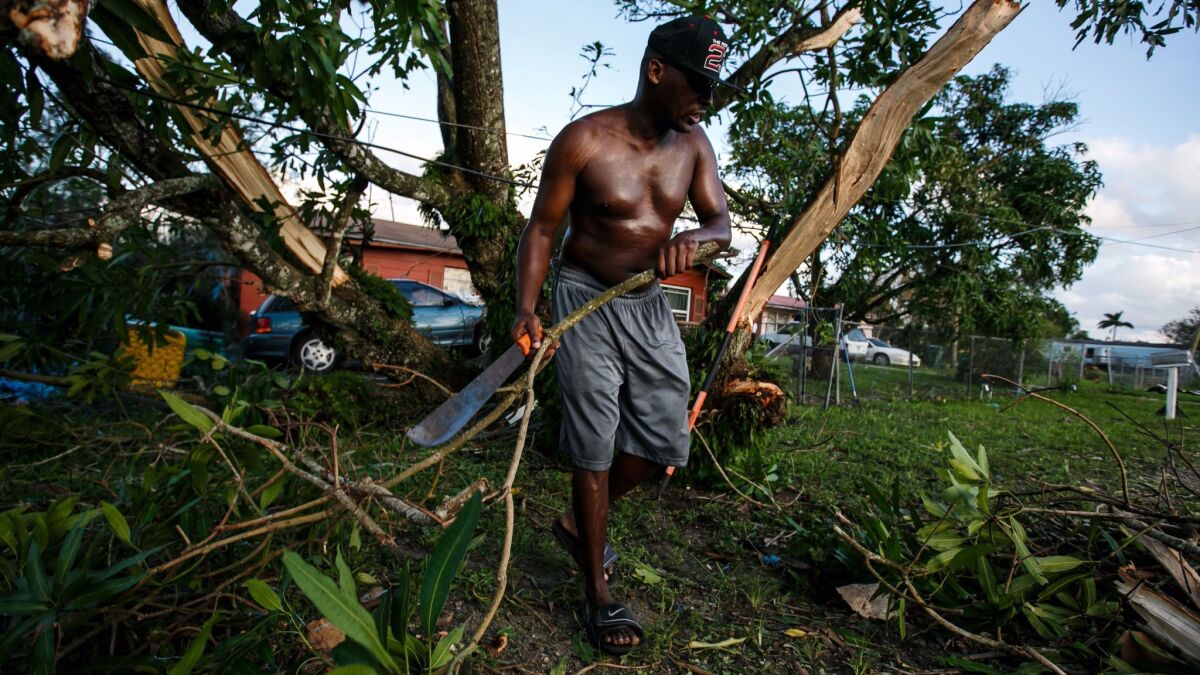 Thomas, shirtless and glistening with sweat, was using a machete to pick apart a giant mango tree that had fallen in his front yard. Its roots had lifted up his father's 1992 Saturn sedan, which had been parked out front. Thomas hunkered inside his home as the storm raged.
"It was no big deal, just the wind and rain, but then I heard, boom! It was the tree going down," Thomas said.
Two pine trees also tumbled onto his driveway, damaging his cars, a 1992 Mercedes sedan and a 2003 Ford Explorer. The branches completely covered the vehicles. But no one was hurt.
"I can only get so much done with this," he added, referring to the machete. "I need someone with a chain saw to give me a hand."
Across from his house is another wounded trailer park. The worst-hit trailer belonged to Alice Barber.
"This is my bedroom," said Barber, 59, standing next to a soaked queen mattress amid a pile of drenched sheets, pillows, towels and household items. The roof had been torn off. A line of ants marched along the floor, attacking Barber's feet.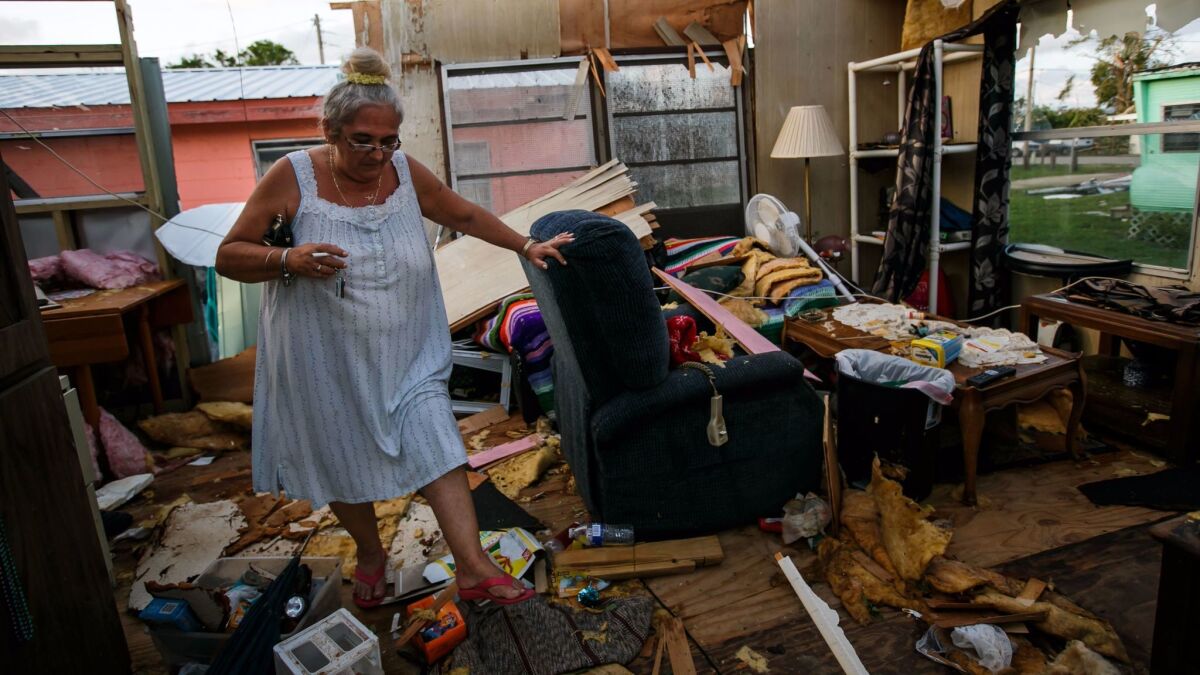 As the storm closed in on Sunday, she gathered her valuables and moved to an apartment in a cellblock-like set of flats next to her trailer. She now lives in an apartment alongside her mother, Louise Lee, 86, who greets visitors with a warm "hello." She brought her mom down here years ago to help her out, Barber said.
"I hope FEMA comes around," said Barber, who says she survives on a monthly disability check and food stamps. "But at least we all survived. And I have my mom."
She wasn't worried about looters.
"They can take whatever they want, they already robbed the fan," Barber said. "It was all wet anyway. But we need someone to come help us out. I have to take care of my mom — and my babies."
The latter are gaggles of cats, including sundry kittens, that gather around her destroyed home. She opened a can of cat food, prompting more tiny felines to emerge from the muddy mire beneath the trailer.
"I love it here," said Barber, a native of Pennsylvania who said she initially went on the migrant trail with a "Mexican boyfriend" and settled in Immokalee more than 20 years ago. She speaks some rough Spanish. "But we need help, we need FEMA. You have any idea how to reach them?"
twitter: @mcdneville
Paradise has seen better days. The Florida Keys are battered, if not entirely bowed
An exasperating hunt for gasoline in Florida as Hurricane Irma's evacuees scramble to come home
Irma hits Jacksonville, Fla., with its worst flood in a century
Must-read stories from the L.A. Times
Get the day's top news with our Today's Headlines newsletter, sent every weekday morning.
You may occasionally receive promotional content from the Los Angeles Times.